Mercedes Benz G-Class – Review
By Liam Bird
The fact that I can remember building a scale model of the Mercedes Benz G-Class when I was around the age of 13 might go some way to giving you an indication of quite how long it has been around. Launched in 1979, the G-Wagen as it is perhaps more commonly known, is in fact the Stuttgart manufacturer's longest running model series. For those interested: I was "launched" in 1973. I'll let you do the maths.
Just like its full size contemporary my 1/24 scale replica had a separate chassis, four wheel drive, two solid axles, and an engine in the front (albeit in my case a little electric motor). The instantly recognisable body was then mounted on top, and was in fact almost as square-sided as the box it came in. It was rugged and reliable, and once switched on would go almost anywhere I chose to point it. Or indeed over most of things I put in its path. The hearthrug didn't know what had hit it.
Fast forward to the present and my fascination with the G-Class is every bit as strong as it ever was. And especially-so after having just sampled the new one.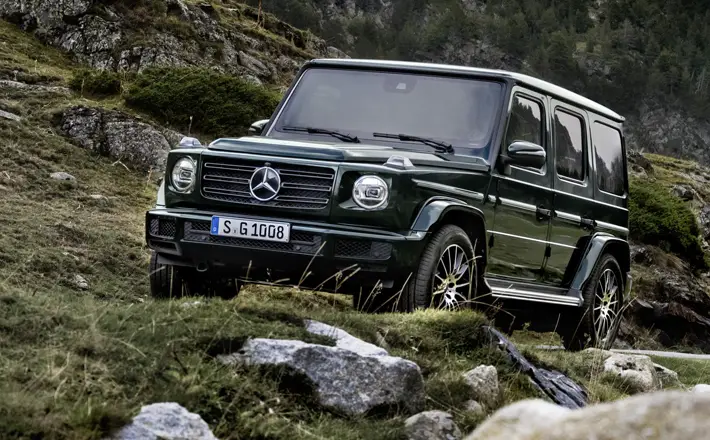 "Mechanical overhaul"
I know to the casual observer the new G-Glass looks much like the old one, but trust me, appearances can be very deceptive. Believe it or not this all-new G has a new body, a new chassis, new suspension and new steering. Plus it uses new engines and new gearboxes. Fear not proper off-roaders, there's still a low range transfer box. It is in fact 53mm longer, and 121mm wider than the G-Wagen of old. It'll still tow 3,500kg too.
Needless to say from a driving perspective such a massive mechanical overhaul doesn't go unnoticed, and once you've climbed – and believe me it is a climb – into the G-Class's lofty set driver's seat, which hugs you like an old-friend and feels as comfy as your favourite chair, you can't help but be very pleasantly surprised.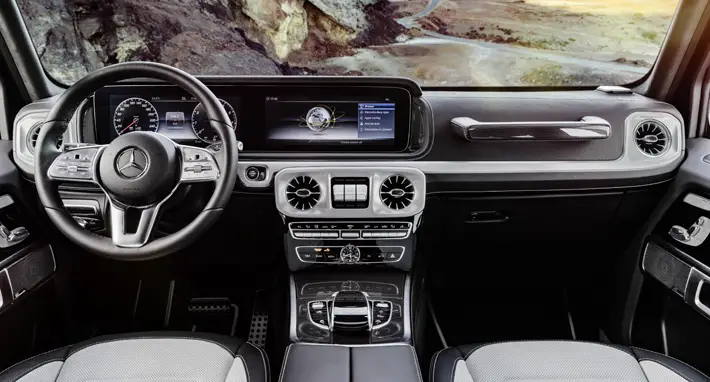 "Accurate steering"
With its exposed hinges, rain guttering, and doors that automatically lock with the almightiest of clicks at anything above walking pace, it may look like something that's escaped from the German Military. But the G-Class rides with a refinement that's significantly more limo-like than it is troop carrier. There's little in the way of any road or wind noise despite those gargantuan tyres and square-jawed looks (presumably the double-glazing helps with that), and the changes from 9-speed G-Tronic gearbox are all but imperceptible.
It's swift too. A 0-62mph time of 7.4 seconds is more than enough to embarrass many a so-called hot-hatch; the aerodynamics finally stop play at 124mph, autobahn permitting of course! And neither is it unwieldy. Granted, one look at the G-Class is all it takes to know that it's not a car you'd readily take on a track day – except perhaps to tow your preferred steed for the day – nevertheless, body-roll is all-but conspicuous by its absence, thus allowing you to indulge a little in the G's surprisingly accurate steering without fear of any unplanned off-road excursions.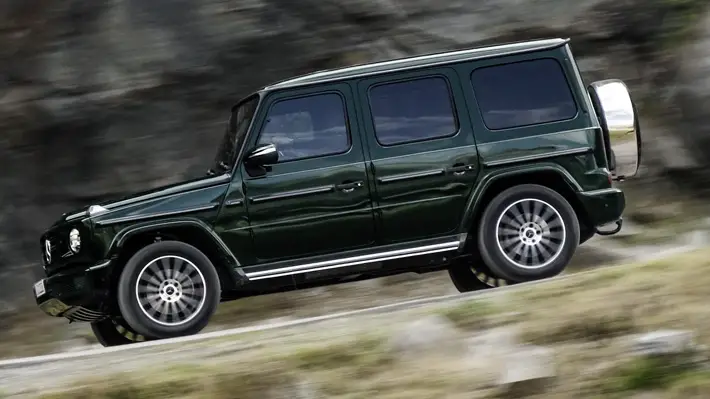 "Virtually bomb-proof"
That's not to say this wunder-wagen won't tackle the rough stuff – far from it. There are three individually lockable differentials, ground clearance of 241mm, the aforementioned low-range transfer 'box, approach and departure angles of 31 and 30 degrees respectively, and a 700mm wading depth. Make no mistake the G-Class might well come from the leafier parts of town these days but it's still very much a genuine off-roader. It also feels as if it's built far stronger than many a suburban SUV too. In fact it feels virtually bomb-proof, as if it's been built to last a lifetime (rather than just a few fashionable seasons, perhaps).
It's not without its faults of course. The rear passenger doors don't open nearly wide enough to allow any form of elegant access – or so I'm told. The side-hinged rear door means getting in to the boot is virtually impossible if you've reversed into parking space – if you can find one large enough in the first-place that is. The turning circle is akin to that of a super-tanker, and despite the G350d being the economical G-Class – there's a petrol-powered V8 one too – its sub 30mpg even on a long motorway cruise is pretty hard to swallow. Filling its 100 litre fuel tank doesn't come cheap either.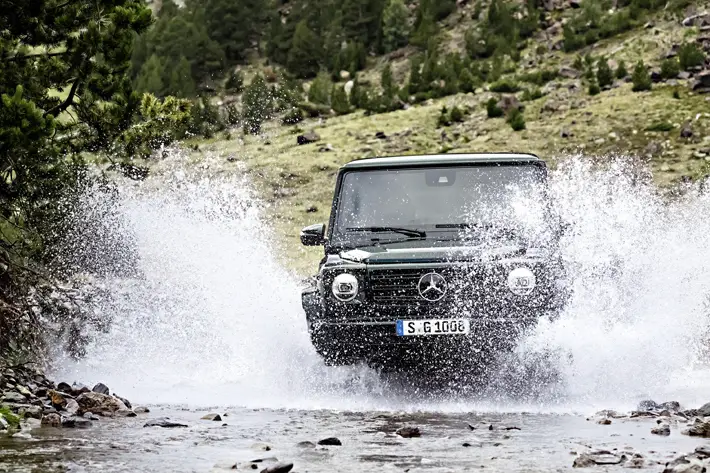 "Worth every single penny"
Then neither does the G-Class, and if you can afford the car…
The G350d Mercedes Benz were kind enough to let me sample starts at £94,065, before options. After adding a few niceties such as multibeam automatically dipping LED headlamps, a superb Burmeister sound system, an abundance of nappa leather, 360 degree parking cameras, and even a remotely controlled auxiliary heater – for when it gets really cold – the actual example I tested came in at £110,834. Not exactly cheap, is it?
And yet, and I rarely say such things, the G-Class (to me at least) felt worth every single penny. I saved-up once to buy a G-Class… It just might be time to start saving again.
Mercedes Benz G 350 d AMG Line
Engine: 2,925 cc 6-cylinder 24 valve turbo-diesel
Transmission: 9 speed G-TRONIC Plus auto. Four Wheel Drive. With low range
Power: 286 bhp @ 3,400 – 4,600 rpm
Torque: 442 lbft @ 1,200 – 3,200 rpm
0-62mph: 7.4 sec
Max Speed: 124 mph
Mpg: 25.9 (UK combined)
CO2: 252 g/km
Price: from £94,065 otr (Car driven: £110,834)