Mercedes Benz E-Class Coupe – Review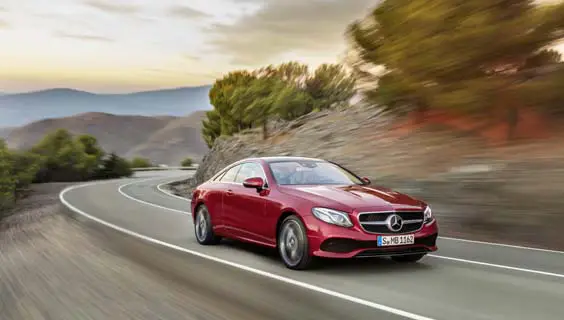 By Liam Bird
From January onward you'll no longer be able to walk into your local Volkswagen dealer and order a 3-door Polo. They're not going to make them anymore. You can't buy a 3-door version of the new SEAT Ibiza either, or the Skoda Fabia for that matter either. As people downsize (and ironically cars get bigger) the people in (the predominately German) suits have declared that there's no longer a need for the 3-door supermini.
One suspects though that the majority of those people don't actually drive superminis; Oh no, they drive executive saloons. Or do they in fact drive executive coupes? Think about it, BMW make the 6-Series, Audi have their A5, and Mercedes Benz – surely the most aspirational of the "big three" –they've just introduced this: the latest version of the E-Class Coupe. Clearly there's life in the 3-door yet, and coupes are sleeker and more sporty after all.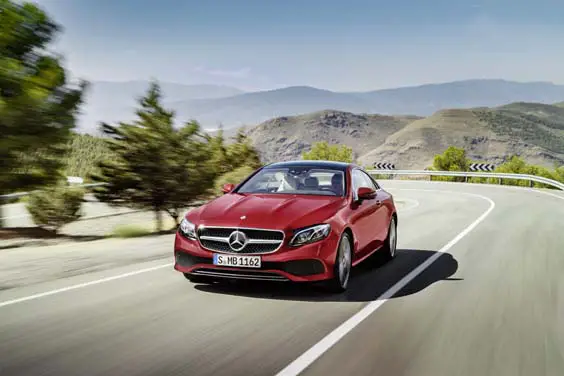 "Imposing"
As its names suggests the E-class Coupe sits nicely between the smaller C-Class and larger S-Class coupes. Where it once shared its chassis with the C-Class, it now sits on Mercedes Benz's new MRA (modular rear architecture) platform. As a result it's larger than the car it replaces; length is up by 123mm to 4826mm, it's now 74mm wider, and the wheelbase has also been extended by 113mm. Front and rear tracks have also increased, by 67mm and 68mm respectively. No bones about it, this new 3 door E-Class is an imposing car.
It's also a very handsome one – especially so in AMG line trim as tested here where it gains 19-inch five-twin-spoke alloy wheels plus high performance LED headlights and tail lights as standard – and a very refined one. As a result of its new underpinnings – the same ones incidentally as the E-Class saloon: Car of the Year 2017 – interior space has also increased. There's more head and shoulder room both back and front, and so Mercedes say, a 74mm increase in knee room for back seat passengers.
If that is they can get back there. Having sat in the rear myself I've no doubt that there's more than enough room for two fat-cats to sprawl out, but even though the E-Class Coupe's hefty doors feel enormous on first acquaintance you still need most of the skills of a magician's assistant to access row two. I'm barely 5'8" with my brogues on and I struggled. Whether or not some captains of industry will make it after yet another working lunch is a question that's yet to be fully answered.
"You'll need deep pockets"
Perhaps instead they'll be more impressed by the E220d's (as per the one we tried) 25% BIK figures. Aimed predominately at fleets this £40,780 (or P11d £39,920) 4-cylinder 194 bhp, 1,950cc 4-cylinder, two-wheel drive, turbo-diesel represents the entry level into E-Class Coupe "ownership" with a £7166 upfront deposit followed by a three year £500 per month PCP deal before the final balloon drops.
You'll need deeper pockets still though if you want some of the goodies that were fitted to "our" car. Memory seats, panoramic sunroof, intelligent lighting and superb Burmester sound system? Certainly Sir. £3,895. Heated seats, armrests and centre console? (I kind you not), £795. Air suspension? £1,495. Command online infotainment and 12.3 inch screen? £1,495 and £495 respectively. Leather seats are £1,095, metallic paint £895. The list went on. In all the options alone added up to £11,779. Personally I've just bought a nearly new 5–door Polo Tsi for less than that. Oh the irony!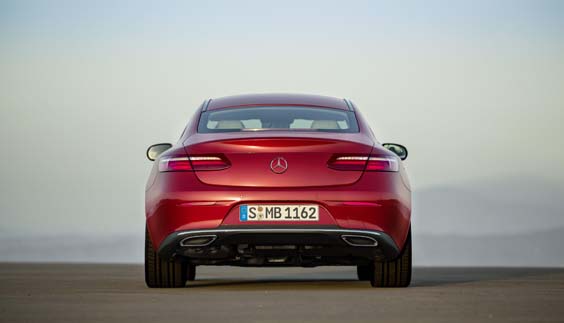 "Never sluggish"
What you won't get in your secondhand supermini however is the near bomb-proof build quality, or indeed the feeling of just how relaxed and comfy the E-Class Coupe feels.
That four-pot diesel does get a bit flustered and vocal when asked to really work for its living, and the E-Class has definitely been tuned for comfort rather than out-and-out speed. But for the most part the 9-speed auto 'box does a fine job of selecting the right cog at the right time to make the most of the available torque, and as a result things never sluggish. Rest assured neither you nor the E-class Coupe will ever arrive anywhere feeling too flustered.
Quite whether you'll ever achieve the claimed 61.4 mpg though… Presumably you'll need 9th gear for that, a flat road, and a fair wind too. The best I saw over 300 miles or so of real world driving was high 40s. Still, at least the 119 g/km CO2 figure helps keep the costs down.
A three door executive coupe, and especially one powered with a four cylinder diesel engine, may not be for everyone. But after a tough day at the office the promise of a drive home in the E-Class Coupe might be a very welcome one indeed.
Mercedes Benz E 220 d AMG Line Coupe
Engine: 1,950 cc 4-cylinder 16 valve turbo-diesel
Transmission: 9 speed G-TRONIC Plus auto. Rear Wheel Drive.
Power: 194 bhp @ 3800
Torque: 295 lbft @ 1600 – 2800 rpm
0-62mph: 7.4 sec
Max Speed: 150 mph
Mpg: 61.4 (combined)
CO2: 119 g/km
Price: from £41,135 (Car driven: £51,914)