Mercedes Benz Vito Tourer – Review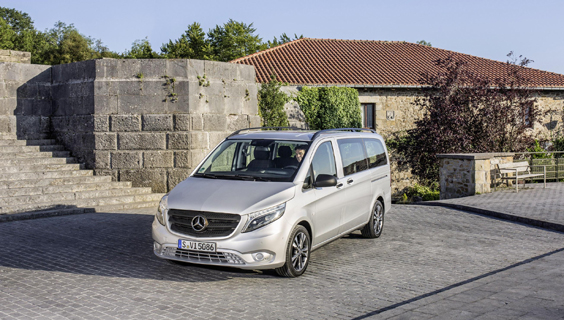 By Liam Bird
Motoring is anti-social, or so we're now told. And especially so if you drive a diesel. Take public transport whenever and wherever you can, those in high-places say. Car-share. Travel in groups.
That's all very if you happen to live somewhere near the local railway station and it has trains that arrive and depart at the rate of more than one an hour, and the buses run more than once a week, but some of us don't. Out here in the Far Unlit Unknown (otherwise known as The Welsh Marches) public transport is but the stuff of dreams.
I may have unwittingly stumbled across a solution though. And, to add insult to injury, it may also have something to do with an 8-year-old's desire to see Liverpool's Maritime Museum (or more specifically, their maker's model of The Titanic).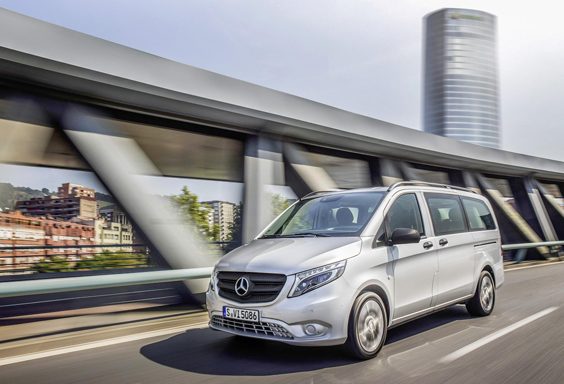 "Solution"
Riley – he's the eight year-old – is Mrs B's great-nephew; The Titanic is his current obsession. Titanic this, Titanic that, everything currently is one or the other. Sometimes it's even both. It would also appear that Riley doesn't like to travel, unless accompanied by both his grandparents, and his great grandparents. It has something to do with pocket-money, one suspects.
In total there were seven of us. So surely an MPV or an appropriately equipped SUV would have done the job nicely? I had other ideas. And besides, even if you're only eight, some of those boot-based fold-out seating solutions offered by certain, so-called family-oriented wagons are compact to say the least – uncomfortable too. My solution came in the shape of the Mercedes Benz Vito Tourer. Long wheel base, of course.
"Practical"
Suitably specced the Vito Tourer accommodates nine, and with space to spare. But, unlike many-an-MPV or SUV there's actually room for your suitcases too (or your extensive haul from the museum gift shop). Everyone gets a full sized chair – even the third front seat that sits amidships is comfy enough for short journeys, or in our particular case short people – and there are four Isofix points should you need to carry even shorter siblings. Practical hardly does it justice.
But then, it is based on the Vito van; tinted side windows, a 7-speed automatic gearbox with flappy paddles, Becker sat-nav, the leather wrapped steering wheel from a C-Class, and funky multi-spoke 16 inch alloys aside, it couldn't really be anything else. Just look at it. It does prove handy for when you actually need a van though. The twin sliding rear doors (electrically operated in some cases) mean rear access is a doddle, and all of the rear seats can be removed – albeit with an application of some serious muscle and a garage big enough to store them in.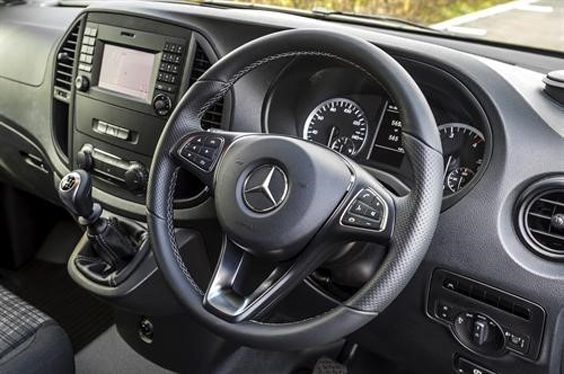 "Soaks up the bumps"
It's also surprisingly good to drive. Once you get used to the gear-selector being where the wiper stalk would usually be, the "hand-brake" you actually apply with your left foot, and the single column stalk that controls the lights, the indicators, the wipers, the rear-wiper and the washing of both front and rear screens, the Vito Tourer can be punted along with confidence.
The myriad headrests do block your rearward view somewhat, but there's a camera to help with going backwards, and the view forwards from the high-set driver's seat is positively cinema-scope. Plus, it'll cruise all-day long at the legal limit with barely a murmur or a rattle from the 190bhp 4-pot diesel engine. It soaks up the bumps with aplomb, and it will still return the best part of its promised mpg: I averaged 37.2 mpg over the 315 or so miles west, northwest and then back again. Mercedes quote 45.6 mpg, but they were probably not seven-up and battling a headwind when conducting their official tests.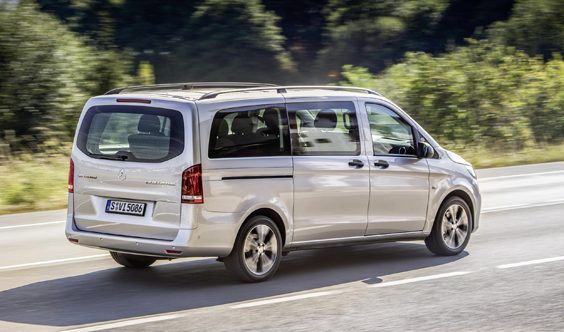 "Big but clever"
And here's the best bit: You can buy a Vito Tourer for less than the price of many a trendy seven-seat SUV, and you still get to say you drive a Mercedes Benz.
It may take up a bit more room on the driveway, and this particular Merc may look a bit more local handyman than it does Lewis Hamilton; you may even occasionally get confused with the airport transfer bus. But does that really matter?
It's big, yes, but it's clever. And it's comfy too. As a means of very social transportation the Vito Tourer – as far as Riley, his ever-expanding entourage and his chauffeur (that's me) are concerned – really does take some beating.
Mercedes Benz Vito 119 BlueTEC Tourer SELECT Long
Engine: 2143cc 4cylinder 16valve turbo-diesel
Transmission: 7 speed G-tronic auto. Rear Wheel Drive.
Power: 190bhp @ 3800
Torque: 325 lbft @ 1400 – 2800 rpm
0-62mph: 9.2 sec
Max Speed: 114 mph
Mpg: 45.6 (combined)
CO2: 163 g/km
Price: £31,615 (Car driven: £38,333)