Bentley Flying Spur – Review
By Liam Bird
"You can't park that there!" shouted my not-so-neighbourly neighbour as I carefully edged the rear of Bentley's new Flying Spur ever closer to the fence. I think what he meant to say was, you're not allowed to park there, or perhaps, I'd prefer it if you didn't park there. Poor fellow, his diction isn't the best.
I'll admit it was a bit of squeeze, but I'd parked in that particular spot twice already that week and, I might add, without any previous complaint; so it wasn't as if the Flying Spur, all 5.3 metres and 2.4 tonnes of it, wasn't going fit. And besides, thanks to Bentley having fitted it with myriad cameras and parking sensors both front and rear, and even a system should one enable it that will park the Flying Spur for you, I was confident that I wasn't blocking his gateway.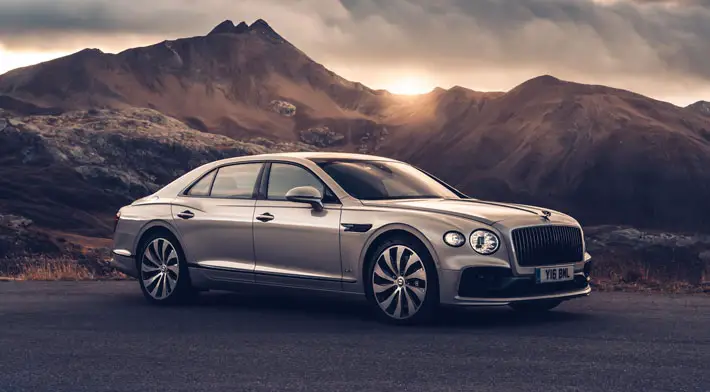 Honestly, I really couldn't see what all the fuss was about. I told him to calm down. "The car will fine," I told him. Funny, he seemed to get even more irate when I said that.
Maybe it was because someone like me – he referred to me as someone like you whilst simultaneously and vigorously pointing in my direction – was driving a Bentley in the first place. Who knows? What would drive someone to such vitriol? Jealousy perhaps; envy maybe, an inferiority complex? I guess we'll never know – and especially-so now as the not-so-neighbourly neighbour and I are no longer on speaking terms.
Personally, I've never had a problem with Bentleys, or the people who drive them for that matter. Nevertheless, in a bid to avoid the not-so-neighbourly neighbour embarrassing himself any further, I moved the car. I was told that if I didn't, he'd move it for me. I politely reminded him he wasn't insured. Neither was I about to relinquish the keys.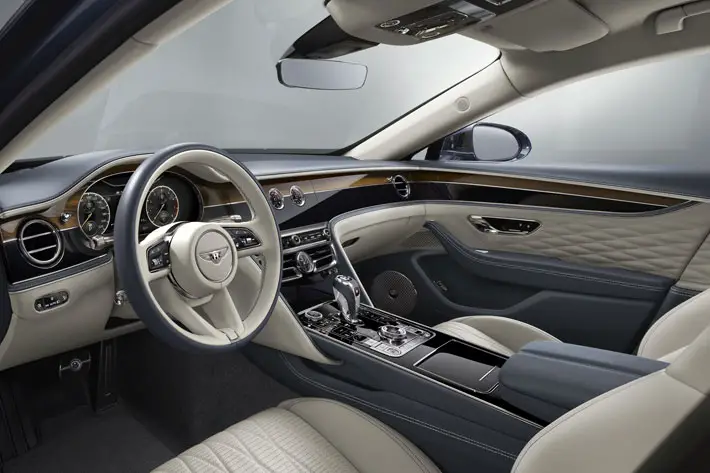 "Nobody does interiors better"
Thankfully, once you've let the Flying Spur's soft-close doors pull themselves shut you're nicely isolated from all of the goings on outside. No matter how revolting the peasants, double-glazed windows complete with retractable blinds, massaging seats that are heated, cooled, and covered in the softest of hand-stitched leathers, machined aluminium switches, and the finest of burr-walnut veneers, have all been brought together to provide an incredibly soothing environment in which one can really relax. Nobody does interiors better than Bentley. The fitment of a 21 speaker, 2,200 watt Naim for Bentley sound system that's capable of drowning out even the loudest of shouting proves, in certain situations, somewhat of a bonus too.
Press the little button on the centre console, and after the initial whirring of the starter motor there's barely a murmur from the mighty 6.0litre W12 engine that's mounted upfront. Pull the selector back into Drive, gently press the accelerator, and the Flying Spur slips away with the minimum of fuss.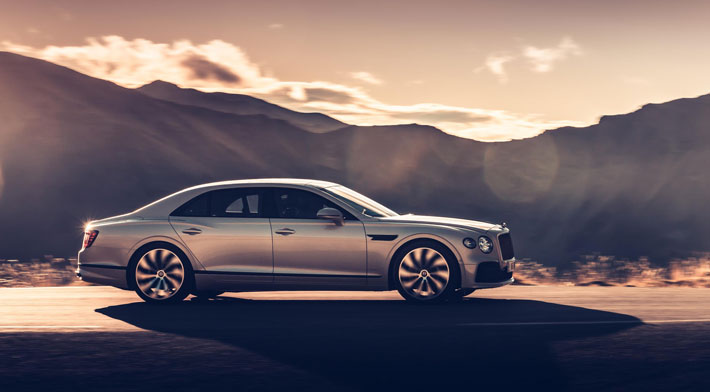 Almost as soon as you've left the driveway, the ride is near magic-carpet smooth, even on broken B-road surfaces, and even on those 22-inch rims. There's a 48-volt electrically controlled suspension system that's been designed to reduce body roll during cornering and yet provide suppleness at low speed, it works together with big three-chamber air springs. The result is a chassis that provides supreme comfort yet also firmness if or when required.
The steering weights up nicely as your pace inevitably quickens. The famous Bentley Wave of Torque seems endless. Should you wish to, you can firm up the dampers with a twist of a rotary switch, and shift gears yourself via the slender paddles mounted on the steering column. Alternatively, you can simply sit back and let the software do it all for you. Whichever way you choose to drive, the Flying Spur seamlessly blends the character of a luxury limo and that of a gentleman's GT. Four-wheel drive means it grips like the proverbial, and four-wheel steering means Bentley's new super-formed aluminium flagship (the V8 Mulsanne is no-longer) never really feels as big as it is. (It's handy for parking in tight spots too!).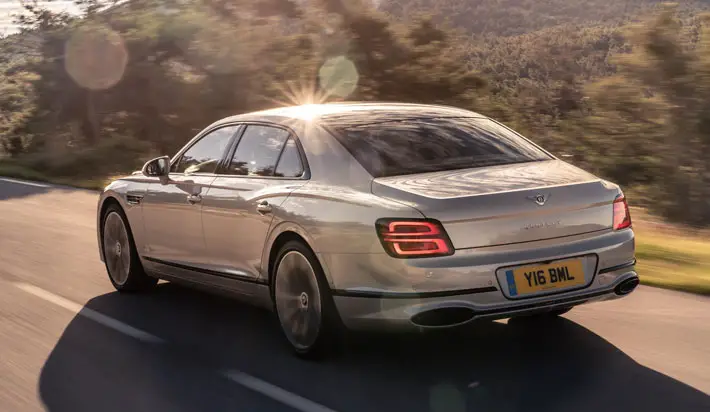 "Effortless bound"
Genuinely, its 19.1 mpg thirst notwithstanding, the Flying Spur makes one feel capable of crossing continents in a single and near effortless bound.
And the price for such luxury and performance? Before you add options – which no doubt you will – Bentley ask £168,300.
For that kind of money, you could have an Aston Martin Rapide, a Mercedes S-Class, a Porsche Panamera, or perhaps even a two-up-two-down with a small parking space or two in one of the sleepier provinces. Having the Flying Spur however, (even if it's only on-loan from the Bentley factory for a few days) really does put you in a different class.
Bentley Flying Spur W12
Engine: 5,950cc W12Cyl 48V twin-turbocharged petrol
Transmission: 8-speed ZF dual-clutch auto, with paddle shift and active all-wheel drive.
Power: 626 bhp @ 6,000 rpm
Torque: 664 lbft @ 1,350 – 4,500 rpm
0-60 MPH: 3.7 Sec
Max Speed: 207 mph
CO2: 343 g/km
MPG: 19.1 (combined)
Price: from £168,300 (as driven: £194,945)