Factors to Consider When Choosing International Courier Services & Parcel Delivery
What aspects should you consider when selecting a courier service for your company? It's a fact that running a business is never simple. You must constantly seek ways to improve your company to stay above everyone else.
Efficiently distributing your products to customers is crucial to maintaining your business. Prompt delivery of your goods within a specific time frame is paramount to keeping customers' goodwill in your brand. To attain this, you will require a courier service to assist in delivering your products in a timely manner. Depending on your chosen international parcel shipping service provider, your business could greatly benefit or suffer.
Things to Keep In Mind When Selecting International Shipping Services
When selecting the best courier service for your international parcel shipping, you must consider your company's needs first. Knowing your company's requirements can help you make the best decision. Despite having a solid reputation, many courier businesses may provide subpar services. The next elements should be taken into consideration to avoid such situations and select the most exemplary courier service:
Experience and Reputation
Experience counts when selecting a courier service for your online store. Regarding package delivery, those with more expertise are typically more reputable and reliable. You don't want to entrust your clients' orders to amateurs who might mishandle them, delay delivery, or cause damage to the box. Find a reliable courier service that has a lot of industry experience.
Trackable Features
The ability to track your package is crucial to consider when selecting a courier service. You should be able to keep clients informed about the delivery of their goods with a global package tracking number.
As an alternative, you should give customers access to their order's tracking information so they can stay updated on the progress of their orders at all times.
Destination
You must locate a courier service that offers services in as many locations as possible if your company serves many clients around the world. You must be aware that not all courier services are available everywhere. Ideally, avoid carriers that will restrict your ability to conduct business by limiting your reach.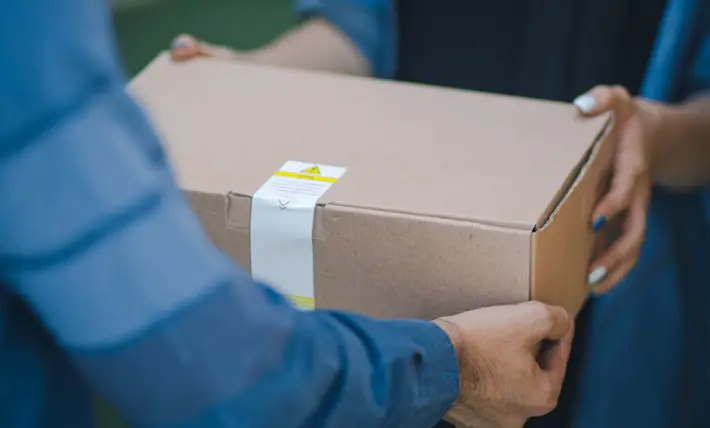 Cost
Cost should be a significant consideration when selecting a courier firm because you will frequently use their services to bring items to clients. Some organizations base their fees on the size and weight of an item. In other words, the cost increases with weight and size and vice versa. At the same time, other shipping services bill clients based on the location or distance of the delivery, so these are all important factors to consider to calculate the final cost of having a product delivered.
Quickness of Delivery
Speed is a crucial feature to consider before selecting a courier service. Inquiring about delivery times with the courier services is the route to follow since you need a company that can get your packages to customers as soon as feasible.
Safety and Security
Your mailed orders must be secure. If the courier is unreliable, a package could be stolen or lost while being delivered. To prevent this, you need to locate a company that will keep your orders secure while they move from the shipping location to the final destination.
Customer Service
Is the courier service polite and enjoyable to work with? Since you will interact with the courier frequently, ensure that their customer service is attentive, accountable, and always available to respond to any inquiries you might have.
Top Ideas
In conclusion, these are the top ideas you need to keep in mind at all times when shipping internationally through a parcel delivery and courier service:
● An adequately wrapped package will reach its destination intact. Make sure it is appropriately wrapped because international packages often make multiple stops.
● Consider securing your package with an all-inclusive cover.
● Confirm that the things you send are legal in the destination country.
● Provide the recipient's contact information. Including information like a phone number or email address will be helpful.