Top 5 Ways To Update 70s Fashion
The 70s is one of the most iconic periods of fashion that continues to make a comeback to popular stores with a modern twist. From tie dye to ponchos, midi skirts and frayed jeans, these bold statements are continually seen down catwalks and high streets today. It looks as if these fashion staples are never going to fade away, especially with brands, such as Rixo clothing, proving to be very in-demand from shoppers. Let's take a closer look at the top 5 ways to update 70's fashion, below.
1. Retro Materials
In the 70s, corduroy was the popular fabric that was used for everything, including skirts, trousers, shirts and dresses. Originally seen as unappealing, this material is more popular than ever and is back to make a firm statement. Corduroy is easy to wear everyday as a blazer or as a pair of trousers or skirt. The contrast to other materials makes for an appealing look and style.
2. Fringes
Fringes return season after season and can be incorporated into any item; add it to your handbag, shoes, blouses and even your jeans. If you want to try out a style inspired by 70's fashion, fringes are the way forward. The most popular way to bring fringes into your wardrobe is on bags, jackets and dresses. A saddle bag with fringes that will drape across your body is guaranteed to make a statement and is perfect for an everyday look.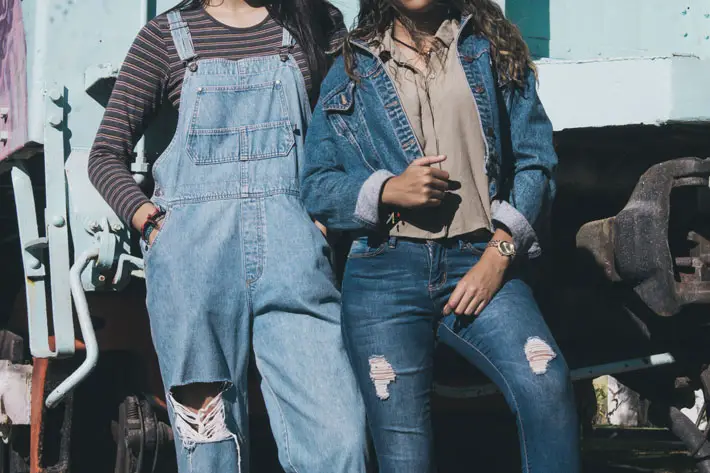 3. Wider The Better
One of the most popular fashion staples of the 70s was wide-leg trousers and they take us right back to that decade. Nowadays, you can choose wide-leg trousers with a tailored finish which works well for the office or for a more formal occasion. Elongate your form and slim your waist all at the same time with these renowned and much-loved trousers. To update the look, wear a tight-fitting top or an oversized shirt or knit that will look great half-tucked over the waistband.
4. Bell Sleeves
Bell sleeves are making a massive rebirth in an updated version of the 70's classic. Today, we tend to see the style as a silky button-down blouse. Adding texture and excitement to an outfit, update the original with a floral design for added quality. Additionally, bell sleeves can be incorporated onto a dress, making the look suitable for both formal and informal events.
5. Denim
Double denim, the denim skirt, the wrangler jacket and flared jeans, denim is as popular now as it was in the 70s. Flares and denim go hand in hand with the seventies and has been updated massively over the last 50 years. From flares to skinny jeans, although the cut has changed, you can't walk down the street or go into a shop without seeing denim. In fact, we are beginning to see double denim return, whether this is using the same dye or different colours to distinguish between the two-piece outfit. For an updated look, denim can be cut shorter or with frayed ends. Additionally, today we see shoes made from denim for a retro style.
There are a number of ways popular fashion staples from the 70's are making their way back into our wardrobes and they look great! Revamp the styles and materials from the memorable decade and update 70's fashion that you can wear to all occasions.