The Best Beauty Buys Under £10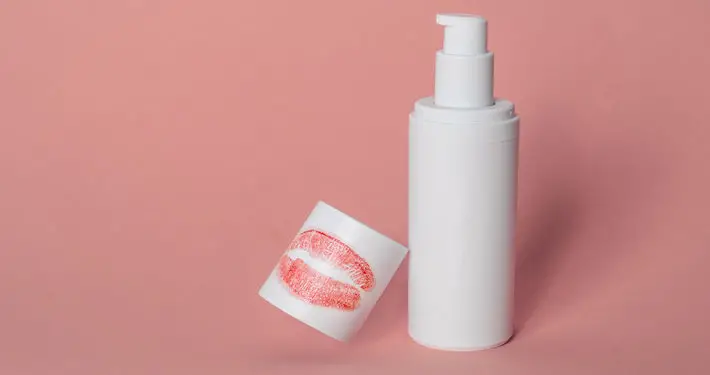 by Sophie Goodall
The change in season always heralds a new start. Back to uni, a fabulous new A/W wardrobe and the Great British Bake Off back on our screens. And what with the heatwave of 2019 chipping away at most girls' beauty stock, let's not lie: holidays abroad, festivals and even long sunny evenings in a beer garden call for some serious grooming. I always say, what better way to cheer yourself up by having a good replenish of your beauty kit? Especially when the nights are drawing in and the cold weather is looming.
With the summer hols draining your bank account, and Christmas on the horizon (just me that's super organised?), it's always smart to shop savvy, especially when you're in dire need of a new winter coat and boots, so I have decided to try, test, and compile a list of bargain beauty buys just for you. So let me present, the best beauty buys for under £10!
Bathing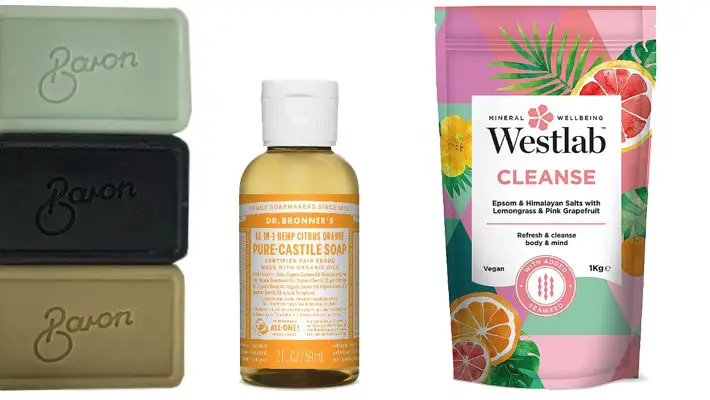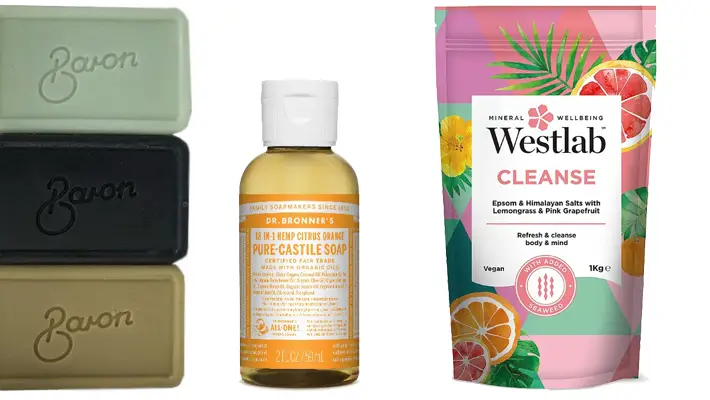 Firstly, what better place to start than with bathing products. An essential and unmissable part of anyone's grooming routine (you would hope!). The market is saturated with cheap shower gels, soaps and bubble baths, but as the world becomes greener, so do people's demands for more environmentally friendly, eco-products to be rinsed down our drains. That's where Baron Shower Bars (£3.50) come in. Designed in Yorkshire and created in France, these bars of soap are created from responsibly sourced products, are plastic free and wrapped in recyclable packaging. Baron are challenging the notion of a plastic bottle of shower gel, with their bars said to last longer and weigh over half less. They have also brought out handy reusable 'everlasting' pouches, making them perfect for travel (and better for the environment!). With an array of gorgeous natural scents, like a soft verbena, heady oud and sweet aloe, these shower bars don't compromise on quality, producing a good lather and leaving skin feeling soft.
But if you're not sold on soap in bar form, but fancy getting your money's worth, Dr Bronner's 18-in-1 Pure Castille Liquid Soap (£2.15) is the one for you. This multi-purpose soap can be used for showering, cleaning make up brushes, and even doing the whole house! It's available in a huge variety of scents, including a delicious zesty orange – so strong it's like being stood under a tree, and is a firm celebrity favourite. While I wouldn't advise this product for a good lather, it's definitely the one for an early morning pick me up.
But if saving the planet or even bargains are not your thing, and you're just in need of a dreamy and decadent bath time pamper, then look no further than Westlab CLEANSE Epsom & Himalayan Salts with Lemongrass & Pink Grapefruit (£6.99). Be warned – the salts are not soluble, but dissolve nicely to give a fragrant, steamy soak. The natural ingredients smell delightfully exotic, and while I'm not sure if I felt 100% cleansed afterwards, I know these salts work for a lot of people – and using them certainly was an enjoyable experience.
Bodycare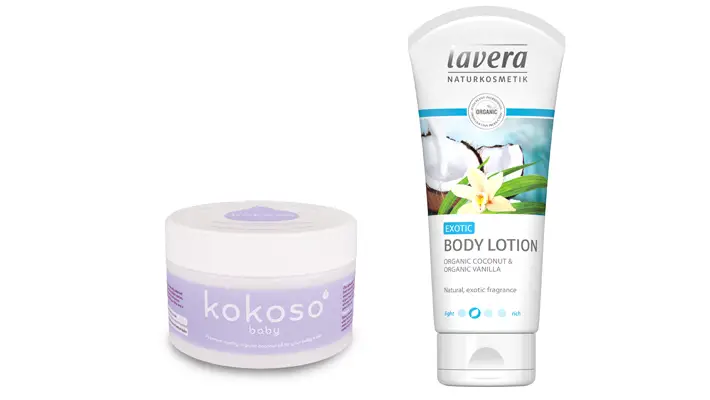 So you've showered or bathed, next you'll want to prep your skin. The change in season sadly means you'll no doubt be kissing goodbye to your well-earned summer tan, and losing your skin's softness to the cold weather, but luckily, there are always decent products to help you change that.
Wonder product Kokoso Baby Coconut Oil (£7.49) is obviously the first object on the list. It is a multi-tasking hero item. Wipe away make up, treat the last pangs of after sun, moisturise all over and apply to patches of eczema if needed. The oily, butter balm actually comes as a solid, until applied to skin, and smooths over sore patches without leaving a sticky residue. The 100% organic coconut oil has a subtle, natural scent, and a small pea sized amount goes a long way. Designed for babies, this completely natural, soothing and effective product is a must have for your bathroom cabinet.
But if your skin is already nice, and you just fancy priming it for getting your pins out, or date night is on the cards, you need to try Lavera Exotic Body Lotion (£8.95). It is at the higher end of the budget, but it has good reason to be. This product is made from vegan, organic ingredients, and while it doesn't target dry areas specifically, or act as an 'active' moisturiser, this milky, light lotion smells incredible, like a coconut and vanilla yoghurt drink (but please don't drink it), and a light application leaves skin feeling non-coated, soft and sanity smooth, and sweet smelling.
Tanning products
Once your skin is nice and prepped, it's time to tan. Yes, it's acceptable, and actually expected to be as white as a milk bottle in autumn and winter, but as the old adage goes 'life is so much better with a tan', and rules are there to be followed.
Luckily, budget tanners St Moriz are here to help you achieve that. Begin with St Moriz Advanced Pro Formula Exfoliating Skin Primer (£4.99). It's designed to be used as a scrub, leaving skin really soft, smooth and noticeably different. Even those pesky patchy horror areas like knees and ankles are left primed and smooth. Following this, the St Moriz Advanced Pro Formula Oil Free Tan Enhancer Moisturiser (£4.99) is perfect to lock in moisture, and acts almost like a make-up primer, buffing out any imperfections, gliding on and drying quick. Step three calls for St Moriz Professional No Mess Clear Gradual Tan Mousse (£6.99). In terms of fake tan, this is a good price for what you are essentially getting. Ok, so the fact that the product is clear means that application is difficult as you can't see where it's been applied, but it dries quickly, isn't sticky, and develops into a natural colour. It's not the most even tan, but because it isn't the darkest, it's not massively noticeable.
Haircare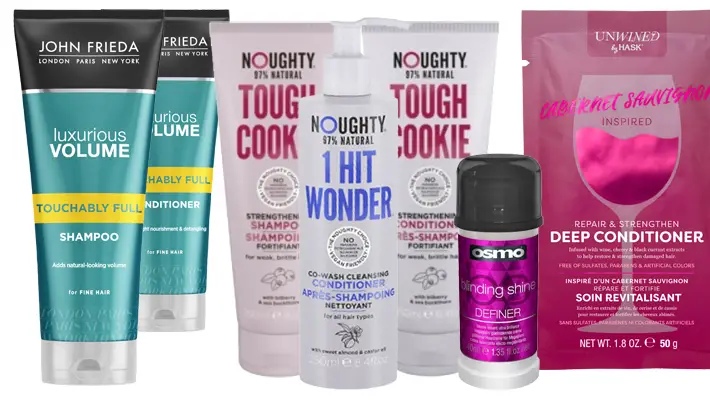 Some people don't like to scrimp on haircare, some people use washing up liquid to wash their hair… and there are a multitude of products on the market ranging from both ends of the spectrum, even if you have the coiliest hair. But it's always a bit of a gamble trying to work out which product will work for your hair type, let alone for a good price.
Haircare giant John Freida sits nicely on the top side of 'budget hair', but the price doesn't reflect the quality in this case. John Frieda Luxurious Volume Touchably Full Shampoo and Conditioner (£5.99 each) is a definite must-buy. It gives hair a good, thorough wash, with a bouncy, shiny, and manageable 'do lasting a good few days before needing a wash again. While great for oily hair, the clear gel is neither drying nor makes hair brittle.
Newcomer Noughty Haircare has recently burst onto the market, proudly boasting their vegan, cruelty free and 97% natural products, which are gorgeously scented and definitely ones to watch. From their Tough Cookie Strengthening Shampoo & Conditioner (£6.99 each) which gives a good cleanse, to their To The Rescue range which tamed my frizzy and flyaway hairs, I would definitely recommend their Noughty 1 Hit Wonder Co-Wash Cleansing Conditioner (£6.99). For those who aren't in the know, co-washes are essentially conditioners that wash your hair, designed for those with delicate hair or on limited time. Traditionally not intended for thick greasy hair, this product left mine soft, voluminous, slightly textured, easy to brush and cleaner than any other in their range.
For those with damaged hair though, Hask Unwined Hair Conditioning Masks (£3.99) are the way forward. While one packet of mask is excessive for one application, the Cabernet Sauvignon gives good results, and the scent of the Brut Rose and Provence Rose is reason enough to buy them. They're also good products for those with normal hair, leaving it easy to comb through and soft. But really, buy these just for the scents.
And for ladies with blonde or pastel hair, OSMO Blinding Shine Definer (£4.99) will help create a gorgeous pearlescent shine. May your bobs be sharp and textured, may your blondes and pale pinks be opal. You could also try As I Am CoWash, which is different from all the other hair washes in that it helps in removing the extra rebuild on the hair which can be coagulated due to excessive hair treatment and exposure to heat and chemicals.
Facial Skincare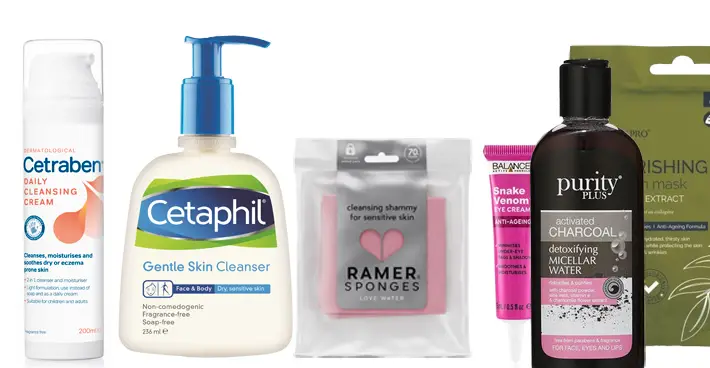 And here we have another beauty realm where scrimping is looked down upon. Because who wants to put products that could be potentially damaging on their face. But trust me, price isn't everything, and Cetraben Daily Cleansing Cream (£7.99) is proof. The affordability of this product is awesome, as it can not only be used as a facial cleansing cream, but also applied as a moisturiser. With a consistency of E45 or Nivea creams, it's a thick, almost waterproof cream, but removes make up thoroughly with no traces of residue. Personally, some may find it a tad too thick for a moisturiser (especially gals that favour serums), but it does leave skin bright and smooth with zero reaction. Result. And if zero reaction is important to you, – as it should be to everyone – Cetaphil Gentle Skin Cleanser (£8.99) is a good option, as it is much less harsher than most facial washes.
But if you're old school, and are anti make up wipes or find them harsh and abrasive, Ramer Sponges Cleansing Shammy for Sensitive Skin (£4.99) is a great alternative, and can be used with either of the products mentioned above. This extremely soft flannel is great for those with sensitive skin.
And if you want a holistic skincare routine, then look no further than Fragrance Direct. The beauty giant has created a living cost bundle priced at £8.21, including a Skintellectuals Bundle, which consists of Balance Snake Venom Eye Cream for anti ageing treatment, BeautyPro Nourishing Collagen Sheet Mask also for anti ageing treatment, and Purity Plus Charcoal Micellar Water. The mask is easily the best product out of the three, leaving skin in a good condition, however, a mask, a make up remover and an eye cream for less than £10 is a great saving, it does the job and will keep you going until you can afford those higher end products.
Face masks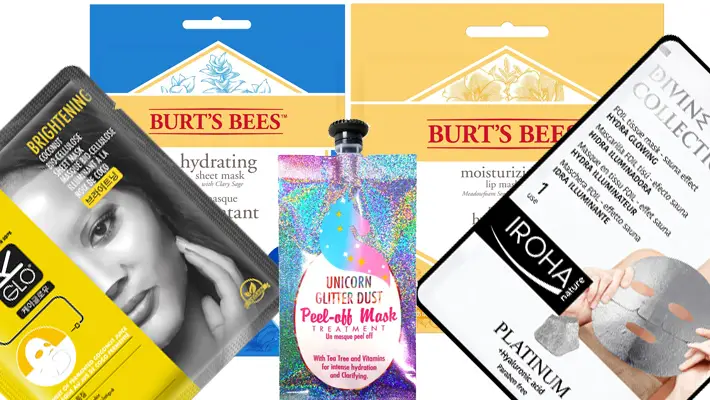 Avoiding the homemade yogurt and honey ones, or the ones adorning Wilko's aisles (you know the ones, the creepy lady grinning with orange slices on her eyes…) there's a world of face masks to discover. Hyaluronic acid, hydrating, plumping, firming, anti-ageing… luckily, there are a few decent ones under £10 that will give you excellent results.
In particular, KGLO Brightening Mask (£4.99) is a great one to try. This mask is dripping in product and is made from 100% coconut juice. The mask fits snugly, meaning you can get on with other tasks while letting the product work its magic! Skin is left looking brighter afterwards, and all this for less than a fiver!
And speaking of visible results, Burts Bees Hydrating Sheet Mask (£4.99) is a good one to try. While skin doesn't appear visibly different, the texture is very dewy and sticky afterwards (definitely a good foundation base). Using 99% natural ingredients and no animal testing, the mask is almost like a make up wipe in consistency, so unfortunately doesn't stick well. However, as it sits on your skin for a mere 5 minutes, it's off before you know it, and is a great quick fix. Add Burts Bees Moisturising Lip Mask (£4.99) to the mix for a full face mask experience. The oily mask makes it easy to buff away dead skin cells afterwards, and leaves lips pouty, plump and nourished.
Also, an honourable mentions for Iroha Nature Platinum Face Sheet (£7.99), as the product is absorbed quickly, and BioMiracle Stardust Unicorn Glitter Face Peel (£4.99) which is a thick cream rather than a mask – easy to use, will leave your skin bright and smooth, with no excess grease or moisture (recommend for oily skin).
Nails and Lashes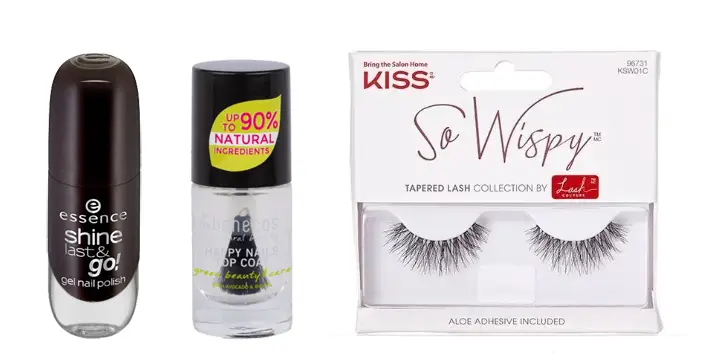 And finally, a DIY manicure, because in this day and age, £10 won't get you far for a gel mani and pedi or lash extensions, but luckily there are some great brands around that can give pro results from the comfort of your own home.
Essence Shine Last & Go! Nail Polish (£1.60) is a non toxic, vegan polish that is easy to apply, with a quick dry and a quality to rival leading brands. Not only that, the colours are great and last a long time without chipping. And Benecos Happy Nails Natural Nail Polish (£4.95) which is also vegan, is cruelty free, and uses up to 90% natural ingredients. While not as durable, it gives an accurate and neat application. And to top off the final look, KISS 'So Wispy' Lashes (£5.95) completely smashes the stereotype of fake lashes – they are natural looking, easy to apply (when you get the hand of it!), comfortable and fluttery, with a natural impact.
So there you have it – hopefully my comprehensive list will help you see some new beauty products creep into your cabinet, saving you £££ for products that are just as good as high end ones!
Find out the Best Make-Up Buys under a tenner…