The Hills Have Eyes Part II (1984) – Film Review
Director: Wes Craven
Cast: Robert Houston, David Nichols, Virginia Vincent 
Certificate: 18
by Sarah Morgan
Growing up in the early 1980s, one of the great pleasures of every weekend was visiting Mexborough Video Library and being allowed to choose a film.
Pete's Dragon was the most popular children's choice of the day, but it was always booked out whenever I got there. Besides which, I was already far more obsessed with horror movies and, although I knew I'd never be allowed to rent them, was transfixed by the covers for three films – The Town That Dreaded Sundown, Driller Killer and The Hills Have Eyes.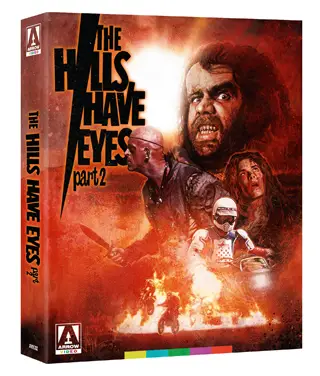 Despite my love for the genre, the latter is still the only one of the three I've seen. To be honest, it was a bit of a letdown – it couldn't live up to my youthful expectations. Nevertheless, I volunteered to watch the new Blu-ray release of its 1984 sequel with hope in my heart – which quickly dissipated.
"Mayhem"
At the centre of the tale is a group of motorcycle-mad youths whose trip to a racing event it curtailed by engine issues. They decide to take a shortcut across the desert (have they never seen any horror movies? They really should know what a bad idea that is!), where they're confronted by the unhinged remnants from the family featured in the first movie.
As ever, they are in a murderous mood and proceed to bump the kids off one by one.
However, between these scenes of mayhem come flashback sequences from the original film as the characters remember what happened seven years earlier. Most extraordinary is one involving the dog who survived the first attack and is along for the ride again. Imagine the infamous Bouncer's dream from Neighbours but on acid, and you get the picture.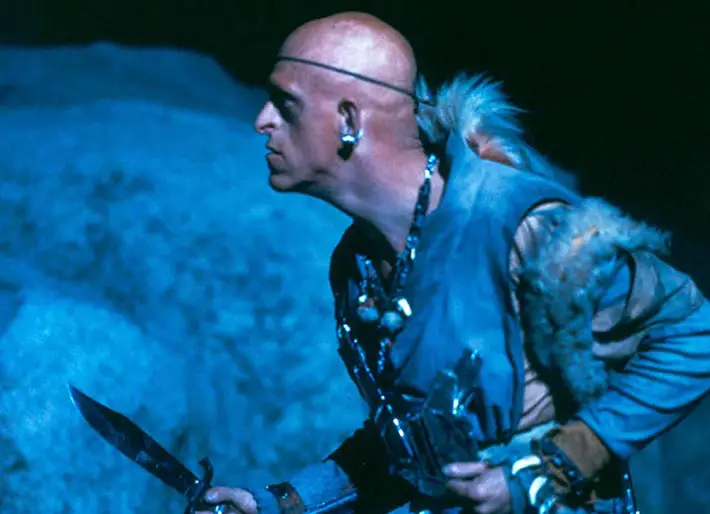 "Quick way to make a buck"
It's a pretty woeful effort from director Wes Craven to cash in on his first movie's success. But, as an excellent making-of documentary included on the release reveals, he was struggling financially at the time and saw it as a quick way to make a buck – immediately afterwards he made A Nightmare On Elm Street, and the rest, as they say, is history.
The documentary also hears from several other people involved in the shoot, who discuss Craven's disappointment with the cast, most of whom have not, it seems, gone on to bigger and better things, although the stunt cyclists receive praise for their efforts.
It's also interesting to hear Michael Berryman, the most famous co-star, talk about his experiences and friendship with the much-missed Craven.
Brand new audio commentary with The Hysteria Continues
Blood, Sand, and Fire: The Making of The Hills Have Eyes Part II - brand new making-of documentary featuring interviews with actor Michael Berryman, actress Janus Blythe, production designer Dominick Bruno, composer Harry Manfredini and more
Stills gallery
Original Theatrical Trailer
6 Postcards
Reversible fold-out Poster
Reversible sleeve featuring original and newly commissioned artwork by Paul Shipper
High Definition Blu-ray (1080p) presentation
Optional English subtitles for the deaf and hard of hearing
Limited Edition 40-page booklet featuring new writing on the film by Amanda Reyes and an archival set visit from Fangoria
Original uncompressed mono audio
Brand new 2K restoration from original film elements
The Hills Have Eyes II is released on Blu-ray by Arrow