The Play What I Wrote – Review – Sheffield Lyceum
By Clare Jenkins, March 2022
When The Play What I Wrote transferred from Liverpool to the West End 20 years ago, Kenneth Branagh's production was nominated for every award going. Not only was it a tribute to a much-loved comedy duo, but the fast-flowing verbal and visual jokes had audiences crying with laughter.
Now it's back, thanks to Birmingham Rep's new artistic director Sean Foley, who co-wrote the original script with Hamish McColl, including gags supplied by Morecambe & Wise's scriptwriter Eddie Braben. And, in a week when the global news is grim, it allows audiences a two-hour escape into nostalgia and a reminder of the many skills of old-fashioned variety acts.
The play's premise is that a failing comic double act – 'Dennis' and 'Thom', played by Dennis Herdman and Thom Tuck – are looking for ways to revive their careers. Ernie Wise always fancied himself as a playwright, but his scripts were inept. So it is with Thom, who worries that a) he's no longer funny and b) he's really a great playwright. So he writes a "brilliant new" play, set in the French Revolution, called 'A Tight Squeeze for the Scarlet Pimple'.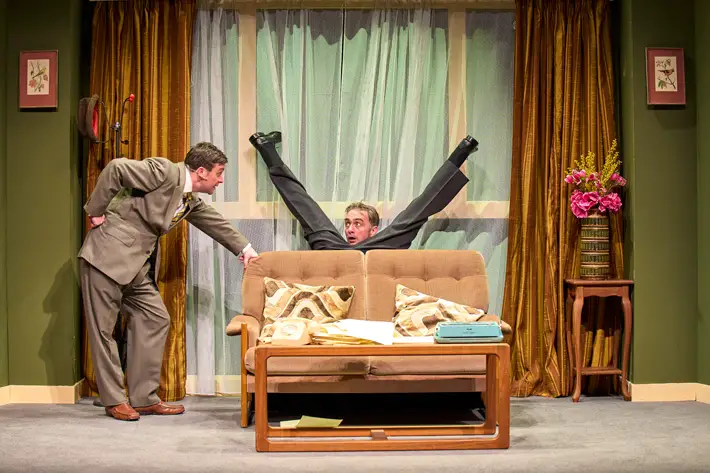 "Full of one-liners"
Dennis, on the other hand, believes that doing a Morecambe and Wise tribute act is the way forward. But he agrees to persuade a guest star to appear in Thom's play-within-a-play, as in the original TV shows. Cue the nightly 'mystery guest' – in this case, EastEnders, Dr Who and Ted Lasso actress Annette Badland, sending herself up and being sent up, with jokes about Dame Annette Badass, the Queen Vic and "pizza and Dalek bread".
The whole show is farcical, physical, full of one-liners, smutty double entendres, conspiratorial winks at the audience and malapropisms, plus the occasional romantic song – 'Moonlight Becomes You', ''A' You're Adorable'. Sweat pours off Dennis (the Ericy one) and Thom (the Ernie one) from the start as they dance, skip, prat-fall, silly-walk and leap around designer Alice Power's simple bedroom set (a homage to M&W's platonic shared-bed scenes).
As the more thoughtful Thom says of his exhaustingly high-octane partner towards the end: "You're funny. Rubber face, gangly, potentially violent – and you shout all the time." Many a true word…
Trouble is, it's 35 years since Eric Morecambe's death, which might explain the straight faces of younger members of the audience. Or maybe they didn't like the topically satirical "Persons and gentlemen" opening line, repeated later as "Labels and gentlemen". Or maybe it's all just too pat – at least until Mitesh Soni comes on as Arthur, the hapless Brummie harmonica player used as a comic turn in the original TV series.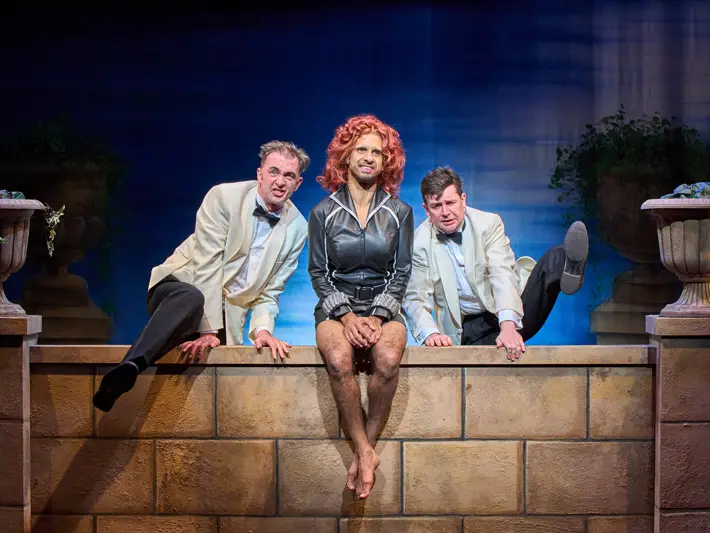 "Dizzying range"
Soni rather steals the show with his mobile, wide-eyed, sweetly innocent face and gawky gestures, and with his dizzying range of roles – "legendary theatre producer" David Pugh; "Joginder Patel of the Morecambe and Wise Appreciation Society – Military Wing"; an oversized dog; Scarlett Johansson (in red wig, platform heels and a black leatherette mini-dress showing off possibly the finest legs in the business). Then there's his role as Arthur himself – often spotlit as he soliloquises about the evening his Psycho-mother gave him a harmonica. Not to mention his appearance as a group of French Revolutionary villagers.
Ah, yes, the French Revolution… The funniest scene is Act 2's pastiche A Tale of Two Cities French prison scene, where Dennis hangs from wall manacles, Arthur appears as a pouting jailer, Thom is the Scarlet Pimple, there's a trio of can-canning skeletons, and Badland is the French aristocrat doomed to be guillotined.
There are jokes about inaudible laughter, comic dream sequences, the occasional farmyard noise, a touch of ventriloquism, even a custard-pie-in-the-face scene. As they all sing at the end, "In this world where we live there should be more happiness". It may be corny but, as things stand in the outside world, the sentiment certainly resonates.
'The Play What I Wrote' is at the Sheffield Lyceum until Saturday