Oliver Twist (Live Streaming) – Review – Leeds Playhouse
By Eve Luddington, October 2021
Forget Oliver! The Musical: the tone of this Oliver Twist has far more in common with Dickens' original exposure of the grim Victorian underworld. It's produced by Ramps on the Moon, a consortium of major theatre companies, including Leeds Playhouse, committed to putting deaf and disabled artists and audience at the centre of their work. At the heart of the production is a unique way of storytelling through sign language, captions, audio-description for the blind and spoken English. This is Oliver Twist as you've never imagined it; fully accessible, sharp, entertaining and hard-hitting.
The run at Leeds Playhouse in March 2020 was greeted by rave reviews but cut short when the theatres closed later that month. Thankfully, audiences can now watch the 2-hour digital edition at home. This small-screen version, filmed during one live performance, loses some of the actor-audience dynamic, the atmosphere and the spatial relationships of live theatre but it's still very worthwhile watching.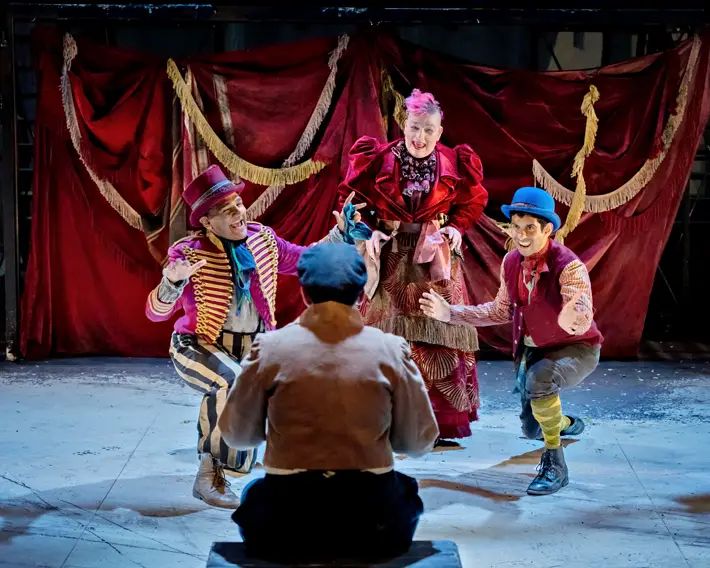 "Highly committed"
Hayley Grindley's design is striking. Revealed with cold blue lighting, the dingy steel set with an imposing barred gate beneath a cinematic screen evokes the grim Victorian underworld perfectly. At the start, the costumes are dark, almost monotonal. It's somehow reminiscent of the 1948 film starring Alec Guinness as Fagin.
Writer Bryony Lavery invites us into her adaptation with the word 'Imagine' on screen, all the actors chorusing and signing the word too – and repeats the invitation at the start of all the early scenes. It's a subtle, poignant reference to the John Lennon song of that name. And, although Lavery sticks mostly to the Victorian context, other touches like that show us that this story relates not only to Dickens' London. Lavery has condensed the original, emphasising its essentials with evocative phrases which tell of today as well as yesteryear. It's a concise, poetic piece of accessible narrative theatre, performed with passion by a cast of highly committed actors.
Amy Leach, director, has created a fine ensemble of multiple and diverse talent who communicate beautifully by sign, mime, spoken language and, most often, a mix of all three. The chemistry and rapport between the actors are tangible as they perform the story.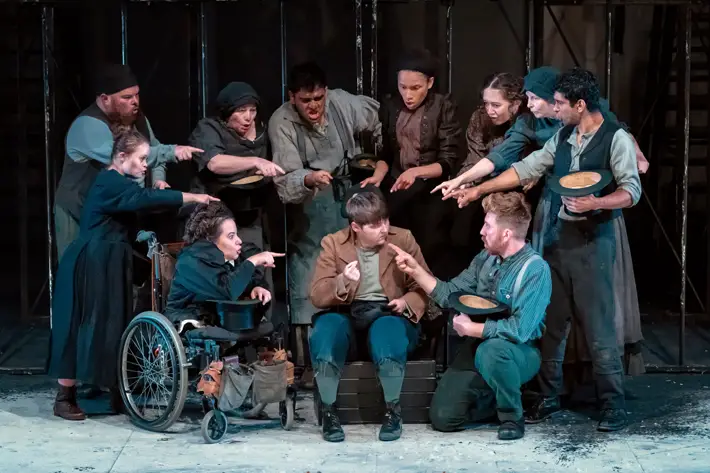 "Tender performance"
Oliver Twist's birth and early life in the workhouse and at the undertakers is told episodically, with the ensemble as chorus. Oliver (and the actor himself), is deaf in this production, making all the more outrageous his exploitation and de-humanisation by those responsible for his care. Brooklyn Melvin plays the part with touching honesty and pathos; when he's imprisoned in a cellar, his cries of frustration and fear are chilling.
Sometimes the script lingers too long on detail in these early scenes, and the episodic narration and chorus are repetitive, so the impact of the story is diminished. But, enter the Artful Dodger, played with gusto by Nadeem Islam, and the production gains colour, life and pace. Islam is outstanding. He brings infectious energy with him, and a sensitivity rarely seen in this character.
This Dodger is the first deaf person Oliver has met. For the first time, the young orphan has someone to identify with – and so he finds his own identity. Dodger's fellow pickpockets, the downtrodden desperadoes of the underworld, are also deaf or disabled. Cared for and exploited by a female Fagin, played commandingly by Caroline Parker, they're a tight-knit and fiercely loyal gang in a cut-throat world. None more cut-throat than Fagin's first pickpocket pupil, Bill Sikes. He's huge and menacing, terrifying at times – and yet, by the end, we see his pain too. Stephen Collins embodies this damaged monster to great effect. His relationship with vulnerable, brave Nancy, in a tender performance by Clare-Louise English is all too believable.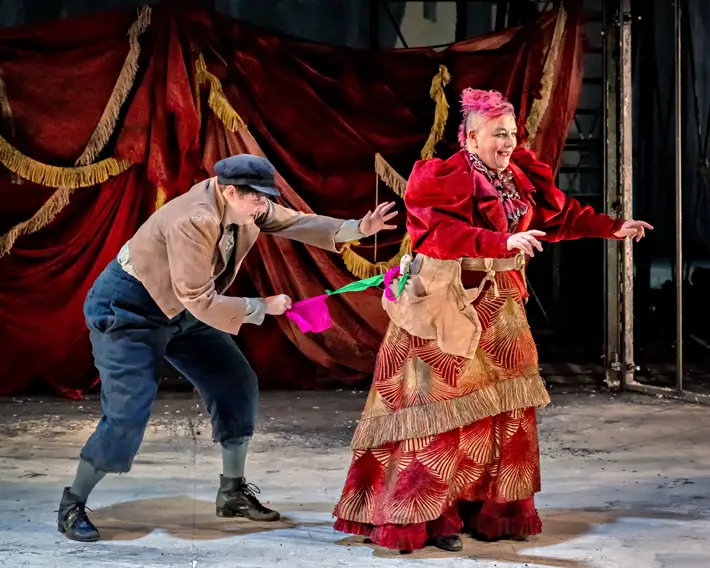 "Thought-provoking"
The darkly comic couple, Mr Bumble and Mrs Thingummy, are played with relish by Benjamin Wilson and Amy Conachan. They're mendacious and grabbing; characters you love to hate and really enjoy watching!
The 'posh people' on whom the tale turns are Mr Brownlow (Christopher Wright) and his daughter, Rose, played with kindness and dignity, by Katie Erich. In this production, Brownlow reluctantly allows Oliver to stay in his house on condition that the boy stops using sign language and learns to speak. Christopher Wright is so believable as a man of prejudice that his transformation, when he realises the deaf vagrant he mistrusts is his grandson, is a stretch of the imagination.
So this production has its flaws but, overall, is a refreshing and thought-provoking take on Dickens' tale, using thoroughly modern means to reach new audiences some of whom, like Oliver, are disempowered by a society careless of their needs. In the hard-hitting final moments, hints that this story mustn't be forgotten at the curtain are brought to the fore with the question asked, upfront, by the entire ensemble: is this play really about the past?