Footloose – Review – Bradford Alhambra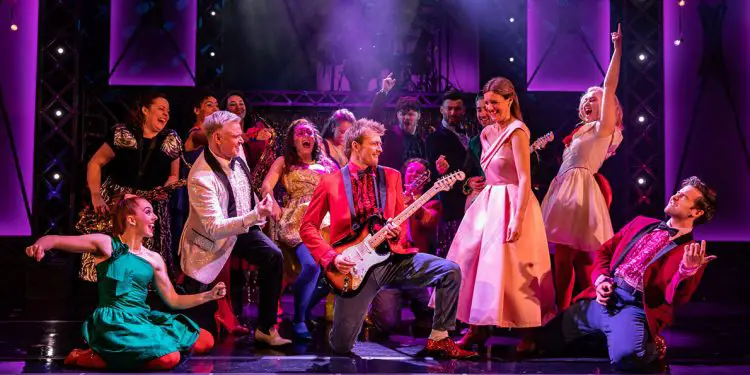 By Steve Crabtree, June 2022
Footloose was one of the very first musicals I ever went to see when it came to Yorkshire around 15 years ago.  I absolutely loved it then. And today it's bigger, brighter and even better.
The show, based on the 80s blockbuster film of the same name starts with a huge burst of high-energy that barely lets up over the next two and a half hours. And throughout the entire show, you can't help but get sucked right into the whole brilliant, feel good factor of the production.
"Amazing cast"
So, you've probably seen the film, yes? Where Ren McCormack has left his friends and work buddies behind in Chicago as his mother takes him to Bomont? A sleepy backwater town where outsiders are given a hard time, and rules are made not to be broken? Well, in case you haven't, when Ren visits his new church he doesn't make a good impression. Then, when he starts at his new school, things go even more awry and he's the target for the hard boys.
He's experienced good times back home, but now finds himself with life restricted beyond belief.  And all he really wants to do is dance.  So, when he slowly finds his way in his new town, he's on a mission.
"A true show stealer"
And that mission came to us in a show that was packed with everything you need for an exciting night out at the theatre. The writers have taken hold of the film, and given us something so brilliant live.
Firstly, we had a solid cast up there treading the boards.  I could honestly name and tip my hat to every one of them. But Jake Quickenden is absolutely incredible in the role of the aloof Willard Hewitt. He's hilarious, a true show-stealer and made the women in the audience's evening during 'Holding Out For A Hero'. He can sing, dance and gets comic timing down to pinpoint accuracy throughout the entire show.
Then Joshua Hawkins took the lead role of Ren McCormack. Now this is an actor with energies that seemingly have no bounds.  His dancing in the number before the interval, 'I'm Free/Heaven Help Me' meant he must have been glad of the break when the curtain went down. His moves were so relentless and powerful, I was ready for a drink, never mind him.
Darren Day plays the fun-sucking Rev. Shaw Moore with great authority. And Lucy Munden is superb in the role of Ariel, the Reverend's daughter. She seems dutiful and proper at first, but is in fact rebellious, and dead against her father's restrictions. Her choice of clothing (or lack of) is a sure fire symbol of that. And a special mention for Oonagh Cox for her portrayal of Rusty. Rusty is slightly less aloof than Willard, but she likes him and he likes her, a nice side to the main storyline. Cox voice, mannerisms and vocals lend a lot to her character.
"Flamboyant and fun"
The flow of Footloose moves quickly, and although act one is long your interest for the next scene is pricked easily. You get to know more about what's under the surface of the characters as the story unfolds, and you learn a deeper side to the goings on in Bomont.
A ton of fab 80s hits are included in the song list to Footloose too. 'Let's Hear It For The Boy' went down well, as did the title tune of the film.  If, like me, you're an 80s fan, coming along this show will be right up your musical street.
And the set is quite clever too. It's well put together, and changes from a school, to a church to a living room nice and smoothly. It brings a murky mood in the outdoors, and a disco-light feeling when the dancing hots up.
And we also get some lovely touching moments too. There's a true cast connection when Ren and Reverend Moore address their struggles with grief. And there's a powerful scene that harnesses the female leads dealing with misogyny in their lives.  We get sweet moments of attraction, and indulgent moments of cheese.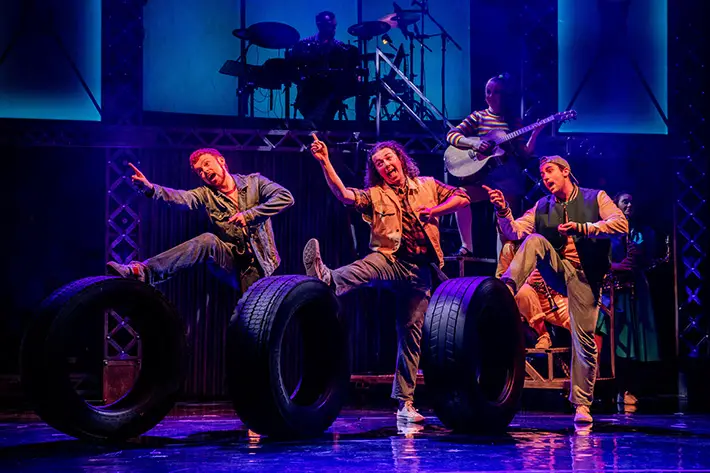 "Didn't want it to finish"
It gave us everything. Times to weep, times to laugh, times to mourn and a times to dance. And I have to put this show right up there in my list of favourites of the last five years. I could honestly come back and watch the show every night this week.
The climax to Footloose is flamboyant and fun, and had the entire audience up on their feet.  Throughout the show I laughed, toe-tapped, grinned and it's a show that I sincerely didn't want to finish as soon as it did.  I could have enjoyed a good half hour more of it, and judging by the reaction of the Alhambra, hundreds more felt the same.
Footloose runs until Saturday 25th June