Martin Kemp 80s Gold DJ Set – Live Review – Wakefield Warehouse 23
By @Steve Crabtree, October 2019
The 80s may have produced an abundance of cheesy tunes, questionable haircuts and forgettable fashion, but it also served up some unforgettable pop hits that haven't ever dated.
People who know me know that my musical tastes go off in wildly different directions. But when it comes to 80s pop, it's right up there with my favourite kinds of music. So, any chance I get for an 80s evening, I'll be there. And in Wakefield at Warehouse 23, one of the stars of that era was putting on a DJ set that I was never going to miss.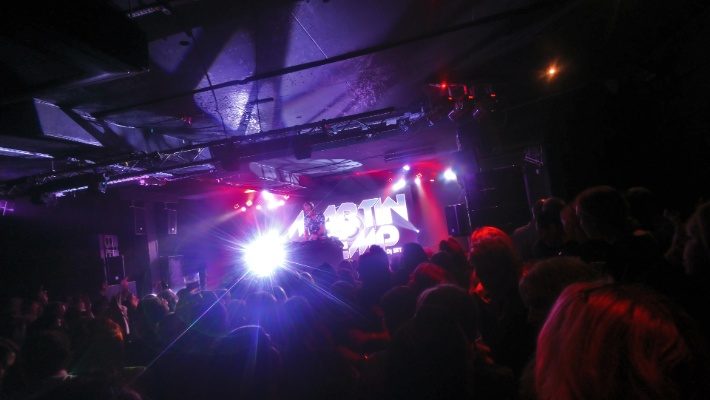 "Old school disco"
Warehouse 23 was filled from the front to the back. And the crowd were already warming up to the 80s tunes that were coming out at us, as the drinks flowed and the good times were about to roll.  Then at 9pm, the volume was cranked up and former Spandau Ballet bass player Martin Kemp took to the stage with Black Box's 'Ride On Time' kicking things off.
Dressed in a Club-Tropicana-esque shirt, Kemp took us on a journey back to our old school disco – with the bonus of a bar! And the crowd, who were no longer at school, were in their element. As was me and my 80's loving friend, with unforgettable tunes such as 'House Of Fun' by Madness and Chaka Khan's 'I Feel For You' coming thick and fast. Here was a terrific set-list that covered a range of styles from the 80s – and everyone's feet just kept moving.
And Kemp, nowadays a silver-fox, had people in a frenzy every time he left his decks to dance with the rest of us, and sing along at the front of the stage.
"Levels of happy energy bounced around the room"
It was a night filled with a lot of fun. Heaven 17's 'Temptation' was a big sing-a-long favourite, and 'You Spin Me Round' by Dead or Alive meant we were getting hit after hit. Classics from Wham!, Madonna and Frankie Goes To Hollywood followed as Kemp spent as much time dancing as he did behind the decks.
You might think that this is just another 80s night, but it's bigger and better than that. The volume is different, the selection is spot on and the DJ keeps you going. The atmosphere was so good, and the vibe perfect.
I'd heard that Martin Kemp 80s Gold DJ nights were something pretty special. And tonight proved those rumours to be true (no pun intended). Song of the night, needless to say, was a Spandau classic. When Kemp played 'Gold' the room erupted. Dancers went crazy, singers went in to over-drive, and the levels of happy energy bounced around the room. 
And when the night finished at 10:30pm we all wanted more. For the 80's fans among us… sweet dreams are made of these nights.