Introducing: A Night in November
From Leeds with love, pop-punk's smiling revenge…
YOUR NAMES: Gareth, Luis, and Costa
BAND NAME: A Night in November
WHAT DO YOU DO/PLAY?
Gareth: I play bass and sing the clean vocals.
Luis: I play guitar and scream.
Costa: I play drums and make an occasional guttural growl in the background. haha.
HOW LONG HAVE YOU BEEN TOGETHER AS A BAND/PLAYING MUSIC?
C: We've been together for around four years. Whilst none of us had the experience of being in a band previously, Gareth has performed solo acoustic shows before. It's been an awesome journey though and we'd say you don't need experience to start a band, you just need to enjoy it.
GIVE US 3 REASONS WHY WE SHOULD TRACK DOWN, LISTEN AND DISCOVER YOUR MUSIC?
L: 1. We love to make music that's fun and not too serious, and who doesn't like fun?
2. There's an awesome UK Pop-Punk scene putting on some of the best gigs around, and we'd love you to come join it.
3. The bear from our 'Nation Of Bells' and 'Time At The Bar' music videos will maul you if you don't. He's very protective of us 🤘🐻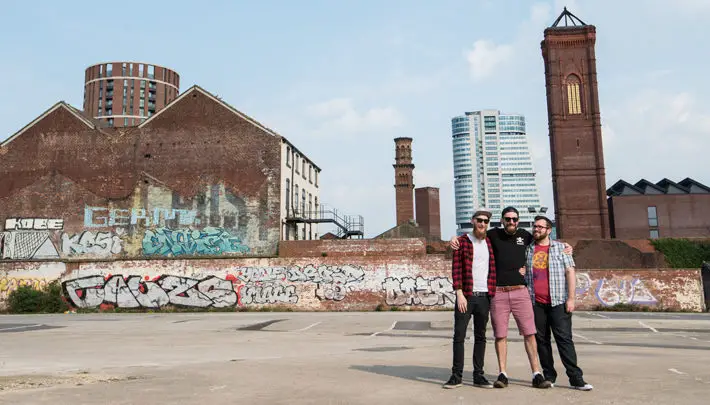 "Not even ashamed"
WHERE DO YOU SOUND BEST – FESTIVAL, CLUB, BEDROOM – OR SOMEWHERE ELSE?
G: I personally think our music could be enjoyed best in a dark and dingy room with big speakers and a dance floor. Though we filmed our latest video at an outdoor garden party and people were really enjoying it there too. I guess we sound best when you're with a group of fun people?
WHAT WAS YOUR FIRST…
RECORD?
G: I bought 'Neverending Story' by Limahl from a charity shop. I didn't have a record player at the time but I loved the song and film – I couldn't resist.
L: I bought a few at the Record Store Day 2012, including Bowie – 'Starman', The Clash – 'London Calling' and Metallica – 'Beyond Magnetic'.
C: I've never bought a record, although I heard that this year they are set to outsell CDs for the first time since 1986.
CD?
G: I think it was an Austin Powers soundtrack – groovy baby.
L: I bought The Smurfs Go Pop! when I was 7, including such hits as 'Mr Smurftastic' and 'Don't Stop Smurfing'.
C: It was actually 'Gettin Jiggy Wit it' by Will Smith. Not even ashamed.
DOWNLOAD?
G: 'Feeling this' by Blink-182.
L: 'A Crow Left Of The Murder' by Incubus.
C: 'The Finer Things' by State Champs.
"Fun to scream"
SO, WHEN IT ALL GOES RIGHT AND YOU'VE GOT A MANSION AND A SUPERMODEL GIRL/BOYFRIEND, WHAT WILL BE YOUR BIGGEST MUSICAL INDULGENCE?
G: I have everything I need already, but if you are offering… I wouldn't mind a Rickenbacker guitar and/or bass.
L: A Mesa Boogie Mark and a Fender Mustang with some P90s would be pretty sweet.
C: Someone to carry all my drum equipment to gigs… it's back breaking. Does that count?
G: Mate, we already do that!
SO, WHEN IT ALL GOES WRONG AND YOU'VE ACRIMONIOUSLY BROKEN UP CITING HUGE MUSICAL DIFFERENCES, WHAT DO YOU FALL BACK ON?
G: I'd love to carry on doing art work for bands and still be involved in the music scene somehow.
L: I've started learning drums, and I reckon it'd be pretty fun to scream over some beats of my own.
C: Landscape architecture… my 9-5 life.
CITE SOME INTER-BAND MUSICAL DIFFERENCES…
G: I really like ELO and soundtracks to musicals which I'm certain the boys don't appreciate. Luis sometimes sings a bit of Les Mis with me at practice though.
L: I got properly into music listening to Hendrix, but I'm pretty sure the other guys are sick of me noodling away blue solos while they're trying to talk…
C: We formed a band based on our love of the same punk songs that we all grew up singing, although I am partial to a bit of hip hop which I'm not sure the others guys are keen on… Well, actually, Gareth has been known to rap…
"Absolute master"
WHO ARE YORKSHIRE'S FINEST IN CULTURE, SPORT AND MUSIC?
C: We play a genre that is predominantly classed as pop punk / punk rock, and being based in Leeds we are lucky enough to be part of an exciting underground scene with lots of talented local bands that play a similar kind of music, such as Lyon Estates, Elastic Waste, High Visions, This Party Sucks to name but a few. Couple that with Slam Dunk who put amazing gigs on in Leeds and we wouldn't change it for the world.
NAME YOUR SUPERGROUP – WHO'S PLAYING WHAT, WHO'S ON VOCALS AND WHO'S YOUR BEZ?
C: Travis Barker is clearly on drums – absolute master of his trade.
L: Totally agree with Costa that Travis Barker has to be on drums, with Caleb Shomo on vocals, Jack White and Synyster Gates on guitars, and a reanimated Cliff Burton on bass. Can't image what genre they're settling on though. 😂
G: I appreciate so many artists across different genres, so it is hard to say. The Travelling Wilburys are still my favourite supergroup, all musical legends.
GO SEE THIS FILM:
C: A Fat Wreck. It's a feature documentary about one of the major punk record labels in the USA, which has played host to lots of amazing bands throughout the years. It is a major influence in terms of what music we listen to and the sound of our band in part, and aside from being seminal in its own right, it's still very punk rock in the way it's run.
GO READ THIS BOOK:
G: Timeline by Michael Crichton is an absolute page turner, my favourite book.
GREAT LOST BAND/ARTIST:
L: Confide.
WOULDN'T BE CAUGHT DEAD SUPPORTING:
G: I think we'd support anyone who are up for a good time.
LONDON, L.A OR LEEDS?:
C: LEEDS!
AND FINALLY… AS YOU LEAVE THE STAGE, WHAT ARE YOUR PARTING WORDS?
All: you keep dancing, and we'll keep fighting!
The new single from A Night in November, 'Mop on a Segway' is released in November
For more info visit: anightinnovember.com