Jessie Ware – Live Review – The Piece Hall, Halifax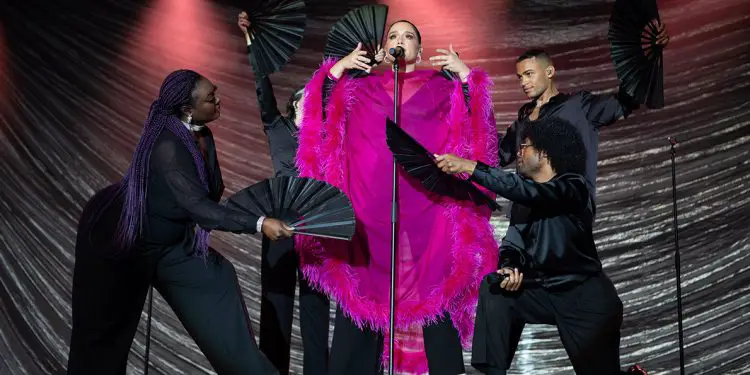 By Steve Crabtree, June 2022
The Live At The Piece Hall music season is probably the thing I look forward to the most in my hometown. It's a venue that I'll never stop being in awe of, and when people visit the place, it quickly makes their 'best places I've ever been to' list.
The old cloth hall was bathed in warm, early evening sunshine as the first crowds filed in for Jessie Ware as the first headliner of 2022.  And it's fair to say she opened the season in some style.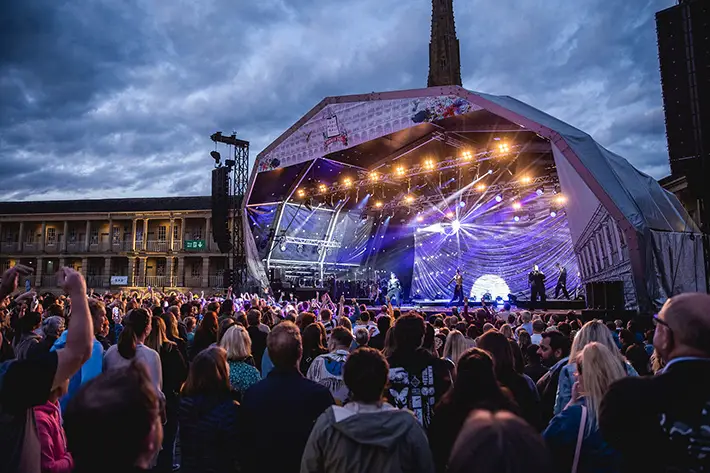 "Pleasing the masses"
We had a healthy size crowd inside the courtyard, a lot of whom had taken advantage of the lovely summer Sunday and had been out and about in some of Halifax's brilliant independent bars and ale houses in the build-up to the show.  It helped to create a nice atmosphere, and every one of us was excited for Jessie Ware.
Ware took to the stage just after 9pm, along with some impressive backing dancers and she kicked things off with 'Spotlight', which immediately sent an upbeat chill reverberating around The Piece Hall.
We were then treated to another 17 songs from her back catalogue. Both newer and older stuff. Early on she gave us 'Read My Lips' and 'Step Into My Life', before '110%' and 'Mirage' followed.  Throughout the show, the selection seemingly pleased the masses who'd come to see her.
And it was a mixed crowd who'd made the journey into Halifax to see her. There were many under 30s, probably many more over 40s, and a sprinkling of people inbetween that.  Ware has been around quite a while, but has quite a demographic amongst her fanbase. And that was more than apparent during her show at the Piece Hall. It was busy down the front, but quite nice and spacious as you got a little further back.  With that, everyone in the place had a great view of the show.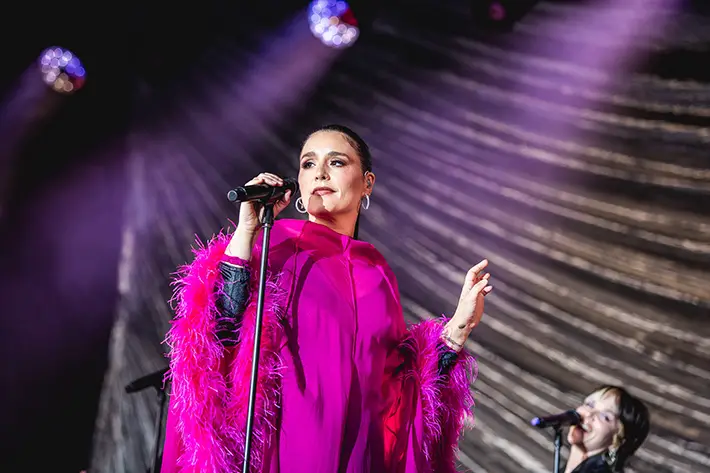 "Disco feel"
Ware was in great spirits on her first visit to Halifax. Like many who've only just come across the Piece Hall, she likened the place to Italy, and was glad we'd avoided the rain.  She mixed costume changes with crowd connection nicely, and engaged with the audience really well.
The songs came at us thick and fast. I thought 'Midnight' – a song I've always likened a little to Elton John's 'Benny And The Jets' – sounded brilliant. And the disco feel came out during 'Kiss Of Life' as the sky got a bit darker, and the lights began to work their magic. The Piece Hall had become a dancefloor for the first time this summer, and I'm excited for that happening many more times over the next couple of weeks.
Around you at the venue is an abundance of bars and food stalls. You can find pretty much have anything you like, but if you're coming to a show, bring plenty of cash with you. Some of the options can add up. I really enjoyed a Greek mixed meat wrap, but at £16 it was pretty steep.  But then, we had a bottle of fresh orange from the Gin Lane bar at £3 which wasn't bad. While you're watching the incredible stuff on stage, you can get curry, loaded fries, hot dogs and more from the outlets, all varying in price.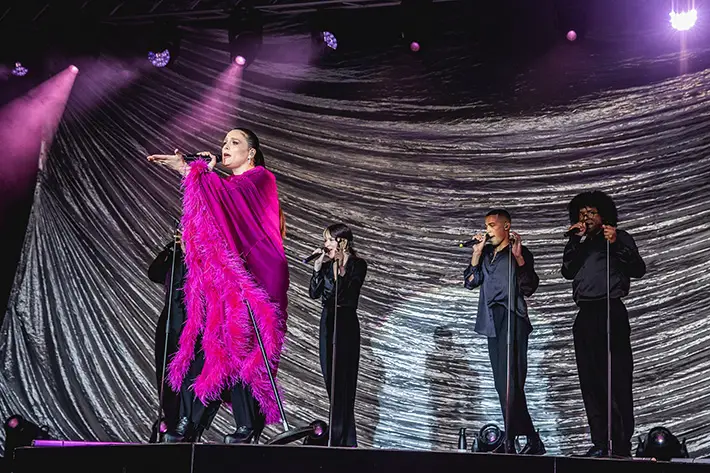 "Something quite special"
But, it was the show that was the reason for coming to the Piece Hall tonight, and Jessie Ware had given us a very decent Sunday evening, here in the 'Fax. Some of her routines with her backing dancers were quite special, and once we'd hit darkness the glitter ball came into its own.
She closed the show without an encore but did fire out a couple of big hitters in 'What's Your Pleasure?' and 'Save A Kiss' at the end. Jessie Ware had started the season off superbly, and there were a lot of very satisfied fans, new and old. The entire night had everything you want on a musical Sunday evening.
And for those who might not have been too familiar with what Jessie Ware has put out there over the years, they will be now.