Introducing: The Racketeers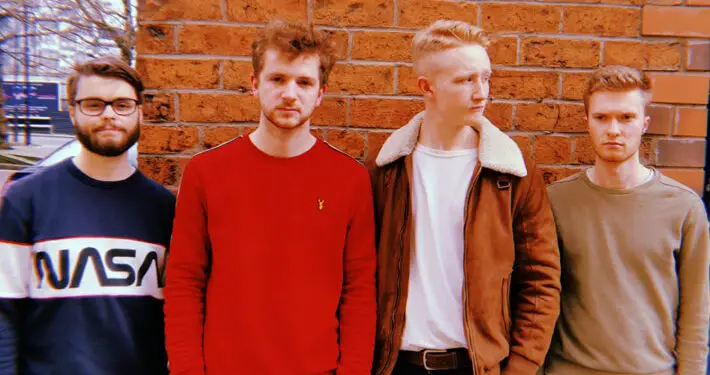 Hook filled garage rock from Leeds…
YOUR NAME: Joe Mosley.
BAND NAME: The Racketeers.
WHAT DO YOU DO/PLAY? Guitar and vocals.
HOW LONG HAVE YOU BEEN TOGETHER AS A BAND/PLAYING MUSIC? 4 years.
GIVE US 3 REASONS WHY WE SHOULD TRACK DOWN, LISTEN AND DISCOVER YOUR MUSIC?
We're a very melodic band and there's poetic lyrics underneath the music.
We've got a song for every mood so there's no real reason to listen to anyone else.
There's a picture of me eating a bun on the cover of our album.
WHERE DO YOU SOUND BEST – FESTIVAL, CLUB, BEDROOM – OR SOMEWHERE ELSE?
We sound best in a crammed pub full of keen drunk people.
WHAT WAS YOUR FIRST…
RECORD? Pink Moon by Nick Drake.
CD? American Idiot by Green Day.
DOWNLOAD? Dig Your Own Hole by The Chemical Brothers.
SO, WHEN IT ALL GOES RIGHT AND YOU'VE GOT A MANSION AND A SUPERMODEL GIRL/BOYFRIEND, WHAT WILL BE YOUR BIGGEST MUSICAL INDULGENCE?
I'd probably make a home studio and turn a room in my mansion into a reverb chamber, that would be sweet. It'd be like a natural effects unit I could mess about with. I'd also buy an organ. I just like them.
SO, WHEN IT ALL GOES WRONG AND YOU'VE ACRIMONIOUSLY BROKEN UP CITING HUGE MUSICAL DIFFERENCES, WHAT DO YOU FALL BACK ON?
I've been working on a computer program for designing an acoustically perfect ceiling for a performance space using genetic algorithms. It's really interesting but also completely maddening. Watch this space.
CITE SOME INTER-BAND MUSICAL DIFFERENCES…
Joe Dean (the other Joe who I write songs with) tends to listen to more stripped back 60s music like Bob Dylan and The Velvet Underground. I love that stuff too but he has a much more encyclopaedic knowledge of it than I do. I have a similar thing with Aphex Twin, I just bang on about him all the time but I don't think Joe's fully on board.
WHO ARE YORKSHIRE'S FINEST IN CULTURE, SPORT AND MUSIC?
I've seen The Harriets a couple of times and I really rate them, their music is really fun and catchy and they're musically so tight, so go and see them. "Have Fun in Your Workplace" is a banger. For sport it's Huddersfield Town obviously. Cosmic Slop at Hope House in Leeds is one of the best nights out I've had ever had. Such a great atmosphere and weird eclectic selection of music and people.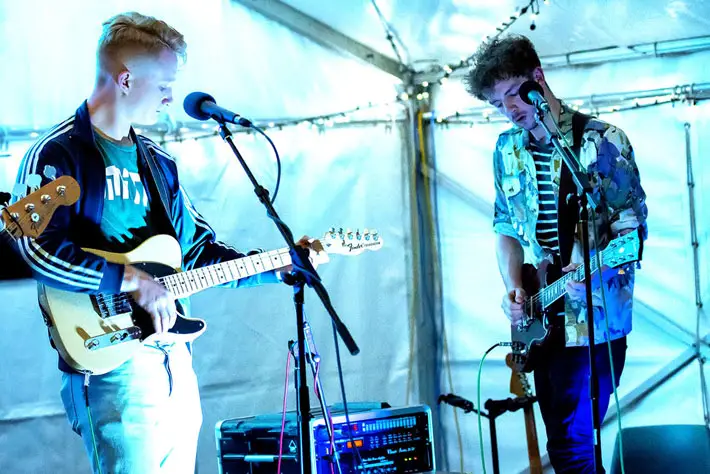 NAME YOUR SUPERGROUP – WHO'S PLAYING WHAT, WHO'S ON VOCALS AND WHO'S YOUR BEZ?
I'd have Archie Marshall (King Krule) on vocals, John Frusciante on guitar, Morgan Simpson from Black Midi on drums and Paul McCartney on bass. Alex Cameron would be Bez. I love his music but his dancing is the most hilarious thing I've ever seen.
GO SEE THIS FILM: American Psycho.
GO READ THIS BOOK: Zen and the Art of Motorcycle Maintenance.
GREAT LOST BAND/ARTIST: Nick Drake.
WOULDN'T BE CAUGHT DEAD SUPPORTING: Skrewdriver.
LONDON, L.A OR LEEDS?: Leeds.
AND FINALLY… AS YOU LEAVE THE STAGE, WHAT ARE YOUR PARTING WORDS?
"Oh sh*t yeah sorry, we've got a Facebook account so follow us please. Also all of our music is on Spotify… bye."
The new album by The Racketeers, Toothache, is out now
For more info visit: facebook.com/ThemRacketeers