Guide for Choosing Modern Furniture for the Living Room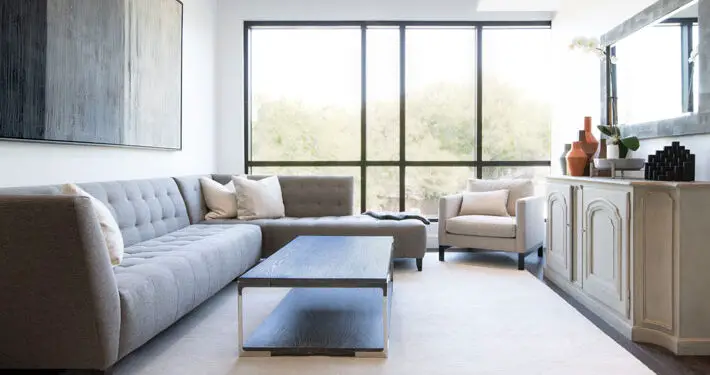 How much time do you spend in your living room every day? Undoubtedly a fair amount. If you are currently planning your home or in the process of moving to a new apartment, you will certainly be thinking about how to furnish this living space in your home.
Choosing modern living room furniture that's perfect for the space available and also meets personal tastes is not something that should be done in haste or without careful consideration.
It's better to take your time and evaluate each feature that might make a difference.
What should designer furniture be like?
It's sometimes thought that "designer furniture" is synonymous with quality, but that's not always the case, because some companies amaze with extravagant shapes and colours, but end up neglecting certain fundamental construction principles.
Of course, there are many highly professional companies that craft beautiful and durable furniture, but across the furniture sector, you'll find that quality can vary enormously, so it's better not to focus solely on aesthetics.
Living room furniture sees heavy use and is used for many different purposes. Just think of a large table surrounded by chairs that can be used during the afternoon by children to play and do their homework and in the evening by the whole family to have dinner and chat.
Bearing this in mind it, it follows logically that living room furniture needs to be:
• Sturdy. It must withstand the rigours of time and continuous use.
• Carefully finished. Beauty is important for every object you choose for your home.
• Practical to manage. Furniture made with easy-to-clean materials simplifies life for those responsible for day to day cleaning.
If you take your time, read the technical specifications of the furniture and ask manufacturers and retailers questions, you can reduce the risk of buying furniture that disappoints in the long run.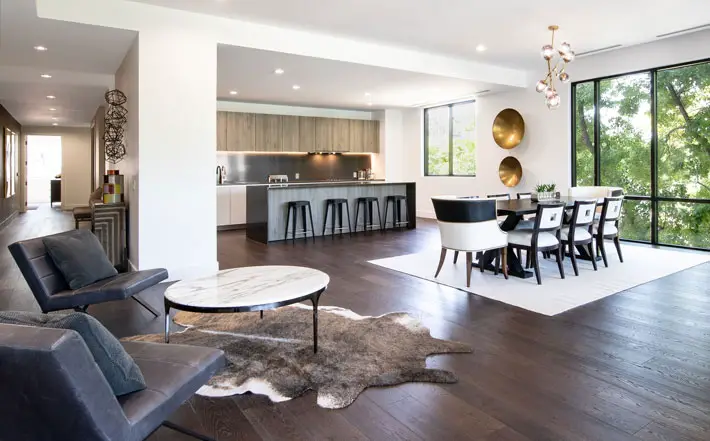 Modern designer furniture: styles, colours, proportions
Living room furniture design is constantly evolving. Nowadays what's considered to be modern styling is no longer associated exclusively with light-coloured furniture (often in shades of white and grey) and essential lines, but there's also a trend for a revisiting of antique and iconic furniture that has been "modernized".
To choose the perfect furniture for your living room you have to think about the style of the room itself and the overall style of your house. In this step, your personal tastes are fundamental and should be carefully considered, but sometimes seeking the advice of an interior design expert can prove useful to avoid making mistakes through lack of experience.
Always bear in mind that colours communicate something to an observer. So it's important to think carefully about how wall and furniture colourings will work together, so you don't end up creating an atmosphere that feels too dark and gloomy or monotonous. Also, consider creating some continuity by using accessories.
It's extremely important to think about the size of the furniture you select for your living room. For example, a table that's overly large could end up becoming an obstacle if placed in a room where space is at a premium.
You must carefully measure the available surface area and precisely calculate the dimensions of the furniture you want to put in it.
Designer furniture for your open-plan living spaces
Nowadays, you can't plan your living room furniture without thinking about the furniture in the kitchen, because by and large, these days houses have an open-plan design where these two areas are combined into one.
The design of kitchen furniture must be chosen to create continuity with the living room or alternatively, by making sure it's looks totally different from it.
Normally, the style of an open-plan interior is approached as if it were a single room in which the decor has coordinated colours and the furniture reflects a coherent design concept. Alternatively, it's also possible to adopt different styles for the kitchen and living room, but they will need to complement each other intelligently.
What a modern furniture supplier should be like
A reputable manufacturer of quality designer furniture must showcase what it produces best, both on the internet as well as in-store. This doesn't only mean producing a great catalogue with beautiful photos, but also giving customers all the information that might prove useful.
A potential customer has the right to know every detail: dimensions, technical characteristics, materials used, prices, together with any advice about proper cleaning.
Italian-designed furniture is renowned the world over because the companies here strive to provide quality products, which are also wonderful to look at and long lasting.
If you'd like to see how a highly experienced company works, take a look at Albaplus modern living room furniture.