Sheffield's new folk force…
YOUR NAME: Sam Carter.
WHAT DO YOU DO/PLAY? I'm a BBC Folk Award-winning singer, guitarist and songwriter based in Sheffield.
HOW LONG HAVE YOU BEEN PLAYING MUSIC? Nearly 15 years under my own name. I released my first EP in 2008.
GIVE US 3 REASONS WHY WE SHOULD TRACK DOWN, LISTEN AND DISCOVER YOUR MUSIC?
If you love thoughtful songs that tell stories, great guitar playing and singing, it's worth a spin!
WHERE DO YOU SOUND BEST – FESTIVAL, CLUB, BEDROOM – OR SOMEWHERE ELSE?
Totally depends on what kind of show you're into. For smaller shows, I often play solo with acoustic guitar, which I love to do as audiences can really focus on the stories. For larger clubs and festivals I'll play with a drummer and bass player, crack out the electric guitar, and let loose a bit. I like both!
WHAT WAS YOUR FIRST…
RECORD? Jimi Hendrix – 1964.
CD? Blur – Parklife.
DOWNLOAD? Super Furry Animals – Radiator.
SO, WHEN IT ALL GOES RIGHT AND YOU'VE GOT A HUGE QUEUE OF HANGERS-ON AND A RIDICULOUS MANSION, WHAT WILL BE YOUR BIGGEST INDULGENCE, MUSICAL OR OTHERWISE?
Probably get some licenced contractors in to tone down the ridiculousness of my mansion for a start. Then I think I'd have to start to work on the Guitar Room. There's quite a long list of guitars I'd like to own, so the ridiculousness might slowly creep back in there.
SO, WHEN IT ALL GOES WRONG AND YOU'VE ACRIMONIOUSLY BROKEN UP CITING HUGE MUSICAL DIFFERENCES, WHAT DO YOU FALL BACK ON?
Good friends and a walk in the Peaks.
WHO ARE YORKSHIRE'S FINEST IN CULTURE, SPORT AND MUSIC?
Sheffield musical legends Richard Hawley and Martin Simpson. John Pedder is a brilliant Sheffield-based woodcut artist; he was kind enough to make the cover art for my album Home Waters. I don't really follow sport but I'm very fond of Sheffield's food scene! You can't move for delicious places to eat around here. Three of the best: Joro, Bench, Nether Edge Pizza.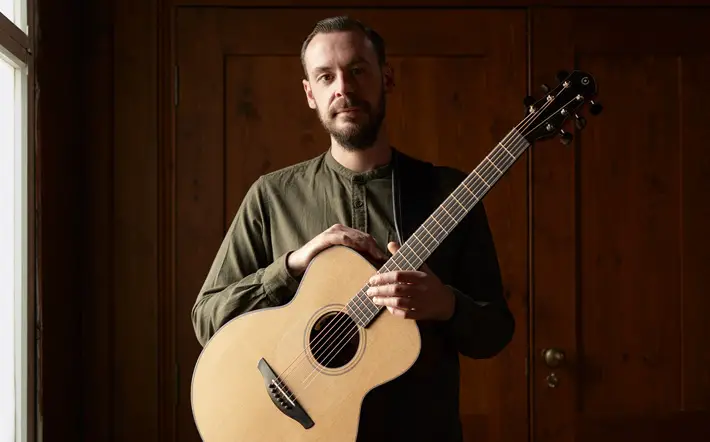 NAME YOUR SUPERGROUP – WHO'S PLAYING WHAT, WHO'S ON VOCALS AND WHO'S YOUR BEZ?
Vocals: Freddie Mercury
Guitar: Marc Ribot
Bass: Aston 'Family Man' Barrett
Drums: John Bonham
Bez: Fred Dibnah.
GO SEE THIS FILM: Free Solo.
GO READ THIS BOOK: Digital Minimalism by Cal Newport.
GREAT LOST BAND/ARTIST: Cable.
WOULDN'T BE CAUGHT DEAD SUPPORTING: Limp Bizkit, although thankfully that ship has long since sailed…
LONDON, L.A OR LEEDS?: London.
AND FINALLY… AS YOU LEAVE THE STAGE, WHAT ARE YOUR PARTING WORDS?
'Is the bar still open?'
For more info visit: samcartermusic.co.uk