Experimental mix of metal genres, from Macerata, Italy – here's vocalist Ivan…
What's the title of your latest release, and what does it mean to you?
We just released a new single called 'The Fake New(s) World' which includes two new brand songs. It means a lot to me because we spent a couple of years to produce it and also because these are the only two songs we released since our latest studio album 'Fight For Your Faith' in 2014.
What was the hardest part about putting this release together, and why?
The hardest part has been the composing process for both songs. When we started recording more than 3 years ago we wanted to improve the sound quality of our latest album and we needed a lot of time to came out with something that was satisfactory to us.
Who produced the release – what did they bring to it?
A part for the drums, we entirely recorded both songs at our guitarist studio. We enjoyed it also because it was the first time we made the recording by ourselves. Then we moved to the MBRIM studios in Macerata where both songs were edited. I must say that this part of the work is what annoys me the most even if I know it is very important. You have to choose the different parts carefully and give a song a first clear idea of the sound you want to put together. After that we sent the tracks to our good friend Simone Cicconi who has been the producer of our latest album 'Fight For Your Faith' released in 2014. This time Simone helped us only with the mixing but he definitely did a good job as always. When a song is in his hands I personally feel confident of a good outcome. After the mixing it's been SES Studios that finally mastered both songs and made them up ready to be released.
What do you want the listener to take away from listening to your music?
I would like the listener to appreciate our trying of mixing different metal musical genres together.
How does a track normally come together? Can you tell us something about the process?
I'm the main band composer. Usually I start recording an idea for a track that I have in mind and then the other members add their parts. However, it's not always like that. For our latest single 'The Fake New(s) World, it's been Lorenzo, our guitarist, who entirely composed both songs. Also Daniele(bassist) comes out with some good ideas every now and then. So there's not a precise songwriting process, everyone gives his contribution.
What band/artists have influenced you the most since you started this project, and why?
I'd say bands like Fear Factory, Machine Head, Metallica and Iron Maiden influenced our entire musical career. But we are constantly experimenting something new. We are open to all kinds of music styles, both heavy metal and not. Daniele loves hard rock and discovering new prog metal bands together with Lorenzo. Michele, our drummer, is a big fan of Tool and Iced Earth. And finally me, I'm more into industrial and Nu metal in general.
What countries would you like to tour? Are there any standout venues you'd like to play in?
I'd like to play everywhere basically. There are a lot of venues in the world where it is worth playing. I can say I'd love to play at the Electric Ballroom one day, it's one of my favourite London's venue.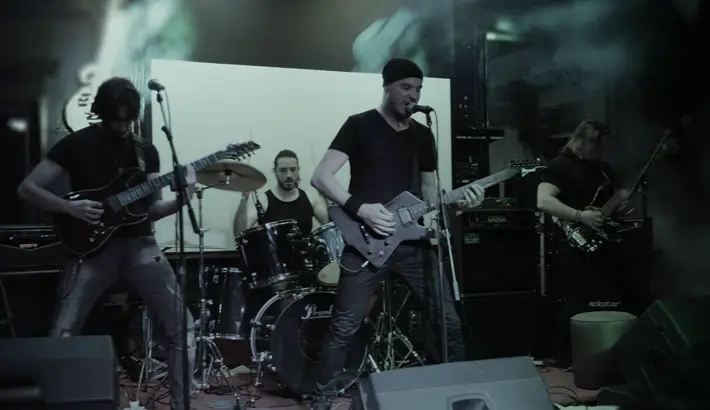 If you could pick one track for our readers to listen to in order to get a taste of your music, what would you pick, and why?
I suggest 'The Fake New(s) World. We just released this song as a new single and I think it's worth listening to. This song maintains the standards of our last album we released 8 years ago but with a more updated and modern sound. Also the lyrics are focused on world's current social and political themes as you can guess from the song's title.
What ambitions do you have for the band/your career?
One of my dreams would be touring with one of the famous bands I was inspired by, like Metallica, Iron Maiden or Machine Head for example. But let's keep our feet on the ground!
Finally, as you leave the stage, what are your parting words?
I usually thank the public but I don't have specific parting words, it depends on the moment, but there is always a "Stay Heavy!" at the end.
For more info visit: Stealth – Official Website