Sheffield rapper, hitting hard in high-vis…
YOUR NAME:
Daniel Williams-Hashemi and my stage name (artist name) is DanimaL.
HOW LONG HAVE YOU BEEN PLAYING MUSIC?
I've been making and releasing urban hip hop/rap music in a studio setting for around 4 years. Prior to this growing up I was always into acting and performing in a stage environment. I used to sing as a young boy which is quite strange considering which direction my music has taken.
ANY PAST BANDS OR COLLABORATIONS WE SHOULD KNOW ABOUT?
I have a couple of super secret international collaborations in the works although my most notable work has been with fellow creative Oxymoron aka MOAN aka Joe the head honcho of Message of A Nation Records. We made a pretty cool five track E.P called B.O.T.N (Brothers of The North). I believe it's important to work with local artists who share similar interests hence the Sheffield/Leeds link up.
GIVE US 3 REASONS WHY WE SHOULD TRACK DOWN, LISTEN AND DISCOVER YOUR MUSIC?
I'm pretty 'out there' partly due to my ADHD and my inability to not scream down a microphone and share my (usually inaccurate) opinion on a record. Some days I feel like changing the world with my music whilst others I just want to act a bit daft and have a laugh with it.
I'm possibly 'fingers crossed' the only musician in Yorkshire to rock a bright yellow fluorescent hi-vis jacket at every possible moment during my musical ventures. From music video shoots to live performances and even causally my jacket is never far away! It all started when I turned up to a shoot after work and decided to wear it during filming. I guess i just ran with it after that.
I'm a big fan of owning your accent and never being scared to represent where you're from. I'm from Sheffield 'tha knows' so I think its 'reyt' important to let this shine through in my music. I'm half-Persian half-English so it's always funny hearing peoples' reactions when seeing a bearded looking fella rapping in a heavy Yorkshire accent wearing a hi-vis.
WHERE DO YOU SOUND BEST – FESTIVAL, CLUB, BEDROOM – OR SOMEWHERE ELSE?
This one is a toughie, a good sound engineer can make the harshest vocal sound awesome. I would say I sound best in a non-live bedroom or studio setting. That being said I do love the rawness of a live show in a dingy, badly soundproofed venue to test my vocal ability. I am very adaptable and have played numerous live shows across the past few years.
WHAT WAS YOUR FIRST RECORD?
As far back as I can remember my first CD I purchased after saving up my school money must have been 50 Cent's The Massacre album (yes I know cringe!). The first album I purchased on Wax was Illmatic by Nas. From that point I fell in love with hip hop music.
SO, WHEN IT ALL GOES RIGHT AND YOU'VE GOT A BOTTOMLESS PIT OF MONEY AND LONG QUEUE OF HANGERS-ON, WHAT WILL BE YOUR BIGGEST MUSICAL INDULGENCE?
I have a weird collection of random miscellaneous items from the 90s so I would most likely fill multiple warehouses full of pointless cool stuff from that era. Also sneakers! Lots of multi coloured Air Max 90's Trainers and Vans caps.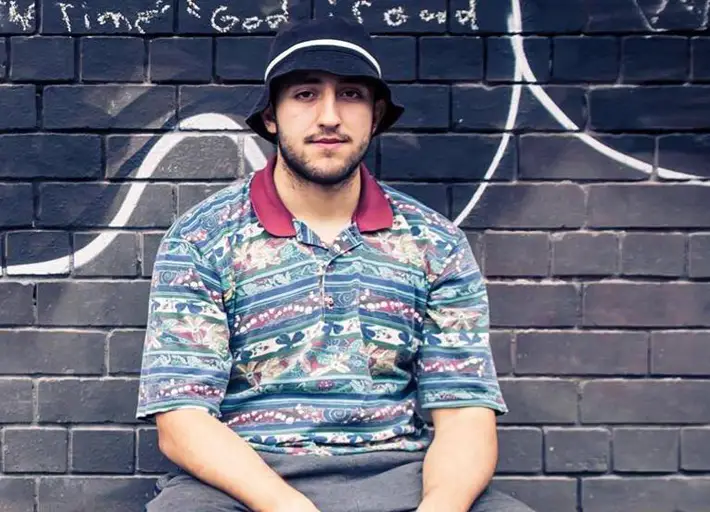 SO, WHEN IT ALL GOES WRONG AND YOU'RE LEFT BITTER AND TWISTED AND CURSING THE MUSIC INDUSTRY, WHAT DO YOU FALL BACK ON?
I enjoy creative writing so I guess write a book on my experiences or something like that. I would also like to guide the next generation of artists and help them learn their craft and essential aspects of music marketing. So many artists have the talent but struggle getting their music in front of the right ears! I really enjoy acting too so I would have to try my luck with that.
WHAT ARE YOUR MUSICAL GUILTY PLEASURES…
Eminem, Frank Sinatra and Randy Newman to name a few. That's quite an eclectic mix I know.
WHO ARE YORKSHIRE'S FINEST IN CULTURE, SPORT AND MUSIC?
Music wise lots of dope stuff is happening with people really starting to fly the flag for Sheffield hip hop/rap. Some artists I really like are Intensive, Oxymoron, Pragmatik and Milks although there is most definitely a few more that make the cut. Sports wise I think people like Kell Brook, Billy Sharp and Jessica Ennis have achieved great things for our region as a whole.
NAME YOUR SUPERGROUP – WHO'S PLAYING WHAT, WHO'S ON VOCALS AND WHO'S YOUR BEZ?
My stage and musical genre is rap music so I'll name my hip hop super group! Eminem, Vinnie Paz, R.A The Rugged Man, DJ Premier and Masta Ace. This would be immense and quite interesting to hear.
GO SEE THIS FILM: The Get Down (TV Series).
GO READ THIS BOOK: The Gospel of Hip Hop: The First Instrument.
GREAT LOST BAND/ARTIST: Big L.
WOULDN'T BE CAUGHT DEAD SUPPORTING: Tekashi69.
LONDON, L.A OR LEEDS?: Sheffield! Oh, and Leeds.
AND FINALLY… AS YOU LEAVE THE STAGE, WHAT ARE YOUR PARTING WORDS?
*Arnie voice* GET TO THE CHOPAAA.
For more info visit: facebook.com/danimalsheff