Leeds-based rapper from Sheffield with his own record label and a debut release – here's MOAN…
YOUR NAME: Joe, aka MOAN.
WHAT DO YOU DO/PLAY?: I rap.
GIVE US 3 REASONS WHY WE SHOULD TRACK DOWN, LISTEN AND DISCOVER YOUR MUSIC?
I'm trying to be that rapper who's the voice of our nation on the inside, speaking out on things we all go through, experience and, at times, suffer with. I guess in a way it's a therapy for myself and all those who give it a spin. Also, the fact I rap from the perspective of split personalities is pretty unique and keeps sh*t interesting.
WHERE DO YOU SOUND BEST – FESTIVAL, CLUB, BEDROOM – OR SOMEWHERE ELSE?
Peddlers Market in Sheffield has been my favourite place to perform over the years.
WHAT WAS YOUR FIRST RECORD?
My first CD was some random independent hip-hop artist off the street. My first vinyl was either the first Men In Black soundtrack or OBD, Return Of The 36 Chambers.
SO, WHEN IT ALL GOES RIGHT AND YOU'VE GOT A MANSION AND A SUPERMODEL GIRL/BOYFRIEND, WHAT WILL BE YOUR BIGGEST MUSICAL INDULGENCE?
Knowing me I might try and form my own government. That or buy property for all my family.
SO, WHEN IT ALL GOES WRONG AND YOU'VE ACRIMONIOUSLY BROKEN UP CITING HUGE MUSICAL DIFFERENCES, WHAT DO YOU FALL BACK ON?
I always write and record. I assume in my 40s I'll fall back in love with raving to jungle music and buy a sports car and date a woman half my age or something like that. Hopefully, while attending protests to make the world a better place
CITE SOME INTER-BAND MUSICAL DIFFERENCES…
Rappers always argue about rap, what's real what's not.
WHO ARE YORKSHIRE'S FINEST IN CULTURE, SPORT AND MUSIC?
This is something I should brush up on. Right now I rate my friends, Micheal Thomspon who runs independent venue Plot 22 in Sheffield. Seppy & COCO running talent competition 'Pattern & Push'. Matt Richie who runs Hybrid Studios and Copius Beats for running his radio show 'The Drip'.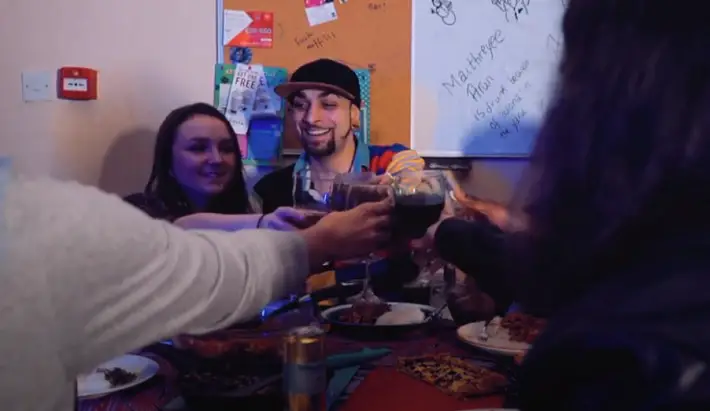 NAME YOUR SUPERGROUP – WHO'S PLAYING WHAT, WHO'S ON VOCALS AND WHO'S YOUR BEZ?
Muddy Maters – Guitar
Jimmy Hendrix – Bass (Controversial)
Agnus Obel – Keys & Vocals
Fatts Waller – Additional Keys
Dave Grohl – Drums
Timberland – MPC
Mf Doom, Earl Sweatshirt, Rejjie Snow, Denzel Curry, Mr Key, Edward Scissor Tounge (Rappers).
GO SEE THIS FILM: I Am No Longer Here.
GO READ THIS BOOK: A Million Tiny Pieces, James Frey.
GREAT LOST BAND: Cul De Sack.
WOULDN'T BE CAUGHT DEAD SUPPORTING: I wouldn't even want to name them tbh.
LEEDS, LA OR LONDON: Leeds & Sheffield.
AND FINALLY… AS YOU LEAVE THE STAGE, WHAT ARE YOUR PARTING WORDS?
Be the change you want to see in the world – Also join me for a drink haha.
The debut single from MOAN, 'Why's it All a Game Though?' is out now
For more info visit: facebook.com/MOAN.Sheffield