From Russia With Love (1963) – Film Review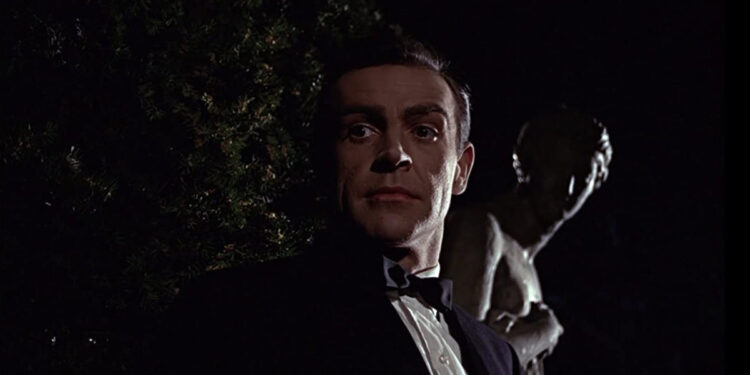 Director: Terence Young
Cast: Sean Connery, Robert Shaw, Daniela Bianchi
Certificate: PG
by @Roger Crow
After an impressive debut in 1962, James Bond was back a year later, and the result is just as compelling, albeit a tad uneven.
After the death of Dr No in Jamaica, evil organisation SPECTRE seek revenge against Bond.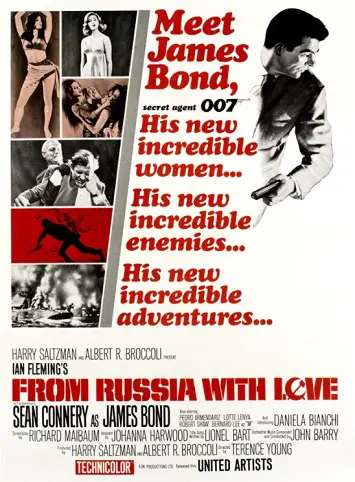 Assassin Donald "Red" Grant looks like just the man for the job in a clever pre-credits scene. (Well, it was clever in '63). The McGuffin this time is a Lektor cryptography device. We don't need to know how it works; just that it's crucial to stay in safe hands. Not easy when the likes of hatchet-faced baddie Rosa Klebb is after it. Lotte (Mack the Knife) Lenya's shoe is proof that not just good spies have gadgets. One kick of that venomous blade and it's curtains.
"Great charisma"
Cipher clerk Tatiana Romanova is a key pawn in Klebb's chess game. Yes, chess is very much at the heart of this drama, and throughout all the 007 saga, especially the sacrificial pawn, who often winds up dead after being seduced and passing on a key bit of info. Or betraying her evil boss.
Tatiana is a great heroine. Sexy, smart and shares great charisma with Connery.
Though an attack at a gypsy settlement is a tad formulaic, things really get going from the second act onwards. Whether locked in a life-or-death fight on the Orient Express or a speedboat chase, the action scenes are superbly orchestrated. And there are times when it's laugh out loud funny. Obviously Sean Connery was never known for his comedy skills, despite dabbling in the genre, but he delivered a one-liner better than most veteran comics.
John Barry of course was synonymous with Bond, and York's finest composer really got the chance to shine with his own 007 theme, later reworked many times in subsequent films. Naturally Monty Norman's original James Bond leitmotif is sprinkled around like it's going out of fashion. And who could forget Matt Monro's eponymous song (penned by Oliver's Lionel Bart)? We get a whiff early on before it's deployed at the finale.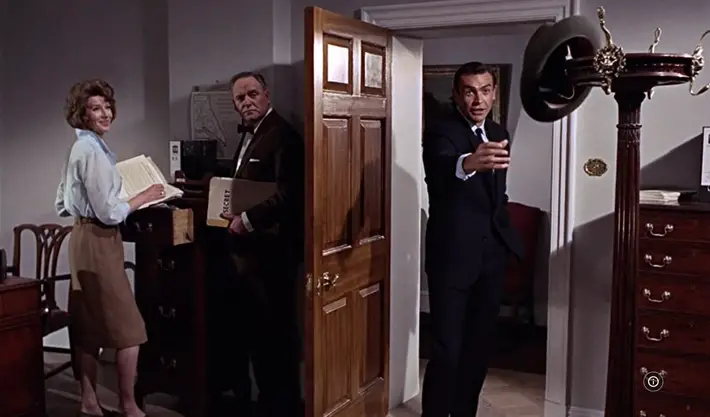 "Splendid moments"
Robert Shaw, light years away from salty sea dog Quint in Jaws more than a decade later, is splendid as the alpha assassin, his look in one scene pre-empting Rutger Hauer's Batty in Blade Runner. And it's great to see Desmond Llewelyn's Q make his debut with THAT suitcase. Yes, the gadgets were so handy keeping Fleming's agent alive, and here they feel like a natural fit during that train fight rather than the quick fix which gets the protagonist out of a tight spot.
It's obvious Steven Spielberg is a fan. One rat-infested moment later inspired a scene in Indiana Jones and the Last Crusade. But Bond inspired so many film makers, it's easier to mention those A-list action directors who didn't borrow from the best.
And naturally the Bonds that followed were happy to tip their hat to this sophomore effort; Skyfall's Istanbul bazaar chase no doubt echoing some scenes in 007 II.
So while it's good, From Russia With Love is not the best of the Sean Bonds. It has many splendid moments, and leading lady Daniela Bianchi (dubbed by Barbara Jefford) is divine. But this is like an Aston Martin shifting through the gears. If Dr No was warming up the engine in first gear, this is definitely second, warming up the 'vehicle's' tyres too.
However, by film three, Sean and the folks at Eon went straight to top gear for the gold standard of the Connery Bonds. But that's another story.
From Russia With Love is currently streaming on Amazon Prime