Mimi Webb – Live Review – Leeds Stylus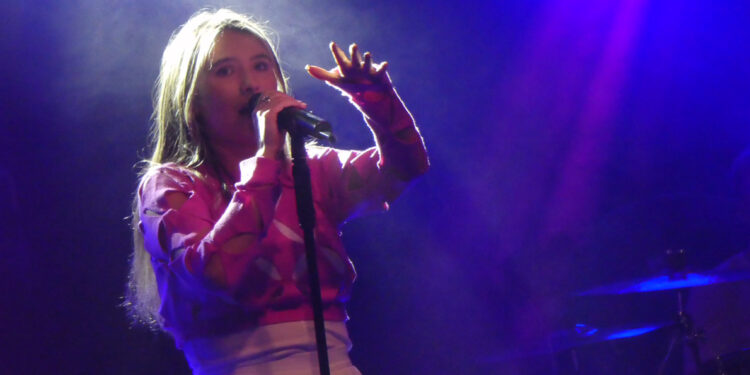 By Graham Clark, February 2022
Imagine receiving a call two days prior asking you to support one of the UK's hottest rising singers? That was the situation Casey Lowry found himself in when asked to support Mimi Webb due to her previous support act catching Covid.
Chesterfield born Lowry has some good tracks such as 'Boyfriend' and 'I Like Your Style', unfortunately though he lets nerves and excitement get the better of him. He probably could not believe his luck at getting the chance to share the same stage as Mimi Webb, with his performance at times coming across as more like a rehearsal rather than the real deal. Although, by the time he gets to the end of his set he and his two piece band are finally getting into their stride.
In complete contrast Mimi Webb takes control of the stage in Leeds with the confidence, authority and charm that had been lacking earlier. Whilst there is a huge amount of solo female artists in the charts, what sets Webb apart from her peers is her distinctive voice. She seems to appeal to the same fan base as Mae Muller, Anne Marie and Dua Lipa.
"Destination is the big arenas"
Looking at the audience, the majority of her fans tend largely to be late teens and mostly female. Webb's songs tend to go down the "boyfriend dumped me" route that her fans can relate to, but if you set the lyric to a great melody and deliver the song with as much passion as Webb is apt to do they can all console themselves together in unity.
Her years of attending the BRIT school shows – she owns the Leeds stage as she prowls its entire length like a tigeress, never missing an opportunity to raise her hand in the air or point to a member of the sold out crowd.
Her audience know the songs emphatically even though she has yet to release an album. As she opens up the forty five minute set with '24/5′ it is clear that you are watching a star whose destination is the big arenas. With her name lit up in a neon behind her it shinesas brightly as her performance.
Through Tik Tok Webb has amassed a huge following, though that on its own is not enough to sustain her popularity – it's her talent and ear for a good song will take her beyond her existing fan base.
"Sympathetically styled"
It was a well thought out show – with her three band members wearing white t-shirts that complemented the white and pink that Webb wore, the lighting was even sympathetically styled.
'Before I Go' sounds as triumphant as ever, introducing the song as "the one that started it all off," referring to the track going into orbit on Tik Tok. Webb holds on to the fans throughout, refusing to let go of them before she returns to the stage for 'Good Without You'.
As new single 'House On Fire' is set to become her biggest hit yet, it feels like you are witnessing the start of something very big. Hot stuff indeed.