The Matt Goss Experience with MG Big Band and Royal Philharmonic – Live Review – York Barbican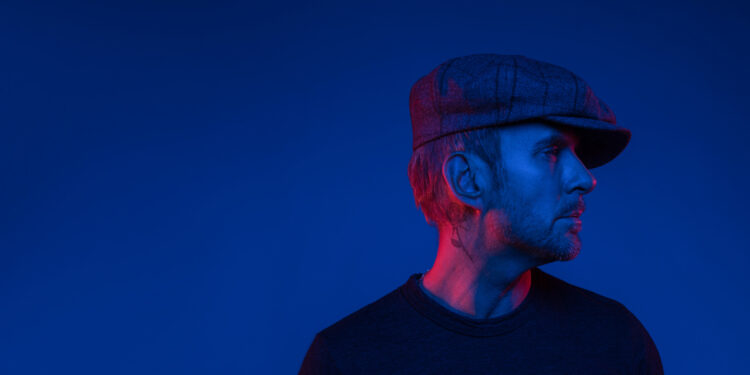 By Roger Crow, April 2023
I'm not sure how long we've been chanting. Could be five minutes. Might be 10. I do know it feels like one of those scenes in Close Encounters when hundreds of people are gathered all chanting the same thing, and when asked where the sounds came from, countless hands suddenly point upwards.
The atmosphere at York Barbican is electric, and that is down to Matt Goss. If you've seen Bros: After the Screaming Stops, one of my favourite documentaries of the past 20 years, you'll know that at one point, Bros were one of the biggest bands in the world. Certainly in Blighty, where they attracted Beatles or Take That-levels of fandom. I was never a fan back in the day, though I liked their iconic bangers. Hard to avoid them as in the late eighties, Matt and Luke Goss were everywhere, their faces adorning countless magazines and merch.
What was really interesting was what happened after the band's brightest moments of chart stardom. I was fascinated that Luke went off and became one of the hardest working actors in Hollywood, and if Guillermo del Toro loves an actor like Luke, all the more reason to praise him where it was due. And the fact Matt had 11 years in Las Vegas is extraordinary. Some acts would have trouble holding down a residency for 11 days, so when the chance came to see him live, it was a no-brainer.
Give me The Royal Philharmonic Concert Orchestra with any artist and I'm a happy camper, and that big band sound is phenomenal. And boy does Matt deliver on the promises he made.
The guy, dressed up like one of the Rat Pack, is still absurdly good looking, and all of those years in Las Vegas have worked wonders. It's like he opened a suitcase full of Nevada showbiz atmosphere the minute he walked on stage, and it seeped into the pores of everyone present.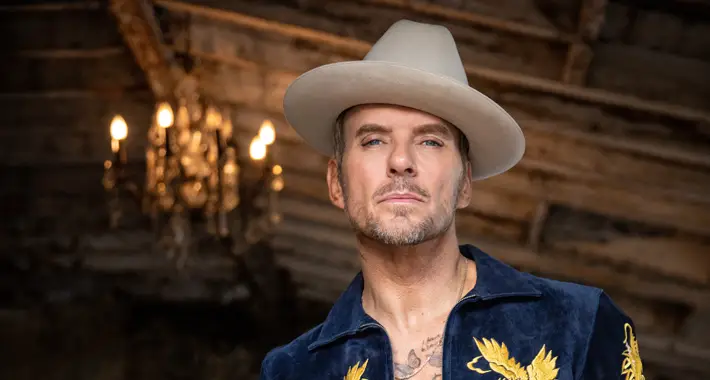 "One enormous happy family"
It doesn't hurt that he and an accomplice break up the assorted songs by mingling with the crowd with a decanter of tequila and shot glasses. At least half a dozen punters take part in impromptu drinks, and a lot of laughs, while raising toasts to world peace, stray cats (or straight cats as Matt suggests) and Goss himself.
When it's time to get serious, Matt steps up to the microphone and works his magic, time after time. If you have a set list that includes some of the best loved tracks of all time, and you can do them justice, then more power to you. The fact Matt is working his own band and the RPO Concert Orchestra as well is testament to his skills as a music director.
"Let's Fall in Love!" yells the crowd, at Matt's request during that opening number. "That was worse than the last time," he coaxes each side of the audience to repeatedly do better, and we rise to the occasion. If birds and bees are "doing it" on the roof of the Barbican, they've flown off to find somewhere quieter.
'Luck Be A Lady Tonight' is another of those old school classics that, if done poorly, can sound like a bad pub singer. No danger of that here. Mr Goss can really carry a tune, and there's no luck involved. Just decades of hard work.
Naturally there are jazzed up versions of 'I Owe You Nothing', and 'When Will I Be Famous?', though you've never heard versions like it if you're a first-time attendee.
The lighting and atmosphere is phenomenal; smoke and spotlights creating the cinematic feel of a Vegas nightclub, and what's particularly memorable is the musicians are having a great time. I love to watch an orchestra enjoying the night as much as the punters, and quite rightly, there's no dividing line between us and them. It's just one enormous happy family for the night, the way it should be.
Now if you're going to steal inspiration, pinch it from the best, and there are times Matt Goss channels Elvis himself, and not in a cheesy, bad impressions way. The stage magic is undeniable, as are the laugh-out-loud gags, and Michael Buble-levels of humble honesty.
Anyone who dares tackle the immortal 'My Way', and isn't at a wedding reception, needs to be worthy of the best of them. It's a song that needs to be earned, like a medal at the end of a marathon, and I doubt anyone would suggest Matt Goss hadn't earned the right to put his own spin on the Frank classic. Yes, he's no Sinatra, but then again nobody else was either, apart from the man himself. Which does sound like one of those daft soundbites plucked from After the Screaming Stops.
"Licence to thrill"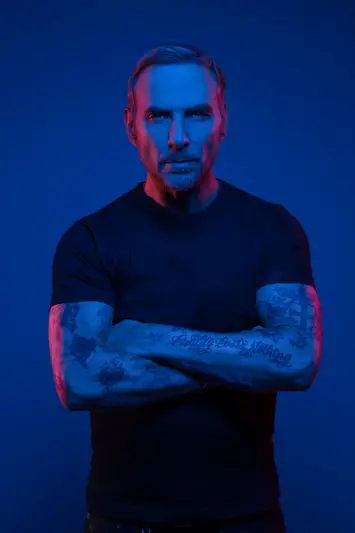 He receives able support from tremendous vocalists, quite rightly giving them a big shout out.
"Ladies and gents, the most incredible backing singers I've ever worked with. The Ooh La Las." One of the singers was departing the tour that evening, and it was clearly a poignant time to leave such a talented musical family. Blimey, I was only there for a few hours and feel a sense of bereavement, so to have been on the road with that team must have been pretty special.
My better half was never a Bros fan, and was oblivious to Matt Goss's stateside success, so the fact she was beaming like a Cheshire Cat for the duration spoke volumes.
By the end of the night, a reluctant Matt leaves the stage to Monty Norman's iconic Bond theme, which is more appropriate than many may realise given that the legendary 007 composer John Barry grew up just around the corner.
He may not have been on His Majesty's Secret Service, but Matt Goss definitely has a licence to thrill.
As we're all here for a good time, not a long time, grab a ticket as soon as possible next time he and the crew are in town. When will it be? I can't answer… I can't answer that. But I do know it's one of the best nights you'll ever have.