Love Actually in Concert – Live Review – Hull Bonus Arena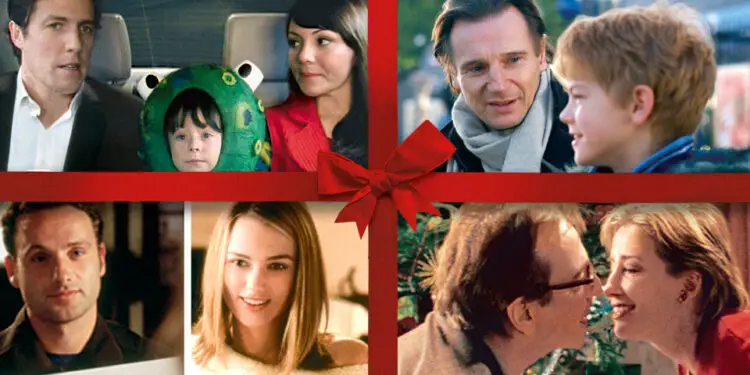 By Kirsty Reid, December 2021
The only thing I love more than a romcom, is a festive romcom – what better way to get into the holiday spirit than with a movie that combines romance and comedy with the magic of Christmas?
Along with The Holiday and Elf, watching Love Actually has become a seasonal tradition in my household. This year, though, my annual viewing of Richard Curtis's 2003 movie was given a magical twist with the addition of a live orchestra at Hull's Bonus Arena.
Having garnered sold out audiences in previous years, I expected big things from Love Actually in Concert and it didn't disappoint.
The film was projected onto a large screen, while the stage itself played host to a live orchestra who performed Craig Armstrong's evocative score. Armstrong is one of the UK's most recognised film composers, with his work being awarded a BAFTA for his Achievement in Film Music.
As the opening credits rolled, and the orchestra played the Warner Bros. theme music, I was instantly blown away.
Listening to the opening monologue, delivered by Hugh Grant as the Prime Minister, gave me goosebumps. The orchestra's soft, yet provocative score combined with the emotional airport reunions really tugged at the heartstrings. At a time when we haven't always been able to see, or hug loved ones, it's a heart-warming reminder that 'if you look for it… you'll find that love actually is all around'.

"Iconic moment"
Following ten interconnecting love stories during the run-up to Christmas, Curtis's movie has it all – romance, heartache and, at times, cringe-worthy comedy.
Pairing a live orchestra with a foul-mouthed, washed-up rock star (Bill Nighy) was quite comical and got a few chuckles from the audience.
I'm sure many fans will debate which is the best love story of them all – and it's tough to call – but a strong contender has to be the blossoming relationship between potty-mouthed Natalie (Martine McCutcheon) and the newly elected Prime Minister (Grant). It's your typical love story – two singletons from different worlds about to take the leap and give love a shot. Not only is the acting brilliant, but the pair's on-screen chemistry is perfect too.
It might have been 18 years since the film's release, but the scene where Karen (Emma Thompson) discovers her husband, Harry (the late, great Alan Rickman) has bought a necklace for another woman and given her a Joni Mitchell CD for Christmas instead, still breaks my heart. As the sound of Mitchell's 'Both Sides, Now' filled the room, it wasn't long before I got teary – and I'm certain I wasn't the only one.
The iconic moment in which Mark (Andrew Lincoln) shows up at Juliet's (Keira Knightley) doorstep with a Say Anything-inspired gesture is super-sweet. The orchestra's rendition of 'Silent Night' makes this scene all the more powerful.
Whether it's a couple of notes played by a few, or the full ensemble performing, the orchestra seamlessly intertwines with the film screening, enhancing the magic of this festive favourite.