Out of the Blue (1980) – Film Review
Director: Dennis Hopper
Cast: Linda Manz, Dennis Hopper, Sharon Farrell
Certificate: 15
By Sarah Morgan
Dennis Hopper was one of the most charismatic stars of his generation. A larger than life character both on screen and off, he wasn't always easy to work with, but for many directors, risking his bad behaviour was worth it – if he turned up and concentrated on the task in front of him, he could turn an ordinary movie into something extraordinary.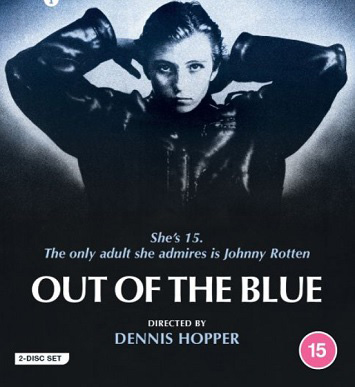 Hopper, a talented photographer and artist, was no mean film-maker either – he had a sensitive and inventive eye. Easy Rider remains a key counterculture moment, but his follow-up, The Last Movie, was almost prophetically titled – a messy production, it seemed to have ended his directorial career until Out of the Blue came along nine years later.
"Gob-smacking"
For Hopper, it was one of those happy accidents that occasionally come along. He was hired initially as only an actor, but when the original director's work didn't go down well with the producers, Hopper stepped in, re-writing the screenplay and taking over direction. The result is a fascinating film featuring a gob-smacking central performance from Linda Manz.
She plays Cebe, a teenager obsessed with punk and Elvis Presley. She's also a damaged soul raised by her junkie mother Kathy and alcoholic father Don. When we first meet Cebe, her father is in jail, serving a sentence for driving his truck into a school bus – Cebe witnessed the entire event, which has left a dark mark on her soul.
On his release, Don returns to his family and matters spiral out of control from there. Cebe's behaviour becomes increasingly erratic, Kathy is clearly unhappy and Don discovers he can't escape the past. Before you know it, this dysfunctional family unit appears to be heading for a nihilistic climax.
"Underclass"
Hopper is eye-catching as Don; it's easy to see why Cebe initially hero-worships him before the reality about him dawns on her. But it's Manz who holds the entire film together – without her performance, it would be a disaster. Why she didn't go on to become a major star is a mystery.
Watch out too for a small but eye-catching performance from Raymond Burr as the psychiatrist put in charge of Cebe's case. Hopper's friend Neil Young also provides a few remarkable songs for the soundtrack.
Out of the Blue isn't easy viewing, but it's a fascinating character study, shining a spotlight on an underclass struggling to get by on the outside of the system.
Special features:
• Audio commentary with Dennis Hopper, producer Paul Lewis and distributor John Alan Simon (2000)
• New commentaries by Kate Rennebohm and Kat Ellinger
• Dennis Hopper interviewed by Tony Watts (1984, 97 mins)
• Screen Guardian Talk: Dennis Hopper (1990, 91 mins, audio only): the filmmaker talks to Derek Malcolm
• Subverting Normality: Linda Manz Comes from Out of the Blue (2021, 18 mins): a new video essay by Amanda Reyes and Chris O'Neill
• Remembering Out of the Blue (2021, 174 mins): nine new interviews with cast & crew
• Me & Dennis (2021, 95 mins): four new interviews with Hopper's friends and colleagues featuring Ethan Hawke, Richard Linklater, Julian Schnabel and Philippe Mora
• Alex Cox Recalls Out of the Blue (2021, 13 mins)
• Montclair Film Festival Q&A (2020, 30 mins): John Alan Simon and Elizabeth Karr discuss the history and restoration of the film
• A selection of complementary archive shorts – Morecambe and Wise – Be Wise Don't Drink and Drive (1963, 1 min), Drink Drive Office Party Cartoon (1964, 1 min), A Girl's Own Story (Jane Campion, 1983, 27 mins); Girl (Carol Morley, 1993, 7 mins)
• Jack Nicholson radio spot (1982, 1 min)
• Trailers
• First pressing only: Illustrated booklet with essays by Sheila O'Malley and Vic Pratt; an extract from 'Dennis Hopper: how far to the Last Movie?', originally published in the Monthly Film Bulletin, October, 1982; two reviews from 1981 and notes on the special features
Out of the Blue is released on Blu-ray by the BFI, £24.99