The St Buryan Sessions by Sarah McQuaid – Album Review
By Ellie Victor
The miasma of lockdown forced creatives into a new working space. Some flourished, making art imbued with a sense of longing and escape or confronted the 'new normal' head on, embracing innovative media and uniting fans in the virtual world. Others struggled, weighed down by lockdown's oppressive force and unable to function creatively.
Sarah McQuaid, for 24-years a stalwart of the west country's vibrant folk scene, went to church. Leaning on a six album back catalogue the singer-songwriter found poignant new meanings in some of her most popular songs, took engineer Martin Stansbury to the medieval church of St Buryan in Cornwall and recorded this sparse and haunting album. Gently moving from acoustic guitar, piano and sparse electrics, the echoic notes reverberate in the setting, accompanying her deeply emotive, uniquely beautiful voice.
"Skilfully captured"
Within these seemingly reduced parameters McQuaid creates an album of remarkable range and depth, from the opening acapella 'Sweetness and Pain', to the tom-tom accompanied 'One Sparrow Down', from the richly strummed 'Charlie's Gone Home' lifted from her debut album, to the heartbreakingly beautiful 'Last Song', a luminous elegy to the singer's mother.
The bluesy, finger-picked 'The Sun Goes on Rising' even manages to capture some of lockdown's relentless immutability in a song that's a decade old.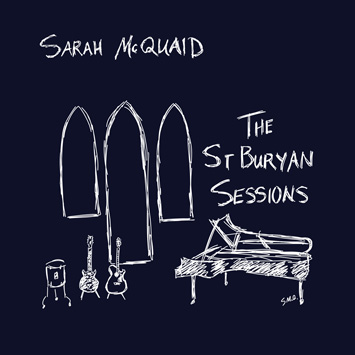 Throughout, the church's acoustic space is skilfully captured and utilised to great effect. Sonorous notes are given time to unfurl, McQuaid's voice at times soaring and powerful, at others breathlessly intimate.
As a creative exercise, The St Buryan Sessions could have fallen flat. Without the right songs, or the sensitive range in the vocals, or the ambient microphones metaphorically picking up the dust in the church air, it could have been just another live album borne out of boredom and frustration.
Yet it is anything but. Within its 15 tracks there rises a powerful spirit, something timeless and redemptive – The St Buryan Sessions is a lockdown buster, indeed.
8/10