The Lemonheads – Live Review – Leeds University Stylus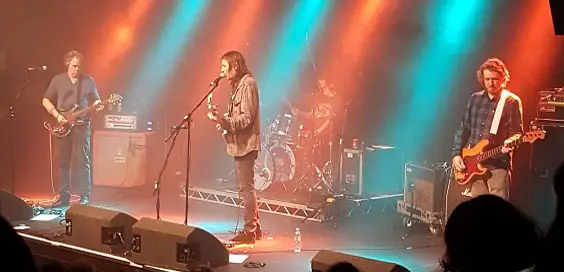 By David Schuster, February 2019
Seeing The Lemonheads in concert is a bit like getting two acts for the price of one. 'Groups' which are comprised of a single enduring member, around whom other personnel regularly come and go, are reasonably common; Tame Impala, Nine Inch Nails and my old friends Hawkwind, to name but three. The American indie-rockers, most famous for their 1992 cover of Simon and Garfunkel's 'Mrs Robinson' are just such a collective, drawn together around singer and guitarist Evan Dando. What I'd never encountered before tonight however, is a band of this type where that key member also makes a distinctly separate appearance.
As the band appear on stage though I'm unaware that this is going to be the case, and their amicable brand of slacker-rock is just as I'd hoped it would be. They open with a fine selection of bouncy, punk influenced, West Coast American songs; 'Hospital', followed by the faster 'Down About It'. This includes a fantastic dissonant solo guitar sound, the like of which I've only ever heard before on REM's 'What's the Frequency Kenneth?'. After this comes 'The Great Big No' and 'The Turnpike Down', both of which have a slight country edge, and remind me of Counting Crows.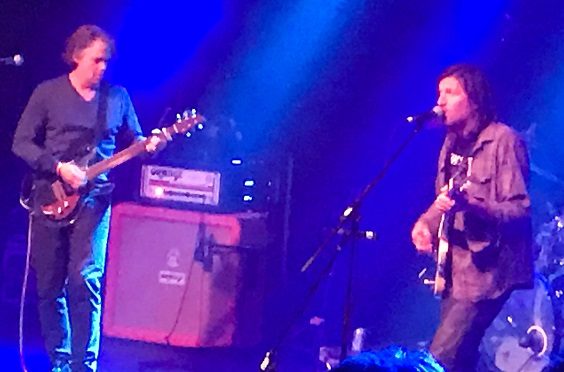 "A rare smile"
These days Dando looks very much like Iggy Pop in his younger days; straight, shoulder-length hair, jeans and green jacket, and he produces a rare smile at the crowd's enthusiastic response to 'It's A Shame About Ray', another one of their hits, from the album of the same name. During this he flawlessly reproduces the sustained vocal "Raaaaaay", stretching the word effortlessly for an awesomely long time. They race through a packed set that includes covers of 'Tenderfoot' by Smudge, and Country singer Lucinda Williams' 'Abandoned'. By the time they get to 'Confetti', which did well as a single in the UK, they've woo'd the crowd with a fine set of twelve tracks.
It's at this point that the performance takes a strange turn. The drummer and bassist exit the stage, leaving the frontman, who switches his electric guitar for an acoustic, and the remaining guitarist. What follows is a lot more country, and a lot less rock. To be fair, first of all they play 'The Outdoor Type', whose ironic lyrics never fail to raise a smile: "I've never set foot inside a tent, can't build a fire to save my life; I lied about being the outdoor type". I half expect the rest of the band to come back on at this point, but they don't, and this weird gig-within-a-gig, goes on for another seven songs.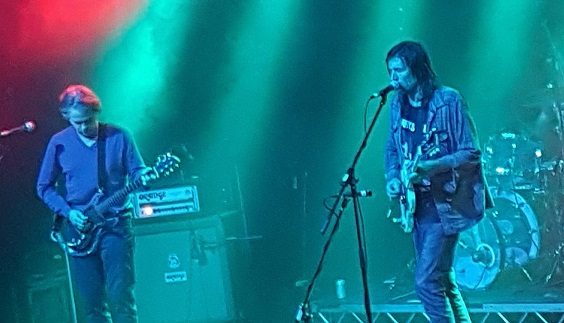 "More affectionate than enthusiastic"
A lot of the audience has lost focus, chatting to friends, visiting the bar or the toilet, depending on age and bladder capacity. So, whilst we're similarly distracted, let's take a look around shall we? We're at Leeds University Stylus, which is in the basement of the Student Union building, pretty much in the centre of the campus. As venues go, I can only suppose that either it was designed by someone who'd never actually been to see a band play live, or that it was built when the university was much smaller, with a lot less people in mind. It also seems to have a disproportionately high number of pillars supporting the roof, which do nothing to improve the view of the stage. As a result, there's a lot of jostling to get a glimpse of the band. My wife nods towards a huge, hairy, leather clad figure just to our right. "Any second now, he'll stand in front of me", she predicts. Sure enough, Eric the Viking, tiring of trying to stare through a concrete column, shuffles into our line of sight, just as the full band return to the stage.
The reformed Lemonheads do five more numbers, but although these include the hits 'My Drug Buddy' and 'Into Your Arms', they never really manage to recapture the crowd. There's warm applause as they leave again, prior to the encore, but this is more affectionate than enthusiastic. They could still have pulled it back I think, but Dando starts the encore with another solo piece, and I look at my watch, thinking about food. He does two more tracks with the band, and they finish with a cover of Nick Cave's 'Straight to You'. Sometimes more is definitely less, and a set with all but a couple of acoustic songs left out would have sparked a lot more. We headed out for a curry.
images: Gail Schuster