An Interview with Dave Brock of Hawkwind
Dave Brock of has had a career spanning almost 50 years. You would have thought by this time in his career that he would have ticked off most points on his bucket list but it seems this is not the case. 2018 has seen his band Hawkwind explore new territory as Brock continues to keep things fresh, which includes embarking on a tour with an orchestra for the first time. "That's the whole point of being an artist, isn't it? You've got to constantly keep chasing otherwise it becomes very boring" Brock proclaims.
This summer also saw Hawkwind perform at London's Citadel Festival, on a line-up headlined by Australia's Tame Impala and littered with indie guitar bands, Hawkwind stuck out like a sore thumb. "It's a good thing to do all of these festivals. I hope we gained some new fans. Nowadays festivals cater to lots of different people, there's lots of different genres sitting together. In the 90's we used to do a lot of dance and trance festivals!" Brock laughs.
Hawkwind's 31st studio album, Road to Utopia, was released in September and the band will tour the album this autumn on the "In Search of Utopia Infinity And Beyond Tour".
"A meeting of eccentrics"
The album has seen them team up with the legendary Mike Batt, best known for creating The Wombles but also working with artists such as Katie Melua and Status Quo and also conducting some of the world's greatest orchestras including the Royal Philharmonic and London Symphony. Batt has lended his expertise to Hawkwind to arrange their music for an orchestra. Working with Batt was an interesting experience for the band. "He's a bit of an eccentric character really, I would say" Brock laughs. "It's been like a meeting of eccentrics – Mike was always forgetting things during recording, he'd put his phone down and lose it, he'd put down his music and couldn't remember where he put it… but he's a clever guy, he challenged us."
Mike Batt wasn't the only big name to contribute to the album, Eric Clapton features on 'The Watcher' where his trademark guitar licks complement Dave's harmonica and Mike's piano seamlessly. Dave is old friends with Eric. "I knew him when we were very young, its been great fun working with him and we're hoping he might come out to play a show or two with us. Who knows? We'll see, there's always that possibility."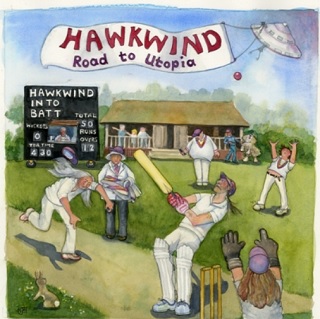 Road to Utopia features reworked versions of classic Hawkwind tracks such as 'We Took The Wrong Step Years Ago'. "We've added violins," Brock says. "It's really nice, it's pretty much my favourite track on the album."
"We'll still be going off on tangents"
Hawkwind are a band known for their humour and fans can expect more of that on this record. "We've got our tracks like 'Psychic Power' and 'Flying Doctor', we like to add a bit of humour amongst it all."
The band have a date in Yorkshire lined up, at Leeds City Hall – a venue Brock remembers well from his past: "I actually played Leeds City Hall many, many years ago. I did the Buskers tour of the UK where we travelled around on an old London bus. There was a number of weird characters on the tour… Don Partridge was in charge of it all (he had a hit record) and he decided to do this buskers tour where we ended up playing Leeds City Hall! I'm looking forward to coming back."
The tour is bringing its own set of new challenges for the band. "We're used to ad-libbing at shows, sometimes we'd do long numbers that last 15 minutes but when we're playing with an orchestra  you can't do that! It's got to be spot on because everybody has got their music in front of them. We're doing about 15 numbers and the orchestra are doing about nine with us, so don't worry we'll still be going off on tangents when we do our bits without the orchestra," Brock promises.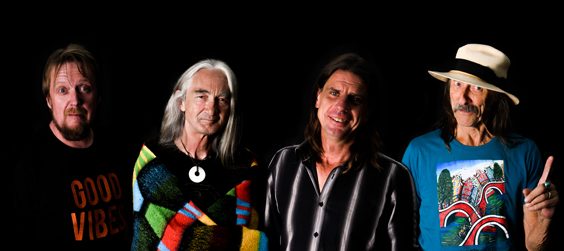 "This time we need to do something different"
Presenting further challenges of playing with an orchestra, the new tour will be visually different to what fans might normally expect. "We always try to bring something new to the table when it comes to our shows. This time we need to do something different. We normally have huge, great projections on a screen across the back of the stage but can't do that because it will dazzle the musicians in the orchestra. We've got a few ideas of what we want to do instead…"
2018 seems to be a big year for Hawkwind, but with 2019 marking the band's 50 year anniversary, it has the potential to be even bigger. Brock, however, is coy about their plans. "We're doing some big festivals and going to some nice places next year. We're very lucky that we can now pick and choose what we'd like to do. We'll probably do something special…" Watch this space.
Hawkwind will play Leeds City Hall on 19th October as part of their 'In Search Of Utopia – Infinity And Beyond' tour, accompanied by a live orchestra and featuring Arthur Brown. Support comes from Black Heart Orchestra.