Icons of the 80s – Live Review – Halifax Victoria Theatre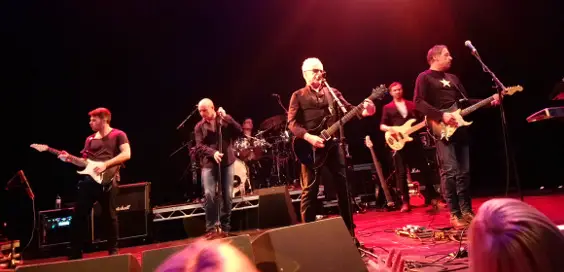 By @SteveCrabtree, February 2018
Never has there been a more appropriate title for a 27 date UK tour than Icons Of The 80s, as Go West, Nik Kershaw and Cutting Crew join forces and land in Halifax tonight.
The Victoria Theatre is packed. It's a sell-out, and there's a true party atmosphere in the air. It's Friday night after-all, but the thought of the feel-good music that we all know we're about to enjoy has already got us in high-spirits.
Cutting Crew are the support act for the night, on first and they're pleased to be here. A band best known for '(I Just) Died In Your Arms Tonight'; they've got more magic up their sleeve than many remember.
They give us a short, but fantastic set that includes 'Any Colour' and a superb cover version of R.E.M.'s 'The One I Love'. A great way to start things off. I wouldn't say they get the party started – their set and performance is a lot more a sit-back-and-admire kind of thing.
But they've warmed us up, as Kershaw and Go West enter the stage for their double header. The main act(s).  Together. As one. The excitement builds, the crowd roars, whoops and cheers.

"No backing tracks here"
But in a joint show, what can they open up with? After all, two big pop names from over 30 years ago… you can't favour one artist's song over the other to start things off.
So they sweetly push U2's 'Beautiful Day' in to our ears; and remind everyone that they're big live performers. No backing tracks here.
Go West temporarily leave the stage to allow Nik Kershaw to delight us with a couple of his tracks. 'Wide Boy' (my favourite Kershaw hit) and 'Dancing Girls' get the majority of the crowd to their feet, and we're in for a night of dancing.
For songs four and five, it's Go West's turn to take the spotlight, with their anthems 'Faithful' and 'Don't Look Down'.  Right now, the energy is high in the room and on the stage – what a night!
Did you know that if it wasn't for Nik Kershaw, you might not have heard of Chesney Hawkes?  Well, as the two acts come together on stage again, they perform the Kershaw penned hit 'The One And Only' together.  Not one mouth in the building isn't singing along, or lip-synching at the very least, and as we hit the interval, it's time we all had a drink.
"Tight, quality performances"
There's a thought that the 80s only brought us cheese. It's a very misplaced conception. Tonight is proving it, as all acts are giving us tight, quality performances; 100% live. They're holding all the notes, and a lot of the manufactured, conveyor belt acts that are around for a few months at the moment would be put to shame by these guys.
As we're back for the second half, again Go West and Nik Kershaw enter the stage. They kick off with the beautiful and perfectly executed 'Everybody Wants to Rule The World', the absolute gem written by Tears For Fears from their Songs From The Big Chair album. A band worthy of slotting in to the Icons Of The 80s evening.
And as if the first half wasn't energetic enough, the guys are turning things up a notch in this half.
'Don Quixote', 'We Close Our Eyes' and 'The Riddle' hit us.  We're also moving to 'Call Me', 'I Wont Let The Sun Go Down On Me' and 'King Of Wishful Thinking'. A lot of these songs performed with both artists on stage together, and it's joyous. There are people at the front of the stage, dancing in the aisles, and the 80's vibe booms round the room.
This show has re-affirmed that it was a great time to grow up back in the 80s, and listen to your first music. Talent counted, and that music and those who perform it are still around, and still sounding good. The 'Icons Of The 80s'; Cutting Crew, Go West and Nik Kershaw, their tunes and their voices have stood the test of time, and are far from fading.