Icons of the 80s – Review – Hull New Theatre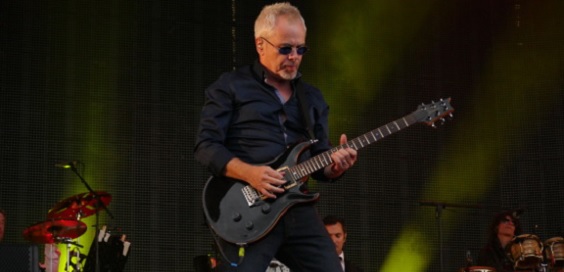 By Karl Hornsey, February 2018
There seems to be no let-up in the craving and nostalgia for 80s music. While the decade may have suffered from plenty of naff elements (mullets, rolled-up suit sleeves and slip-on shoes with no socks being among them), the music lives on. Even more so these days with the number of 80s festivals and reunion gigs seemingly growing by the year. Hull got in on the act and hosted three famous names from the 80s this week, with Go West, Nik Kershaw and Cutting Crew playing to a packed audience at the City Hall, and I enjoyed every minute of it.
The fear with such events is that the acts no longer have what it takes to belt out their most famous hits, and are instead well past the point of being entertaining. Thankfully, there was no danger of that in this case, and there was also value for money in a concert that lasted over two and a half hours.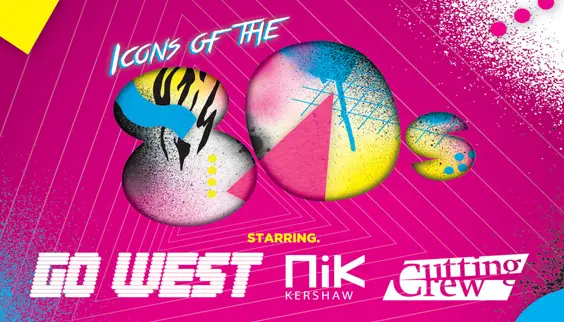 "Interaction works well"
The format of the concert was well thought-out and contributed to the evening's success. First up were Cutting Crew, on stage for just over half an hour by themselves, providing a mix of old album tracks, new songs, their most famous hits and, surprisingly, a very original version of REM's 'The One I Love'. Mention Cutting Crew and, quite honestly, one thing springs to mind. While 'I've Been in Love Before' is familiar to any diehard fan of the 80s, it's the power ballad '(I Just) Died in Your Arms Tonight' that will forever remain their most memorable song, and lead singer Nick van Eede belted it out brilliantly to finish their set in style.
A quick rejig on stage and it was time for the main event, as both Go West and Nik Kershaw came on, setting the scene for the rest of the evening, as they took it in turns to perform their own songs, while also coming together at various points to cover some more classic hits of the decade. This interaction between the acts worked incredibly well, although the sight and sound of Pete Cox and Kershaw singing 'Hungry Like the Wolf', 'Sweet Dreams' and 'Everybody Wants to Rule World' managed to mess with my mind and took some getting used to. There was also time to slip in the Kershaw-penned Chesney Hawkes anthem 'I Am the One and Only', much to the crowd's delight.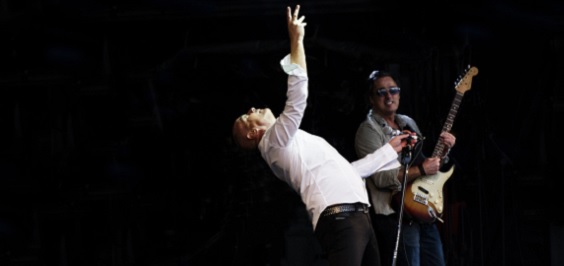 "Superbly choreographed"
Cox, a powerful, hulking presence on stage, still has an outstanding voice, even though he's now into his 60s, while Richard Drummie looks like the sort of laid-back character that you'd want to share a pint with in front of a roaring fire in a country pub somewhere. Together as Go West, and with a number of excellent session musicians on stage, they had most of the audience on their feet pretty quickly, working their way through their back catalogue, and climaxing with their Holy Trinity of hits – 'Call Me', 'We Close Our Eyes' and 'King of Wishful Thinking'.
While Cox dominates the stage, Kershaw is a quieter, more reserved figure, demonstrating his superb musicianship and reminding everyone, should they need to be reminded, that he has a very decent set of hits behind him as well. Again, the songs built towards his most famous, moving from the likes of 'When a Heart Beats' and 'Dancing Girls', to the iconic 'Wouldn't it be Good', 'The Riddle' and, his finale, 'I Won't Let the Sun Go Down on Me'.
This is clearly a superbly choreographed concert and one that has been planned and thought through, rather than the acts turning up and churning out the hits. The acts obviously enjoy working together and engaging with the crowd, and that elevates this event to one that will live long in the memory, and make me even more inclined to attend should another such Icons gathering come to the city.