Anvil – Live Review – York Fibbers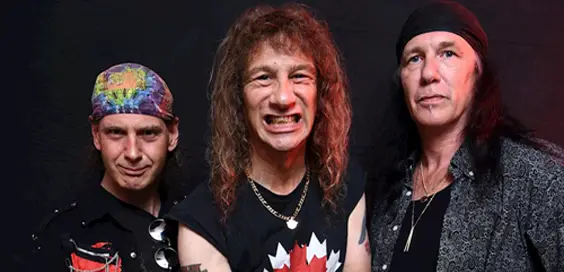 By Victoria Holdsworth, February 2018
Fibbers is pretty well packed tonight as the metal fraternity has turned out in full force. With 17 studio albums to choose from, Anvil are a band that has a wealth of experience and tenacity that has seen themselves claw their way back up from the pits of metal obscurity to step back into the ring with some of the heaviest weights around – and hold their own.
The band hit the stage with opening instrumental, 'March of the Crabs', and it is full speed ahead as they crank out one great rock song after another. The effervescent frontman Steve "Lips" Kudlow spends most of the first track actually playing his guitar in the audience, rather than in front of it,. Fans watch his every finger move with a fierce intensity, before cranking it up to eleven, with the classic '666' and then blasting into the 1981 anthem, 'Ooh Baby'.
Lips takes time out to talk to the crowd about how he has been suffering from pneumonia, and about how growing up was never an option for him. If you ever get a chance to be in the presence of this man, you will know just how much energy every fibre of his being contains.
Despite feeling a little under the weather, the band soldiers on with a track from the new album Pounding the Pavement entitled 'Doing What I Want', which could be a soundtrack to this guy's life. Alongside his enduring drummer, Robb Reiner, they have seen everything between them, and surprisingly through all of the sh*t they have endured, they have never felt bitter. As Lips sings: 'I live with all the consequences, and will always carry on, I'm the one I answer to, and will be 'til I'm gone.'
"Stomping"
The set is a display of classic Anvil mixed with some newer bangers like 'Badass Rock 'n' Roll' which seems to ignite the crowd even further. You will never see a band play with so much passion, love and fun.
New bassist, and Walter Flannagan look-a-like, Chris Robertson is at the top of his game tonight and impresses with a thunderous bass solo at the beginning of 'Winged Assassins' whilst Reiner proves just why he is one of the greatest all-time power drummers. Robertson and Reiner both impressively hold such intense wild rhythms together, with breath-taking ease – any self-respecting musician would find hard to deny it is impressive stuff.
Pounding the Pavement is further visited with the stomping tune 'Bitch in the Box' and the powerfully thrashing 'Ego' and we also have a tribute to Lips' old friend Lemmy, as he emotionally dedicates the Forged in Fire track, 'Free As The Wind' to his old mate.
'On Fire' has to be one of the best tunes of the evening, from the album Juggernaut of Justice and unlike some headlining bands that I have seen play live in the last year, the members of Anvil clearly enjoy what they are doing and do not appear to be going through the motions when up on stage.
"Metal goodness"
Some quick name checks for the not long recently departed Chris Cornell, Chris Tsangarides and Buddy Rich, and then it is the song and the moment that the crowd have all been waiting for, 'Mothra'. Lips brings out his legendary dildo to play his guitar and regale the crowd with some funny facial expressions.
Lips calls himself an idealist who takes a clear political stance with songs such as 'Die For A Lie', which not only touches on sensitive issues but also documents the band's lust for life, their dynamic musical style and their absolute down-to-earthness. He says: "Religion is frequently used to involve people in military conflict. Hate in the name of God — that's just wrong!" If there was ever a blueprint for an Anvil tune, then this would be it, with fully charged riffs, unique drum arrangements that can only found within this band.
The end of the set is nigh, and Anvil's ultimate anthem 'Metal on Metal' sees extreme head banging and fists pumping throughout the audience, but they still want more.
The crowd doesn't have to wait that long to get it, as Lips et al bounce straight back onto the stage, still eager to entertain and rip through 'Running' and straight into the last song of the encore with a cover version of 'Born to be Wild' which takes on a whole new arrangement, Anvil style!
Tonight, York witnessed an unapologetic night of metal goodness, as Anvil brought to the stage a stalwart metal manifesto. They are a band that stands for authenticity and credibility like few others in this fast-lived business.