Fatoumata Diawara – Live Review – Belgrave Music Hall, Leeds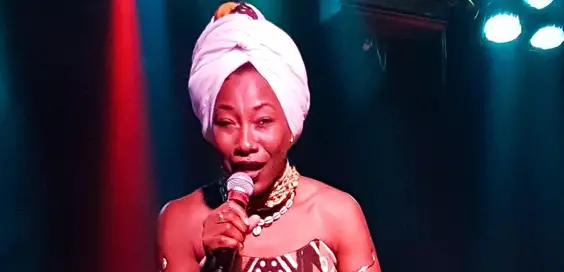 By David Schuster, November 2018
The audience eagerly awaiting Fatoumata Diawara are one of the most diverse I've encountered recently; students rub shoulders with bearded middle-aged men, looking like members of CAMRA on a night out. Fashionistas attempt to sway elegantly to the African music playing in the background, whilst being jostled by rugby players eating cheesy chips. It's more like the audience for a festival than a Saturday night gig in Leeds, except that we are all crammed, somewhat uncomfortably, into Belgrave Music Hall's concert space. It's a capacity crowd, and there's a palpable sense of expectation.
The stage lights dim to blue, as the band take to the stage to cheers and applause. The guitarist, keyboard player and bassist all wear matching blue t-shirts with orange and white detailing, with patterns derived from African bead-work. They begin playing the soft introduction to 'Don Do'. Against this muted background Diawara, dressed mostly in white, cuts a striking figure as she makes her entrance. Playing the song's repeated guitar riff, her soaring vocals send tingles down the spine.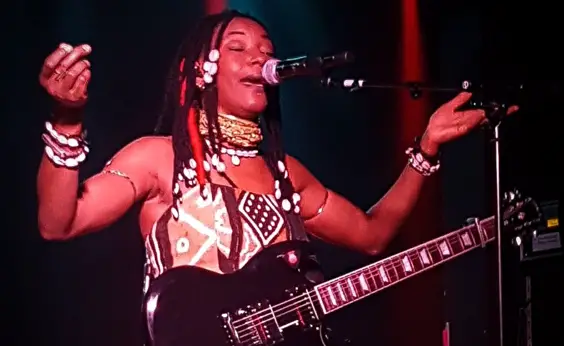 "Calls for change"
Fenfo, the singer's latest album, translates as 'something to say', and one of the beauties of music is that it gives people who aren't politicians (literally) a stage from which to highlight important issues. She introduces 'Kokoro' by pointing out that the messages about Africa are predominantly negative, and that there's a rich culture of food, art, culture and dress which should be used to give a more positive balance to the world view of the continent. The title refers to this, meaning 'ancestral heritage' in the Bambara language. Fatoumata's own garb highlights this message, as a modern take on traditional style; above an elegantly cut white skirt she wears a traditionally patterned top, cinched at the waist with a cowrie shell belt, her hair gathered into a white headdress. The track gradually builds from a quiet beginning to a fast and catchy rhythm that has the audience dancing already.
The talented songstress draws upon rhythmic influences from across Africa, but mixes these with European influences taken from living in France to create tunes which vary from joyously upbeat, through soft laments to strong calls for change. She and the group perform 'Timbuktu', the title track from the 2014 film. This highlights the plight of that city, where for years the children have been unable to go to school because of the civil war and, under a strict form of Sharia Law, both music and sport are banned, subject to extreme corporal punishment. They contrast this nicely with an electrifying cover version of Nina Simone's 'Sinnerman', during which Diawara casts off her headdress, swinging plaits adorned with cowrie shells in dervish frenzy. It's sobering to realise that just for singing a woman would be condemned to 40 lashes, and that this fantastic act of abandonment might well carry a death sentence in some parts of Mali.
"Upbeat"
At a number of points the musician brandishes a horse-hair fly whisk, and a shaker carved of wood with leather hoops. Superficially these accentuate the musician's fluid arm movements, but I believe there's also deeper significance to these; the fly-whisk often features in the regalia of African royalty. Overall, it's a great concert, but there is the odd lull in the performance, specifically some of the more extended guitar and keyboard solos. This too though is a cultural thing, in many parts of West Africa, it's normal for groups to play for many hours, and the solos allow other band members a temporary respite. However, shows like this, which are limited by time constraints would be improved by doing away with these. They finish the main set with two fast, upbeat pieces; 'Sowa' and the fantastic 'Bonya', again from Fenfo. This has the audience dancing and singing along to the catchy chorus.
After a short break the other musicians return to stage and lead a chant of "Fatou", before she returns, to enthusiastic applause. She and the band perform a rocking cover of Stevie Wonder's 'Higher Ground' before finishing with 'Salimata'. The group then continue to play long after the songstress finishes. She puts down the microphone and helps a very surprised lady at the front onto stage, followed by another and another. Pretty soon those already on stage are helping friends up, until the stage is packed with people dancing, following the singer's lead. It's a unique move, and one which gives the end of the concert a party feel as she slips off stage.
images © Gail Schuster