Cotton Clouds Festival 2018, Day 1 – Live Review – Saddleworth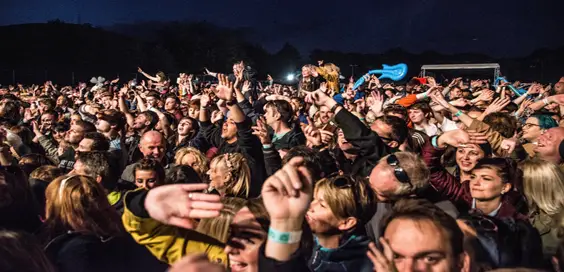 Cotton Clouds Festival, Day 1 – Live Review
Saddleworth, August 2018
by Victoria Holdsworth
Saddleworth certainly bounced back this summer, to deliver one of the best small festivals around, Cotton Clouds. Set in the quiet Pennine village of Greenfield, it was extremely picturesque on the drive in, which made the arrival even more exciting.
Cotton Clouds was created and launched last year, by Twisted Wheel brothers, Rick and Max Lees, and this boutique festival has certainly gained a good following already, mainly due to the cracking line up – something other small festivals simply fail to deliver.
The cricket ground at Saddleworth is not that big, so it's great for those who don't like the madness of larger crowds. Having a quick scope around, before getting down to the front to watch some bands for the night, there was very much a laid back atmosphere.
As people milled in, after beating the rush hour traffic for the 5pm start, I was really surprised at just how chilled out it was. There were not that many people, although I was sure that would change for the Saturday. It also made a nice change not to be camping – and the drive home back to Yorkshire was only 40 minutes.
"Friendly"
What I loved most about this festival is that it's almost like a mini Kendal Calling, and although it is still very much in its infancy, it has a great deal of potential. I was instantly struck by how friendly the staff were, and although there were some issues getting photo passes sorted, it was really well organised.
The facilities were just about ample for the size of the crowds and they kept the prices to a reasonable level for beer and food. However, I was a little disappointed that they did not have as much peripheral entertainment or activities going on, especially on the other stages, which were being used as food tents for pre-paid band holders only.
There were some noticeable grey clouds brewing above as Xfm DJ Gareth Brooks kept the crowd thoroughly entertained by playing some classic indie and soul tunes, interspersed with a bit of hip hop. Fortunately, by the end of his set, it looked as though the rain was going to hold off to a mere drizzle as Manchester-based indie rock band, Cavana opened the show to a great reception, with their heavy hitting, melodic indie sound, giving everyone a much needed energy lift. The lads played with so much passion, and it was a solid set, with 'Cholula' and 'Pasta in the Garden', their debut releases, really setting the evening up for more great tunes.
"Old favourites"
Badly Drawn Boy, came and went very quickly. He seemed to lack real interest, although it was nice to hear all the old favourites again, because he didn't really engage in any of his newer offerings. Yes I know it is the anniversary of The Hour Of Bewilderbeast, and he still has a knack for singing a sublime love song in his husky busking persona, and whilst he is a fairly local persona on the music scene, it all felt like he was a spot filler, rather than a main stage act.
Chali 2na & Krafty Kuts were also gracing this year's Cotton Clouds main stage, and whilst most of the set was pretty decent, there was not much variation. But they definitely seemed to be winning the crowd over with some infectious grooves, and old school hip hop. The only thing was, they seemed to play way over their allotted time slot, and at that stage on an evening it was just a little bit too much. Much kudos for the guys for putting on this kind of act though – it's important to have hip hop amongst indie festival line ups.
Leeds favourites, The Pigeon Detectives, took to the stage like seasoned professionals, and completely changed the atmosphere in the crowd. You instantly knew that it was party time, and after a back crunching fall on stage from frontman Matt Bowman, he quickly bounced back with just as much exuberance and covered every square inch of the stage, running around like a good 'un.
"Everyone bouncing"
The highlights of the set were 'I Found Out', which as Matt explains was made famous by the film, Angus, Thongs and Perfect Snogging. This was followed by an outstanding performances of 'Take Her Back' and 'This Is An Emergency'.
They thundered through the set, with plenty of opportunity to engage the crowd, and some fresher material also got lapped up from the 2013 album, We Met At Sea. Just as the heavens started to down some much heavier drizzle, The Pigeon Detectives got everyone bouncing along again.
It was close to the end of their set when Matt had to have a word with some member of the audience who insisted on throwing pints at the poor lad. Without hesitation, he walked up to the edge of the stage and told them straight that it just wasn't cricket, and reminded them how stupid they were to be wasting good beer, that they had worked hard not just to pay for, but also pay for it at festival prices. He then asked the offenders to take a free shot at him. With arms outstretched he told them to give him their best shot. After a few moments, when nothing liquid-like was projectiled at him, he turned back to the band and said, "I didn't think so!." Whoever it was, just got well and truly owned by the lad from Rothwell.
"Unmistakable"
'Take Her Back' and 'I'm Not Sorry' ended the set, and as they left the stage to rapturous cheers and applause, the darkness crept in before the headline act of the night.
It's been two years since I last saw The Lightning Seeds play live, and they have never let me down. Tonight was no exception, as the Liverpudlian legend that is Ian Broudie opened with 'Sense', which set the cricket pitch alight, with its gusto and sheer melodic brilliance.
The crowd seemed to have doubled in size by this point, and the whole place bounced into life, as they followed up quickly with 'Sugar Coated Iceberg' and 'Ready Or Not', before the man they had clearly all come to see says a chirpy "Hello!" to the crowd.
After a few more words, the unmistakable staccato intro to 'You Showed Me' is enough to give you chills. The band sounding amazingly sharp throughout the entire set, with some extra grit going into the guitars and bass, setting an amazing backdrop to splash Broudie's deliciously sardonic, sharp vocals and lyrics against.
"Belted out of the park"
The set continues with the '94 classic hits 'Perfect' and 'Change', which are songs that have really stood the test of time, showing the amazing literary talents of Broudie, who can paint such wonderful stories in just a few bars.
Unfortunately for us and the band, Ian has to announce that they have a curfew, so their set has to be cut short, which the crowd really did not like, as the boom of boos echoed around the hillsides.
They decide to squeeze as many tunes in as they can before they pull the plug, and lay into 'Lucky You', from the Jollification album, and then I really did get all fan girl as they not only played, one of my all-time favourite songs, 'Life Of Riley', but Ian very kindly dedicated it to myself. It's a short and not very interesting story, but bias aside, it really did get belted out of the park tonight.
Edging further towards the curfew, they start to wind up, with one of the most beautiful and iconic indie pop tunes ever written, 'Pure'. To their credit, they did blend the last few bars into the song everyone loves to hate, 'Three Lions', which the crowd reacted to perfectly, and with an amazing amount of volume – at which point they literally did kill the sound, whilst the thousands of festival goers carried on, even all the way back on the walk to the car park and exits. It was a fantastic end to the first session of Cotton Clouds 2018.