Cotton Clouds Festival 2019 – Review
By Victoria Holdsworth
If you missed Cotton Clouds this year, then you missed a real treat. It was third time lucky for me at the festival, and even though it rained a little, who noticed? This has to be one of the best small festivals on the circuit now and the effort and enthusiasm that goes into it is clear to see – and all in the unlikely surroundings of a cricket club nestling amongst the hills of the Peak District.
There were some wonderful feasts for the eyes this year with Global Grooves, shimmying through the gathered crowds with their huge and stunning decorative elephants, which the kids absolutely loved.
The opening bands had some large shoes to fill from the previous year, however, Callow Youth and The Maitlands kicked things off in spectacular fashion, and the Friday evening just got more impressive from then on, with She Drew The Gun putting in another flawless stellar performance, under the canvas of Tim Peak's Diner.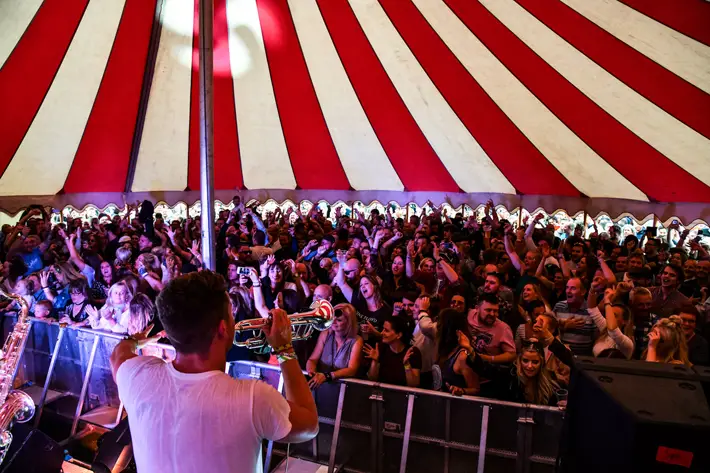 "Unmistakable"
However, the Friday night main stage at Cotton Clouds is usually reserved for the big guns, and this year was no exception, with the mighty Alabama 3 showcasing exactly what they do best. Since the unexpected loss in May of this year of Jake Black, aka. The Very Reverend D.Wayne Love, I was overjoyed to hear that they would still be honouring their tour dates in memory of him – and their performance was something of which he would have been extremely proud. Rob Spragg, aka Larry Love, took the reins and gave it his all, especially when it came to their signature Sopranos tune.
Ash were up next, with their unmistakable pop indie brand, and whilst I have always been a fan, they are becoming festival perennials, hoiking around the classics, each time making the songs just a little less special. Ash do what they say on the tin, and whilst they did manage to get the crowd moving from their soggy spots, ever so slightly, they looked pretty downbeat tonight.
Closing off the first night was Peter Hook & The Light, who were exceptional. Tonight, Hooky is blasting through the back catalogue of familiar and more recent tunes, but it's the oldies that are the goodies, and try as he might, it is always the Joy Division and New Order stuff that blows everything else out of the water.
"Such energy"
'Blue Monday' always sounds incredible live, and even though the vocals are slightly different, you cannot deny its timeless brilliance. However, as they close off the night, and the last bars of 'Love Will Tear Us Apart' ring out, the crowd starts to disperse and, as they were last year, they are singing to the heavens, content in the evening's entertainments, and looking forward to the Saturday offerings.
And when it arrived it brought some sunshine with it. Today I got to see more of what was going on at Tim Peak's Diner, with massive props to local band, Satyr Play, who I urge you to download and listen to immediately. The tent was well and truly rammed for the indie-pop outfit, who play with such energy and have such a lovable presence; you cannot help but fall in love with them. Tim Burgess has a great aptitude for knowing talent when he hears it, and if you ever see his tent at any festival, poke your head in, you never know whom you are going to discover.
Saturday at Cotton Clouds tends to be a lot more family orientated, and the access around the whole site is amazingly accommodating for everyone. There also tends to be lots more bands on to wet your whistle to, and today opened up with The Flatline, who rocked the spinning room. The local band are due to release their debut EP shortly, and although the crowds were a little slow getting in the ground today, they will be kicking themselves if they missed these guys. Definitely one to watch, as are Stereohaze.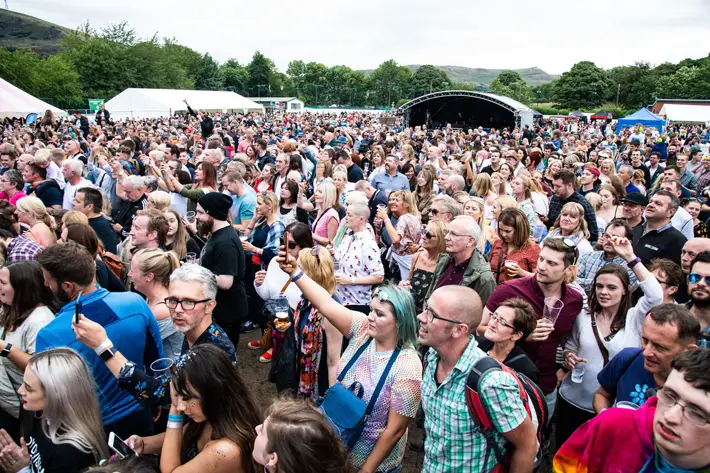 "First class"
This rock outfit from Manchester are the real deal, with some punchy guitar solos and catchy hooks, these lot were one of my absolute favourites of the weekend, alongside one of the greatest spectacles you will ever see on a stage, Oh My God! It's The Church.
If you have never seen this covers band, then it might just be a jolt to your senses. There is massive amounts of glittery praise to Jesus in their set, which is overflowing with silliness, parodies and sass, all in the name of the Lord, and that Lord is Mr James Brown. If anything, I would say that these guys were on way too early in the day, but they certainly got the party started and dragged everyone to their feet to join in their first class merriments.
Back to Tim Peak's, and the legendary Mark Radcliffe's UNE, and his unique brand of electro folky, trippy goodness. Mark Radcliffe has managed to forge himself a decent music career, and do you know what? He is pretty good at it too. This incarnation sees more of an electro, shoegazer offering from the radio presenter and his partner Paul Langley, which have very eclectic styles running through each track, and most of the UNE songs are inspired by words from other languages that have no literal translation into English, which is geniusly clever – or am I just a complete English geek?
"Visually stunning"
Leeds's finest, Hyde Park Brass, were real crowd-pleasers, and the magnetism of horns sounding out across a summer's eve was too much for many to resist, as they managed to pull a bigger crowd than Tim Burgess, who was performing with Average Sex. Hyde Park Brass cater for everyone in their repertoire, brassing up tunes that everybody knows and loves. Looking around the tent everyone has smiles on their faces, and plenty are throwing some funky shapes to match the music. Their set is bouncingly good, and they stole the show tonight, easily!
I have to mention the Saturday procession this year, which was visually stunning, especially the bird models. Just as dusk was coming in, the twinkling lights and performers weaved their way through the crowds in perfect harmony with everything and everyone around them, interacting with all. The artistry and hard work that goes into this small touch is commendable.
The end of the billing tonight was set to be blessed even further, with more divine worship over at the main stage church with Reverend and the Makers; and some of South Yorkshire's finest were nothing short of amazing! Even though it has been an entire 12 years since they released 'Heavyweight Champion of The World', it sounded as great today as it did back then. They were a great warm up for one of the most recognisable headlining acts ever, The Wailers.
"Outstanding musicianship"
Peace and unity reigned for the next hour, as the legendary band of Bob Marley took to the stage to rapturous cheers and applause, exuding an air of utter harmony. This air of chill soaked into the whole crowd at Cotton Clouds, with everyone dancing, singing and swaying to the summer filled, recognisable, reggae sounds, including the ever popular 'Three Little Birds', 'I Shot The Sheriff', 'Jamming', 'No Woman No Cry', 'One Love' and many more.
All I can say is, "Wow!" Completely outstanding musicianship and a perfect choice to end the festivities.
Another finely tuned festival from the Cotton Clouds crew as they go from strength to strength. Knowing the festival will return in 2020 is already giving me something to look forward to for next year.