Multi-national, modern blues rock with elements of funk and prog – here's Manou from Ivy Gold…
What's the title of your latest release, and what does it mean to you?
Our debut album Six Dusty Winds will be out worldwide on March 12, 2021. Well, this album means the world to me! Ivy Gold got together kind of by coincidence – OUT OF THE BLUE. Sebastian and I had done a pre-production of a bunch of our songs. We initially just wanted to see what our songs sound like and that was it in a way. Most of the songs actually sounded pretty good and the idea came up to send the demos out to a few people and see what happens. One thing after the other fell into place and, in the end, we spent so many hours on this baby that looking back I really wonder how we managed all of it 🙂 We are really happy now to finally release our music to the people!
What was the hardest part about putting this release together, and why?
We are currently working – like almost day and night – as we decided not to sign to any record label! So, we are doing everything by ourselves: promotion, marketing, management, distribution, public relation etc. We got a few record deals offered, but these days it's not worth it to give away all the artists rights for hardly any money in return. So, we are shooting and editing videos these days, promoting the upcoming album and trying to get the word and music out to the world so a lot of people discover Ivy Gold.
Who produced the release – what did they bring to it?
Sebastian Eder is the producer – he did an excellent job! His musical expertise and experience in different genres, his work ethics, his love and passion for music, his great ears and of course his unbelievable patience in the studio, has been the biggest treasure for our project.
What do you want the listener to take away from listening to your music?
I am hoping to reach out to the listeners' hearts and souls when listening to our music. Music is the universal language, and it builds bridges amongst people, cultures and all races – music spreads so much good energy and brings a strong message across. I would love the listener to sense that as well.
How does a track normally come together? Can you tell us something about the process?
The creative process varies of course as writing music is not a linear process. Sometimes, I have something on my mind and bits and pieces of lyrics just arise. Oftentimes, Sebastian comes up with some great guitar riffs and plays it to me. Sometimes there is a melody right in my ear, sometimes not. At times, the lyrics are the beginning. So, it's a mixture of it all. After we have some sort of a structure, we go into the fine tuning of the song. And, in the end, get the band together to make it sound really good!
What band/artists have influenced you the most since you started this project, and why?
The funny thing is that over the years, I have mainly listened to bands with male singers 🙂 I just love Richie Kotzen, Glenn Hughes, Steve Lukather, and so many more… but of course there is Beth Hart, Dana Fuchs, my dear friend Sari Schorr and of course Bettye LaVette on the female side! All of them are great and wonderful artists that had a great influence on me. Just listening to different styles of writing, phrasing and rhythmic elements is the best you can do to get inspired.
What countries would you like to tour? Are there any standout venues you'd like to play in?
In my dreams, I would love to do a world tour 🙂 I just love travelling to different places and connecting to people from different cultures and backgrounds! But I guess that is not realistic. So, I'd love to tour in the UK and Asia and everywhere there are music lovers! Oh, we'd like to play those places where people want us to play! I fell in love with a really nice blues festival in Rapperswil-Jona, Switzerland, so that would be very nice!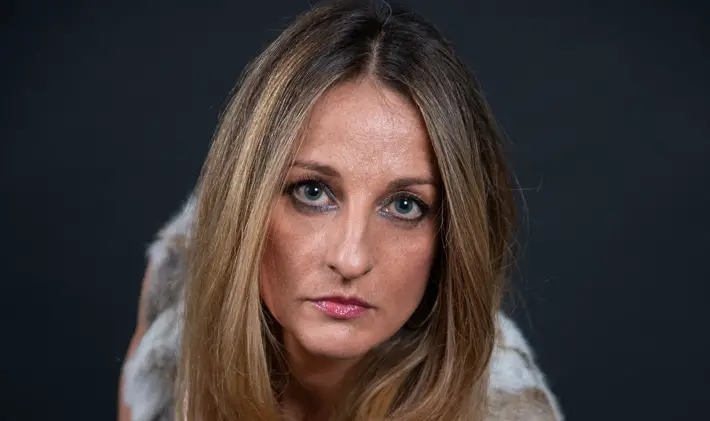 If you could pick one track for our readers to listen to in order to get a taste of your music, what would you pick, and why?
Mmm, that's a really hard question for me! I feel that all of our songs are absolutely worth listening to, as they are very different as well. Each song has a special meaning and vibe to it! So, I would suggest listening to all of them 🙂 But for beginners I would pick "Six Dusty Winds" because it's the title track.
What ambitions do you have for the band/your career?
Well, we never planned on making this such a big project. It kind of all happened by coincidence, like our motto "OUT OF THE BLUE" and I mean it when I say "FOR YOU" because we want to give something to the people out there. It's not about me really, it's all about the people out there! Our goal really is to help people understand our music and lyrics and hopefully make the world a better place with our music. We hope to shine more light on the problems of society and the world. Ultimately, we would love to wake people up and have them look at the other side of the coin, and go back to the roots of love, harmony and peace.
Finally, as you leave the stage, what are your parting words?
Thanks so much for this interview! And, of course, for sharing and supporting Ivy Gold 🙂 we really appreciate it a lot – it means a lot to us!! All the best to all of you!
For more info visit: ivygold.net