A Q&A with Evie Calabasas
Hooky electro pop, from Perugia…
What's the title of your latest release, and what does it mean to you?
My newest single is called "OMG. It's my very first single to be released as a signed artist, so it definitely holds a special place in my heart. I first wrote the lyrics and the melody a year ago, after a conversation I had with a friend about a breakup, then I worked on the song with my friend and producer Lorenzo and the record label I'm signed to finished it. I feel like it's a very different song compared to my past singles, but I'm very proud of it and I'm happy I am finally able to go in the direction I'm going in.
What was the hardest part about putting this release together, and why?
The hardest part was definitely writing it. It took me a while because I was never happy with the lyrics I'd come up with, so I kept going back to it and changing it. Once I felt like the lyrics were finally ready, we worked on production. It did take a lot of work, but it went pretty well, since my producer and I really see eye to eye and can literally read each other's minds when it comes to the tracks we're working on.
Who produced the release – what did they bring to it?
I had two producers work on 'OMG' and they both contributed to it greatly. As I said, my friend and producer Lorenzo Trillocco first brought the whole song to life. He was able to give the song the vibe I was looking for. Then we sent the track to Mat Leppanen, the label's producer, who worked on it some more and then took care of mixing and mastering. I'm very proud with the final result and I really hope people can see how hard we worked on OMG and how big of a step it was for me as an artist.
What do you want the listener to take away from listening to your music?
What I strive for as singer and songwriter is for people to relate to my lyrics and also feel the mood of the whole song. Whenever anybody tells me that my songs helped them feel understood, it makes me feel as if I've accomplished my ultimate goal. Of course, I'm also just happy if people listen to my songs because they simply like them; that's also an achievement as it probably means the music was catchy enough to get their attention.
How does a track normally come together? Can you tell us something about the process?
There's never a specific time or specific event that makes me feel particularly inspired. I think that my inspiration generally fluctuates. There are days when I feel extremely inspired and manage to write 2-3 songs and there are times when I just can't find the spark. What inspires me the most are usually experiences my friends have, or it may also happen for me by making eye contact with someone down the street – I start fantasising about their life and wherever they may have been going, whatever they may have been up to. Of course, I also write lyrics based on my own experiences and feelings, but I struggle way more putting them into words. When writing, I normally follow a process that I'm comfortable with, but that can also change at times. I usually come up with a melody and some lyrics and then try to match it to a chord progression on my guitar. Once I've managed to find one I'm happy with, words keep flowing out of my pen until I eventually finish the song.
What band/artists have influenced you the most since you started this project, and why?
The artists that have influenced me are definitely Taylor Swift, above all, Maisie Peters and many more, such as Harry Styles or Alessia Cara. They're all artists I look up to, both lyrically and musically speaking. I listen to many other independent artists as well, as I think they can also help me improve. My favourites at the moment are Gion and Matilda Mann.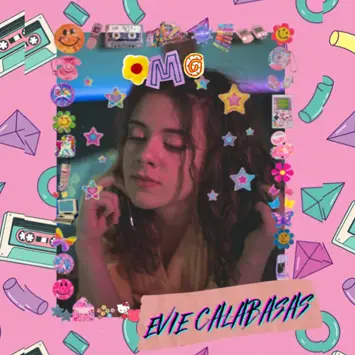 What countries would you like to tour? Are there any standout venues you'd like to play in?
I've always dreamt of touring Europe. Growing up, many of my favourite artists went on European tours where, not only did they get to sing their songs in front of thousands of fans, but also get to visit cities and places they'd never been to. As strange as it may sound, the ideal tour for me would be in smaller venues, where you can actually interact with the people who came to see you and the atmosphere is always the best. Of course, being a huge daydreamer, there are bigger venues I've always dreamt of performing in, such as the O2 arena in London or Madison Square Garden in New York.
If you could pick one track for our readers to listen to in order to get a taste of your music, what would you pick, and why?
If I had to pick just one track, I'd probably say 'Getaway Car' by Taylor Swift; it really gives you an idea of what I'm looking for and the direction I'm trying to go for. If I could choose one track out of mine, though, I'd definitely say 'OMG', since it's my newest release and the best example of the music I'm currently trying to make.
What ambitions do you have for the band/your career?
I really hope I'll be able to grow a strong fanbase as it would make me the happiest having people that always want to listen to my music and are always there to support me. Besides, it's always fans that make everything happen, so I guess for now that's my biggest ambition.
Finally, as you leave the stage, what are your parting words?
Well, it depends on where I'm performing, but I usually tend to say "thank you" about a hundred times just to make sure the people who came out know how grateful I am that I got to play in front of them. Then I invite them to listen to my music if they didn't know me before or just keep listening to it if they already did, and then I wish everyone the best!
For more info visit: facebook.com/eviecalabasasmusic