Skilful Americana, containing bluegrass and folk,
from Kentucky…
What's the title of your latest release, and what does it mean to you?
'18 Months Later' is a piano song I started to write while I was caring for my parents, who both had advanced cancer. The song is more sweet than sad; I don't like to write dirges. I finished writing it during lockdown, and the uncertainty felt so much like when my mom was living past her prognosis. Caregiving is the hardest thing I've ever done. This song is the first of many singles I'm releasing throughout 2022. My next one is called, 'Kentucky With You', and it will be out on April 22.
What was the hardest part about putting this release together, and why?
This was the first release I've done since my parents died. They were my biggest cheerleaders, and it was emotional to put something out into the world that they will never get to hear. From a business point, it was really hard to release a song during a pandemic.
What do enjoy most about producing your own material?
I produced this one myself, with the engineering skills of Steve Cooley. Other people had produced previous albums, and I enjoyed the freedom to sit back and ask myself, "What do I actually want it to sound like?" as opposed to, "What should it sound like?" I ended up just wanting simple piano and light percussion.
What do you want the listener to take away from listening to your music?
I want to make people feel something. During my live shows, I'm usually after a smile or a laugh – I love a stage and I love hearing audience feedback. I just released a silly song (technically it's my "latest release," but it's a novelty song, so I don't count it!) called 'When St. Paddy's Falls on Purim'. I thought it was a throwaway song, but it went viral on St. Patrick's Day. I got messages from people all over the world telling me that it made them smile, and that made me remember why I love performing. I love to make people smile.
How does a track normally come together? Can you tell us something about the process?
For me recording is an entirely different art form than performing. When I'm playing folk clubs, I like to read the room and see what the crowd needs to hear in that moment. I like a bit of improvisation in the music as well as the stage banter. When you're recording something, you have to commit to an arrangement. That's hard for me. Prior to pandemic, I'd write a song, and try it out on live crowds, then see what worked and make changes. The last few years, I've written and recorded everything from my home studio. Except the banjo parts. I email the track to Steve Cooley for that and he'll email me back a banjo part.
What band/artists have influenced you the most since you started this project, and why?
I'm going to namedrop here and say Elvis Costello. I have performed with him several times, and every time I catch up with him, he reminds me that great musicians make music because they have to. And it doesn't matter what anyone thinks of them, or what's popular at the time. You make music because you have music to make. Seeing him be so successful and also release so many different kinds of songs has reminded me that I don't have to stick to one genre. I can write the song I want to write.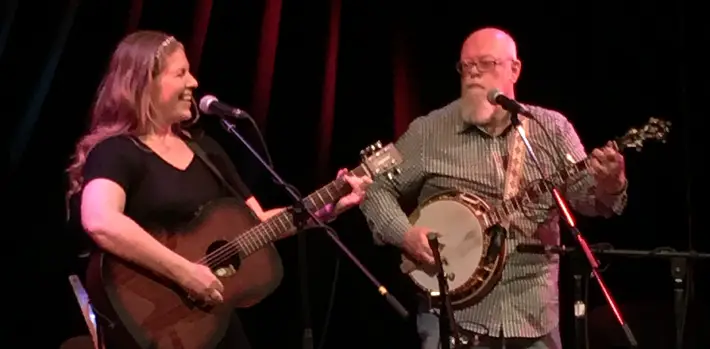 What countries would you like to tour? Are there any standout venues you'd like to play in?
As I've gotten older, I've found I love the small rooms more than the big festivals. Touring the UK is still my favorite, but I'd like to spend more time visiting smaller towns and playing local folk clubs.
If you could pick one track for our readers to listen to in order to get a taste of your music, what would you pick, and why?
'Ballad of Motorcycle Joe' is such a special song to me. It's a piano track, and when I'm touring the UK, I play guitar instead, so I hesitate to say this song. But it's the song that brought me to the UK. Nick Keir of the MacCalmans recorded a cover of it 15 years ago, and that established me as an artist over here.
What ambitions do you have for the band/your career?
I've played huge festivals and gorgeous stages and been on big radio shows, but nothing compares to playing for a small room full of music-lovers. My idea of success is getting to travel the world, singing songs I wrote for a room full of people who want to hear them. So as long as I get to keep doing that, I'm happy.
Finally, as you leave the stage, what are your parting words?
Be kind to one another. If you're an artist, don't look at other artists as your competition. We are all in this together, and we need to lift each other up. There can be more than one.
Brigid Kaelin and Steve Cooley play Filey Folk Festival 29 April, Leeds The Tetley 7 & 8 May, York Black Swan Folk Club 12 May
For more info vist: brigidkaelin.com