Non Canon by Non Canon – Album Review
by Matt Callard
It might seem a wild change of direction for Barry Dolan, erstwhile frontman of frenzied fuzz rockers Oxygen Thief, to release this hushed, mainly acoustic collection of introspective ballads.
But his actual delivery here – the wordiness, the love of language overkill, the peculiarly English phrasing – is close to identical to his other band. The method's changed, the name has changed, but this is definitively a Barry Dolan album.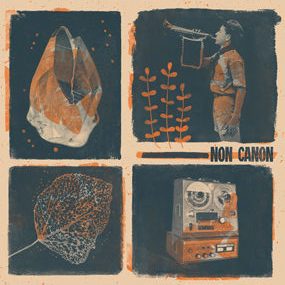 Nothing wrong with that, of course. At their best Oxygen Thief tore the roof off while leaving just enough space for their songs to breathe. With Non Canon, in come violins, violas, pianos, that infernal Mumford and Sons kick drum.
"Sweetly arranged"
Both 'A Study in Emerald' and 'Crayola' list Dolan's artistic influences (literary and musical). Indeed, most songs are self-referential, dealing with the minutiae of his existence.
At times this is softly affecting ("If I turned my back on daylight/Committed to nocturnal life/Would my sight fully adjust?") in the sweetly-arranged 'Bad Twin'. At other times, like in the dolorous 'Memory Beta' it's strangely irritating ("I could drown in sorrow/I could flirt with tears").
Whatever, Non Canon is a victory for an always interesting, if singular, vision – and well worth your breathing space.
7/10