Love at the Bottom of the Sea by Magnetic Fields – Album Review
by Matt Callard
It's 12 years since 69 Love Songs, when it seemed Stephin Merritt could do anything and go anywhere.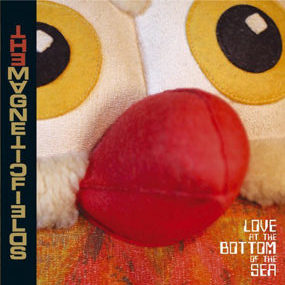 That particular magnum opus, however, remains his high water mark. Since then there's been a decade on the illustrious Nonesuch label. With him basically treading water inside his own prolific, frustratingly-erratic-occasionally-brilliant eclectic-pop universe.
Quite why he hasn't gone onto superstardom – or even to penning songs for those others more suited to performing complex choreography – is something of a mystery.
"An ever expanding pop canon"
Whatever, Love at The Bottom of the Sea is still more welcoming than the folky Realism or fuzzy Distortion and adds at least one classic to his ever expanding pop canon ('Andrew in Drag'), but is still weighted down by conceptual cleverness and the odd indulgent stinker.
I love his haughty indifference, but just hope when he gets round to releasing his slimline, all-filler-no-killer classic, it doesn't have Greatest Hits as the title.
6/10