The Mummy (1959) – Film Review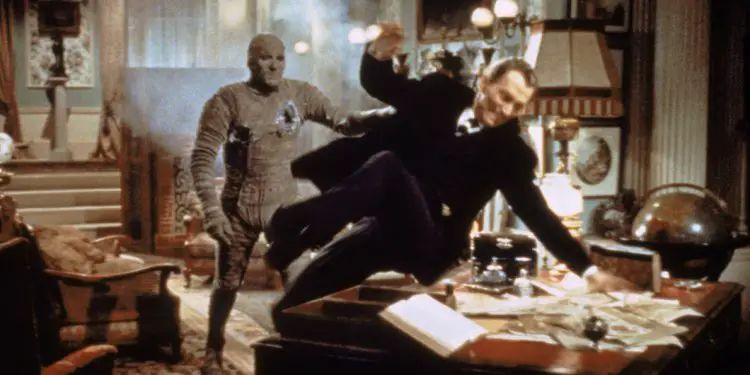 Director: Terence Fisher
Cast: Peter Cushing, Christopher Lee, Yvonne Furneaux
Certificate: 15
By Sarah Morgan
Torn from the tomb to terrify the world!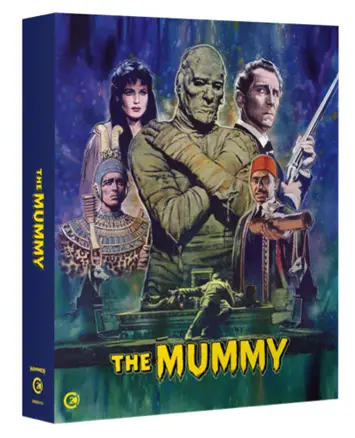 There's nothing like a bit of alliteration to get the spirit up, is there? When it came to marketing, Hammer were pretty good at it, and the above tagline must have made audiences sit up and take notice when The Mummy was released in 1959.
"Beautifully presented"
At that time, 'the studio that dripped blood' was on a roll, having already produced hugely popular versions of Dracula and Frankenstein. Universal, which had made their own adaptations of those tales in the 1930s, gave them permission to revamp 1932's The Mummy. Ultimately, screenwriter Jimmy Sangster used elements from several embalmed avenger movies to come up with his plot.
High priest Kharis is buried alive with Ananka, the high priestess of the god Karnak, a woman he loved and tried to resurrect – a blasphemous act in 2000BC.
Almost 4,000 years later, an archaeological team consisting of the renowned Stephen Banning, his son John and brother-in-law Joseph Whemple locate their long-buried tomb. Stephen reads from the scroll of the dead, accidentally breathing life, of sorts, into Kharis – the mere sight of the mummy sends the Englishman mad.
Once back in England, Joseph and then John are targeted by Kharis, who is being controlled by one of Karnak's modern-day followers, a man horrified by the desecration of Ananka's tomb. Initially, his plan to wipe out those who broke into her final resting place seems foolproof – but there's a fly (well, a beautiful woman) in the ointment…
There are certain elements to the story that simply don't hold together. However, the film is so beautifully presented, with wonderful direction from Terence Fisher, great work by production designer Bernard Robinson and a sumptuous score from Franz Reizenstein that make it a joy to behold and help viewers forgive any shortcomings.
"Fine character actors"
The cast is wonderful too. As ever, Peter Cushing puts his heart and soul into his performance as John Banning. He's ably supported by fine character actors Felix Aylmer and Raymond Huntley as his father and Uncle Joe, while Yvonne Furneux is suitably luminous as John's wife, who bears a striking resemblance to Ananka.
Watch out too for Wombwell-born Harold Goodwin, who appears in a small but memorable role, as do Hammer stalwarts Michael Ripper and George Woodbridge.
George Pastell makes an intriguing villain, but the real acting plaudits go to Christopher Lee. Apart from flashback scenes set in 2000BC, he never utters a word, but manages to convey Kharis's undying love with nothing more than body language and the movement of his eyes.
The picture itself looks wonderful on Blu-ray, and there are more special features, including several informative documentaries, than you can shake a stick at. All-in-all, a superb release and a must for Hammer aficionados everywhere.
SPECIAL FEATURES:
• Main feature presented in original UK theatrical aspect ratio 1.66:1 and alternative full frame 1.37:1
• New audio commentary by film academic Kelly Robinson
• Archive audio commentary by Marcus Hearn and Jonathan Rigby
• An Appreciation of The Mummy by David Huckvale
• The Music of The Mummy
• Unwrapping The Mummy
• The House of Horror: Memories of Bray
• The Hammer Rep Company
• Original Promo Reel
• Stills Gallery
LIMITED EDITION CONTENTS:
• Rigid slipcase with new artwork by Graham Humphreys
• Soft cover book with new essays by Kat Ellinger, Lindsay Hallam and Kevin Lyons plus production stills
• Four collectors' art cards
The Mummy is released on Blu-ray by Second Sight, £24.99