Nineteen Eighty-Four (1954) – Film Review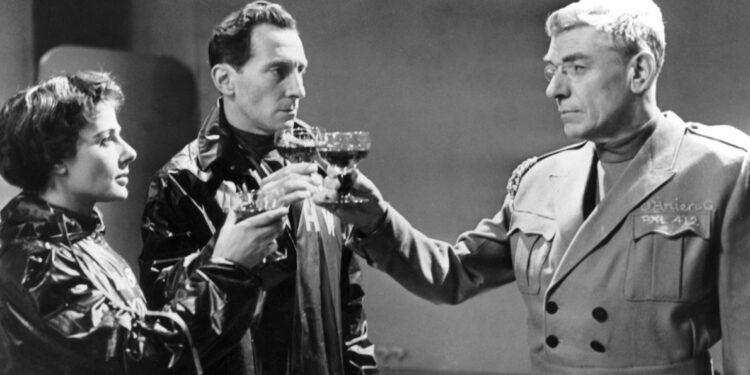 Director: Rudolph Cartier
Cast: Peter Cushing, André Morell, Yvonne Mitchell
Certificate: 12
By Sarah Morgan
It's no word of a lie when I say I've been waiting for the BBC's 1954 adaptation of George Orwell's novel to be officially released on DVD for 20 years.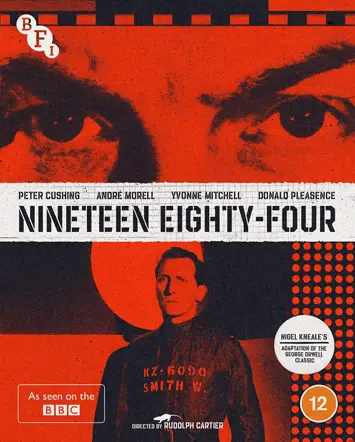 That's roughly when I first saw it via a cheap knock-off VHS copy bought via a certain auction site. The picture was terrible, full of jumps and hazy to boot, but I could still see what a powerful piece of work it was.
"TV landmark"
In the ensuing decades, rumours of a remastered release circulated, and every time my hopes were raised, they were cruelly dashed – until now.
In one of the excellent special features included in this wonderful Blu-ray release, Toby Hadoke, a fan of Nigel Kneale who wrote the screenplay, suggests that the delays were caused by the Orwell estate demanding too large a fee for the rights. Whatever the reason, I'm simply glad that at last, a wider audience can enjoy what is truly a British TV landmark.
For the unintiated, the story takes place in a totalitarian state in which the mysterious figure of Big Brother watches over everything, news and history are rewritten constantly to match the party line and language is being revamped daily.
Romance is forbidden. Instead, marriages are approved by the state and are seemingly only for the creation of children.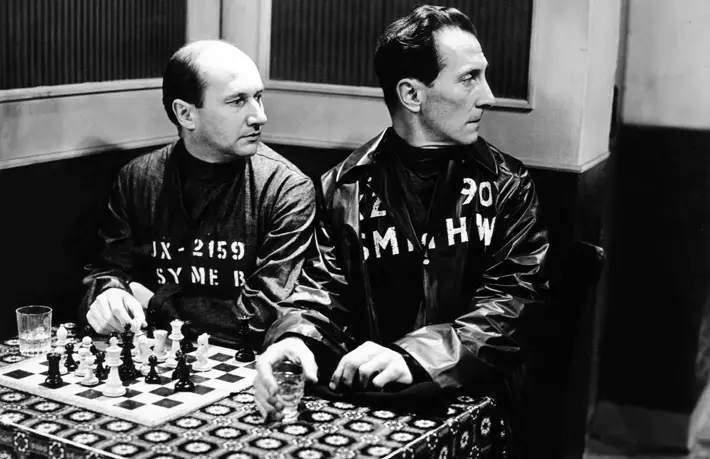 "Utterly believable"
So when Winston Smith and Julia Dixon fall in love, they have already performed an act of rebellion. They're eventually caught and tortured until they betray each other in the infamous Room 101.
Peter Cushing, then a TV star, plays Winston with an incredible degree of sensitivity. It's arguably his greatest performance. He's utterly believable as a man committing 'thought crime' on a daily basis, and who dreams of a better future.
Anybody who is only familiar with his vampire-slaying activities as Van Helsing or the creator of monsters as Dr Frankenstein in a string of Hammer films will probably get a shock seeing Cushing as a romantic lead; I think it's a shame he didn't get more opportunities to show off his range.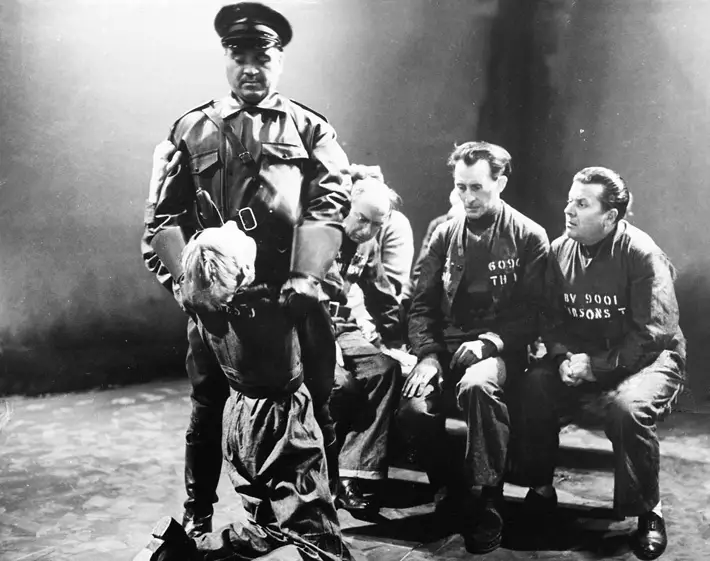 "Stunning production"
Yvonne Mitchell is also impressive as Julia, while Donald Pleasance pops up as the doomed Syme. André Morell – who would later play Dr Watson to Cushing's Sherlock Holmes in Hammer's Hound of the Baskervilles – is chilling as O'Brien, the villain of the piece.
I could write much, much more about this stunning production, which caused much controversy when it was first broadcast, with many complaining about its depressing, horrifying nature. It is simply one of the greatest, most compelling pieces of TV I've ever seen, a masterpiece directed by the inventive and pioneering Rudolph Cartier.
But if you watch it and feel yourself scoffing at the sight of a random microphone shadow or other technical issues, keep this in mind – Nineteen Eighty-Four was broadcast live 68 years ago when TV was in its infancy. Apart from a few pre-filmed inserts, it's basically a stage play which, thankfully, has been persevered for all time.
Extras:
• Presented in High Definition and Standard Definition
• Newly recorded audio commentary on Nineteen Eighty-Four by television historian Jon Dear, host of Nigel Kneale podcast Bergcast, with Toby Hadoke and Andy Murray
• Nigel Kneale: Into the Unknown (2022, 72 mins): writer, actor and stand-up comedian Toby Hadoke and Nigel Kneale biographer and programmer Andy Murray try to unpick who Kneale was, what he did and why his work still matters today
• Late Night Line-Up (BBC, 1965, 23 mins): members of the cast and crew look back on the controversies surrounding this adaptation of Orwell's classic
• The Ministry of Truth (2022, 24 mins): in conversation with the BFI's Dick Fiddy, television historian Oliver Wake dispels some of the myths that have grown up around the groundbreaking drama over the course of the past half century
• Gallery of rare images from the BBC Archives
• Original script (downloadable PDF)
• Illustrated booklet with new writing by Oliver Wake and David Ryan
• Newly commissioned sleeve art by Matt Needle
Nineteen Eighty-Four is released on Blu-ray by the BFI, £19.99