The Exception (2019) – Film Review
Director: Jesper W Nielsen
Cast: Danica Curcic, Amanda Collin, Sidse Babett Knudsen
by @Roger Crow
Office politics can be horrendous, as any wage slave knows. That sense of paranoia and the need to fit in, or the inability to do so, can make a nine-to-five existence either a joy or a living nightmare. And workplace bullying can obviously push honest workers to resign or worse.
Nowhere is that better illustrated than in this Danish psychological thriller.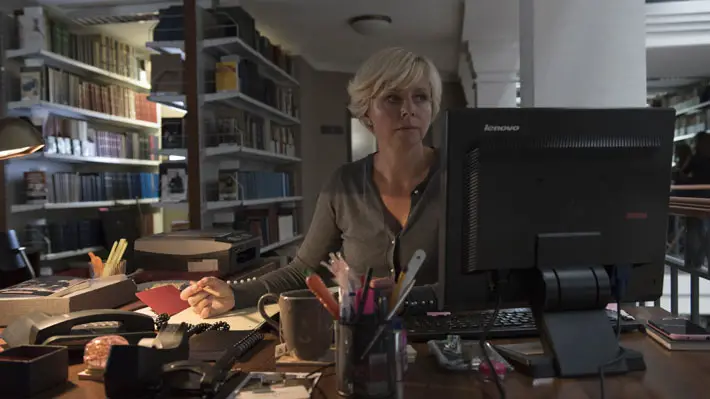 "Power struggles"
Based on the best seller by Christian Jungersen, it stars Amanda Collin (of Ridley Scott's bleak sci-fi saga Raised By Wolves); the ever reliable Sidse Babett Knudsen (The Duke of Burgundy), Lene Maria Christensen and Danica Curcic.
Given the fact the book sold more than 200,000 copies, there was obviously a hunger for the material. It centres on Iben, Malene, Anne-Lise and Camilla, women working together in a daily routine marked by power struggles, whispers and alliances.
While Iben works alone in her office, she is desperate to feel part of the team next door, and when they start playing a funny video on the PC, naturally she hopes to be part of the fun. But when she tries to show them a similar amusing clip, the mood changes.
It's one of those beautifully executed moments which sums up that sense of alienation far better than the book could have done. Or maybe not as I've not read the tome.
"Case of bullying"
When Iben and Malene each receive death threats, they start to suspect a Serbian war criminal, who they have been writing articles about. However, when a case of bullying in the office escalates, they slowly begin to wonder if the evil comes from themselves.
As much as I wanted to like this well crafted, beautifully acted drama which is bound to crop up on BBC Four at some point in the future, it was all a little too bleak for my tastes. I was reminded of the John le Carre-inspired movie A Most Wanted Man, which I went to see at the cinema a few years ago, in desperate need of escapism. Despite a terrific cast, great script and worthy subject matter, I emerged from the cinema far more depressed than when I went in.
Okay, not all movies should be little rays of sunshine on cloudy days, but this is one of those offerings where you're probably better off avoiding if down in the dumps.
The Exception will be in UK Cinemas from 22nd January and then on all major UK Digital Platforms including iTunes, Sky Store, Google Play, Amazon, Virgin, Curzon Home Cinema & Chili from 25th January