Directors: Jaume Balagueró, Paco Plaza
Cast: Manuela Velasco, Ferran Terraza, Jorge-Yamam Serrano
Certificate: 18
by Sarah Morgan
Found footage horror movies are not a rarity, but genuinely original and gripping ones are.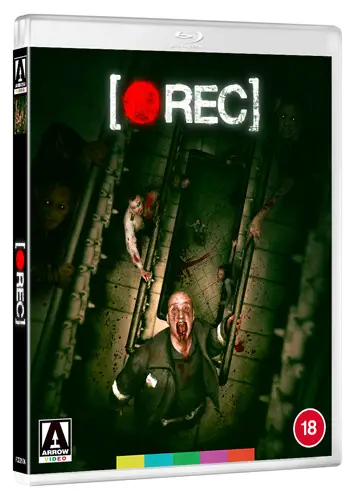 We may think of them as being a modern phenomenon, but they've been around for decades – Wikipedia suggests the earliest is The Connection, released in 1961, but they really began to take off in the late 1990s, following the huge success of The Blair Witch Project.
It's easy to see why they appeal to film-makers – they're relatively inexpensive to make but, if successful, can earn a fortune at the box office. Sadly, that also means that some examples have been quickly and shoddily made in the hope of making a quick buck.
"Out of control"
However, one of the most intriguing entries in the genre is REC, a Spanish offering co-written and directed by Jaume Balagueró and Paco Plaza.
At the centre of the story is TV reporter Angela Vidal, whose latest project involves making a fly-on-the-wall documentary about the night shift at a Barcelona fire station. She and her cameraman, Pablo, trail two firefighters, Alex and Manuel, when they're called out to a disturbance at an apartment building, where an elderly woman has supposedly become trapped in her home.
On their arrival, they're escorted to the scene by two police officers, one of whom is bitten by the woman they were supposed to be helping; she seems to have gone insane.
Matters soon spiral out of control. More attacks take place, with the victims turned into rabid zombies after being attacked. The building is then sealed by the authorities, leaving the survivors trapped inside with cannibals thirsty for their blood.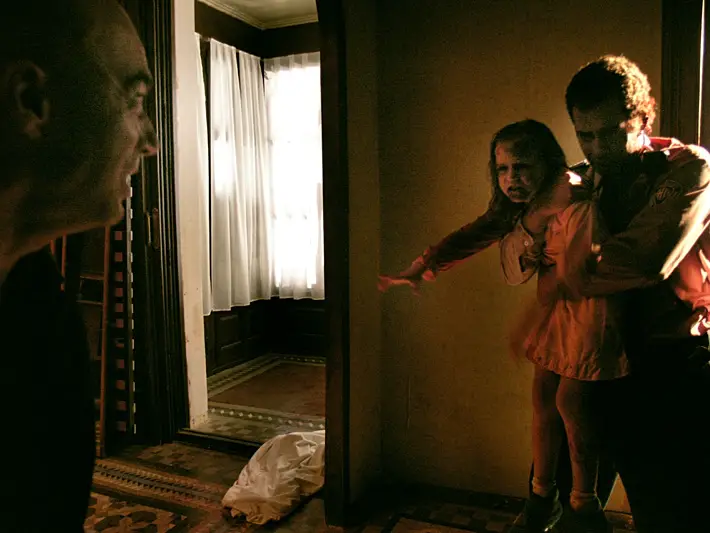 "Shock value"
Angela and Pablo begin to piece together what is going on – but there's more horror awaiting them in the penthouse, which had been owned by an agent from the Vatican…
REC is only 78 minutes in length and, frankly, thank goodness for that – it's unlikely that the human heart could cope with much more tension!
It's highly unlikely that any members of the cast will be recognisable to viewers, which helps suspend our disbelief – if it was populated by familiar faces, it would ruin the documentary feel of the entire project.
The film has been followed by three sequels, none of which match the original's power and shock value. So, if you're only going to watch one found footage movie, make sure it's this one.
SPECIAL FEATURES:
FIRST PRESSING ONLY: Illustrated collectors' booklet with new writing on the film by Xavier Aldana Reyes
High Definition Blu-ray presentation with two viewing options: the "theatrical version" (24fps, 1080p, 78 mins) as shown in cinemas, and the "production version" (25fps, 1080i, 75 mins) as originally filmed
Original Spanish DTS-HD MA 5.1 and 2.0 audio options on both versions
Optional English subtitles
New audio commentary by film critic and historian Alexandra Heller-Nicholas, author of Found Footage Horror: Fear and the Appearance of Reality
Archive commentary by directors Jaume Balaguero & Paco Plaza
The Making of [REC], an archive featurette examining the process of production featuring interviews with cast & crew
How to Shoot a Horror Movie, a French-language featurette presented by directors Jaume Balaguero & Paco Plaza
Archive interview with Jaume Balaguero & Paco Plaza looking back on the film
The Fantastic Four, an archive panel discussion with [REC] directors Jaume Balaguero, Paco Plaza and new wave Spanish horror contemporaries Gonzalo Lopez Callego and Juan Antonio Bayona
On set footage of the cast & crew at work on key scenes including "the attack on Mrs. Izquierdo" and the "climb to hell"
Archive interview with director of photography Pablo Rosso
Archive interview with sound supervisor Xavi Mas
Archive interview with sound designer Oriol Tarragó
Confidences, a video diary by star Manuela Velasco
Deleted and extended scenes, including "Fire Station Redux", "The Secret Archive" and "Corridors of Nails"
Casting, original video footage from the audition process
Trailers and TV spots
Image gallery
Reversible sleeve featuring original and newly commissioned artwork by Adam Rabalais
REC is released on Blu-ray at £24.99 and is streaming on Arrow