The Arsenal Stadium Mystery (1939) – Film Review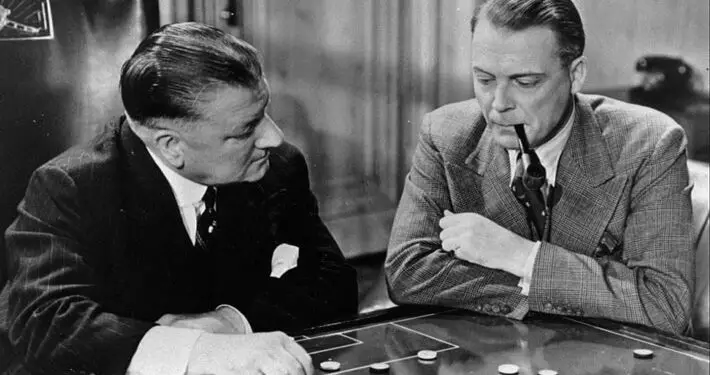 Director: Thorold Dickinson
Cast: Leslie Banks, Greta Gynt, Ian McLean
Certificate: PG
by Sarah Morgan
It's the match of the day – a vicious hate-filled killer against a flamboyant Scotland Yard detective at Highbury in a vintage curiosity piece.
A few familiar acting faces pop up in this light-hearted thriller, but for once, it's not just the thespians who are the big names here – the late-1930s Arsenal squad and backroom staff who portray themselves were stars too.
Actually, unless you're a die-hard Gooner, chances are few of the club's staff are memorable. They're introduced early on and, frankly, most of them look like fifty-something retired boxers rather than the fit young men they must have been. Among them is Cliff Bastin, who was Arsenal's top scorer until Ian Wright broke his 58-year-old record in 1997; Thierry Henry surpassed Wright eight years later.
"Eccentric policeman"
Manager George Allison also makes an appearance. Unlike the players, he has proper lines and actually acquits himself well. Newsreader EVH Emmett, who later provided the voiceover on several early Dad's Army episodes, appears as himself too.
But it's Leslie Banks who takes the lead as Detective Inspector Anthony Slade, an eccentric policeman with a hat for every occasion – I'm guessing director Thorold Dickinson hoped he would become a regular character and so his hat obsession would become a familiar and amusing quirk for audiences to look out for.
Slade is torn away from rehearsing a staff cabaret by a new case – Jack Doyce, a self-centred womaniser, has dropped dead while playing for amateur side Trojans against Arsenal at Highbury. It transpires that he was poisoned by a prick on the thumb from a diamond ring delivered to him at half time.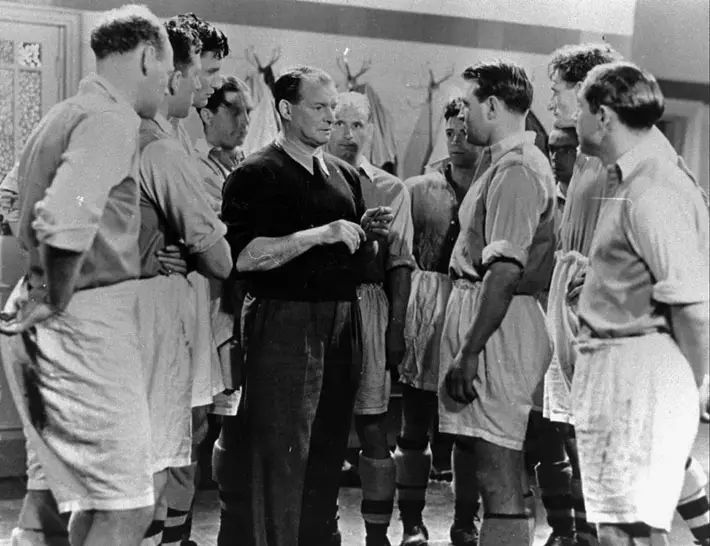 "Decent murder-mystery"
There are many suspects – despite his skills on the pitch, he was not well liked – but a twist in the tale allows Slade to piece together exactly what happened.
The film is very dated, but at its heart is a decent murder-mystery. I could have lived without the attempts at humour, but I found the football sequences interesting, even if the footage – taken at an Arsenal v Brentford match, with close-ups of the cast interspersed between long shots – seemed painfully slow in comparison to modern matches.
Fans of the beautiful game will lap the film up as a historical document, while those who love the books of Agatha Christie, Dorothy L Sayers and the like will also find something to admire.
The Arsenal Stadium Mystery is released on Blu-ray by Network, £17.99