The Psycho Collection – Review
By Sarah Morgan
Norman Bates. Such a nice boy. Handsome, charming – but don't stay at his motel, because chances are you won't wake up the next morning.
When Robert Bloch created the character for his 1959 novel Psycho, he couldn't possibly have expected him to become a cultural icon. But then, his version of Norman was very different to the one we know from the film franchise. Where Bloch's was short, in his late-40s and overweight, the one depicted on the big screen was played by Anthony Perkins, a tall, slight, twenty-something.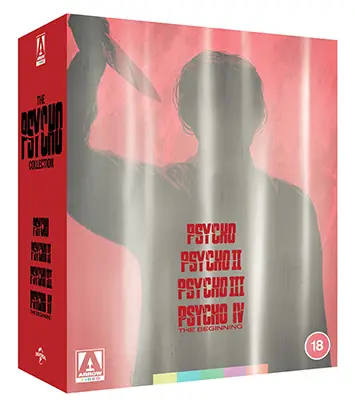 It was, of course, Alfred Hitchcock who first saw the movie potential in the novel, creating a cinematic classic with help from screenwriter Joseph Stefano and Bernard Hermann's unforgettable score. It was followed 23 years later by a belated sequel; a third film and a made-for-TV movie appeared after that, all starring Perkins as Norman before his untimely death in 1992.
"A masterpiece"
All four films are being released as a boxset by Arrow. The first movie wasn't made available to review – good job, then, that I've seen it many, many times already. It remains a masterpiece and the ending still packs a punch today for those unaware of the twist. As for that shower scene… well, in my opinion, it's still the greatest murder set-piece ever depicted on screen. It helps that the cast – which, alongside Perkins, includes Janet Leigh, Vera Miles and Martin Balsam – are all at the peak of their powers.
Perkins and Miles returned for the 1983 sequel directed by Australian self-confessed Hitchcock fan Richard Franklin. Although Bloch had written a follow-up to his original novel, the movie doesn't match its plot. Instead, Miles, as Lila, the sister of Bates' victim Marion Crane, seeks revenge with help from her daughter (Meg Tilly). Unfortunately, she turns out to be just as unhinged as the man she's desperate to frame for a new set of murders.
Psycho III, released in 1986, was also directed by Perkins, who includes some nice nods to Hitchcock for fans to look out for. However, the plot – a nun on the run (Diana Scarwid) rocks up at the motel and is attracted to Norman, while the motel's manager (Jeff Fahey) gets up to mischief – is the weakest of the four movies. It adds nothing to the development of the Bates legend and seems to have simply been made as a quick and easy way to make some money.
"Surprisingly good"
Finally, Psycho IV: The Beginning (1990) is surprisingly good. This time, Norman has settled into domestic bliss which is being threatened by his concerns over becoming a father. When his former psychologist takes part in a radio discussion about men who kill their mothers, Norman calls in, recalling his past crimes, the reasons he committed murder and his fears for the future.
While some fans may argue that some of the events depicted in flashbacks are out of order, overall it fills in some gaps in the Bates family history. Directed by horror genre stalwart Mick Garris, the film features Henry 'ET' Thomas as a young Norman, while CCH Pounder, Twin Peaks veteran Warren Frost and film-maker John Landis all have small roles. Two versions of the film are available here. One in the original TV aspect ratio, the other Garris's preferred widescreen take.
All four films have had crisp 4k restorations, and the discs are packed with special features – something we've come to expect from Arrow. Each features audio commentaries, and there are archival interviews with many of the stars as well as new content to enjoy. The boxset is a must for fans – unless someone in the future releases a collection that also includes the 1998 Psycho remake, the TV series Bates Motel and the 1987 film of the same name, it's hard to imagine anything more comprehensive or the set being surpassed in terms of quality.
LIMITED EDITION 4K ULTRA HD CONTENTS

4K (2160p) Ultra HD presentations of all four films
New 4K restorations of Psycho II, Psycho III and Psycho IV from the original camera negatives
Original lossless mono and 5.1 audio options for Psycho, Psycho II and Psycho III, lossless mono and stereo audio options for Psycho IV
Optional English subtitles for the deaf and hard of hearing
Reversible Sleeves featuring original and newly commissioned artwork by Matt Griffin
Double-sided posters for each film featuring original and newly commissioned artwork by Matt Griffin
9 postcard sized reproduction art cards
120-page perfect bound collector's book featuring new writing by film critics John-Paul Checkett and Johnny Mains plus select archival material.

DISC 1- PSYCHO (UHD)

Audio Commentary with Stephen Rebello, Author of Alfred Hitchcock and the Making of Psycho
The Making of Psycho documentary
In the Master's Shadow, Hitchcock's Legacy featurette
Hitchcock / Truffaut audio interview with scenes from the movie
Newsreel Footage: The Release of Psycho featurette
The Shower Scene: With & Without Music featurette
The Shower Sequence, Storyboards by Saul Bass image gallery
Psycho Sound featurette
The Psycho Archives image gallery
Posters and Psycho Ads image gallery
Lobby Cards image gallery
Behind the Scenes Photographs image gallery
Publicity Shots image gallery
Theatrical Trailer
Re-Release Trailers

DISC 2 - PSYCHO II (UHD)

New audio commentary by Michael Brooke and Johnny Mains
Audio commentary by screenwriter Tom Holland
Behind the Curtain, The Masters of Horror on Psycho panel discussion with screenwriter Tom Holland and Psycho IV director Mick Garris moderated by Robert Galluzzo
Giving Bloch His Due, interview with Chet Williams, author of "Psycho: Sanitarium" on the legacy of Norman Bates' creator, author Robert Bloch
Anthony Perkins TV interview
Anthony Perkins Audio interview
Richard Franklin Audio interview
"Richard Franklin On Set" featurette
Richard Franklin scene commentary
A sequel to a classic
The house on the hill
Personality profile: Anthony Perkins
Personality profile: Richard Franklin
Still crazy after all these years
Behind the scenes
Anthony Perkins interview
Vera Miles interview
Janet Leigh interview
Jerry Goldsmith demo
Trailers & TV spots
Image Gallery
Audio Press Kit/promotional record (plays during almost the entire film)
Record gallery

DISC 3 -PSYCHO III (UHD)

New Commentary by Michael Brooke and Johnny Mains
Audio Commentary by screenwriter Charles Edward Pogue
Carnival of the Heart, a new visual essay by film scholar Alexandra Heller Nicholas
Scream of Love, a new interview with composer Carter Burwell
Watch the Guitar, an interview with actor Jeff Fahey
Patsy's Last Night, an interview with actor Katt Shea
Mother's Maker, an interview with special make-up effects artist Michael Westmore
Body Double, an interview with actress Brinke Stevens
Original Electronic Press Kit
Alternate Opening
Theatrical Trailer
TV spot
Image Gallery

DISC 4 - PSYCHO IV: THE BEGINNING (UHD)

4K (2160p) Ultra HD presentation of the film in director's preferred 1.78:1 aspect ratio
Audio Commentary with director Mick Garris, actor Henry Thomas, and actress Olivia Hussey
Death by Strings, new visual essay by author and critic Guy Adams on music across the franchise
The Making Of Mother, an archive interview with make-up effects artist Tony Gardner
Behind-The-Scenes Footage
A Look at the Scoring of Psycho IV, an archive featurette
Theatrical Trailer

DISC 5 - BONUS: PSYCHO IV TV Aspect Ratio (UHD - LTD EDITION EXCLUSIVE)

4K (2160p) Ultra HD presentation of the film in 1.33:1 TV aspect ratio

The Psycho Collection - Limited Edition UHD is released by Arrow, £59.99