Nightfall (1956) – Film Review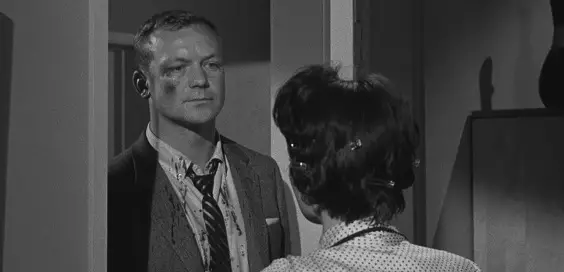 Director: Jacques Tourneur
Cast: Aldo Ray, Anne Bancroft, Brian Keith
Certificate: 12
by Sarah Morgan
Why is it that some films stand the test of time, while others are quickly forgotten? That's the kind of question movie historians must ask themselves all the time, often without being able to come up with an answer. Certainly the reasons for Nightfall's lack of standing in the world of film noir is a mystery.
This is a wonderfully taut melodrama full of stylish and atmospheric moments, the kind we expect from its director, Jacques Tourneur, whose CV also includes Cat People, I Walked with a Zombie, Out of the Past and my personal favourite, Night of the Demon, one of the finest horror movies ever made.
Nightfall is based on a novel by pulp writer David Goodis and focuses on commercial artist Jim Vanning, a man clearly on the run. He's being followed by insurance agent Ben Fraser, and initially we assume that's because Jim is a wrong 'un, until it becomes clear he's a good guy caught up in events out of his control.
"On fine form"
Jim enlists the help of model Marie as he fights to clear his name and get a couple of hoodlums off his trail – they believe he knows the whereabouts of their missing loot and will stop at nothing to force him into telling them where it's hidden.
Although regarded as a film noir, much of the tale is actually told in bright sunlight as the hunt for the stolen money takes place in snowy Wyoming, but many of the genre's other tropes are in place.
Taking the lead role is Aldo Ray, a thickset actor who spent much of his career playing tough guys. He's on fine form here, giving Jim Vanning a vulnerable edge which is most appealing – you can see why Marie (played by Anne Bancroft in one of her earliest roles) falls for him.
Support comes from James Gregory as Fraser, while Brian Keith and Rudy Bond are the villains of the piece.
"Inspiration"
Special features include video essays about the film from expert Philip Kemp and Kat Ellinger.
David Lynch fans may be interested to know that there are several links to the director – Bancroft starred in The Elephant Man, while Ray's son Eric Da Re played the violent Leo Johnson in Twin Peaks; Ray's third wife (and Eric's mother) is casting director Johanna Ray, who has collaborated with Lynch on various projects.
Intriguingly, Quentin Tarantino is a fan of Nightfall, using it as an inspiration for Bruce Willis' character in Pulp Fiction. Thankfully he wasn't tempted to resurrect the movie's terrible theme tune – the entire production's only bum note.
8/10
'Nightfall' is released on Blu-ray by Arrow, £24.99