Mr Vampire (1985) – Film Review
Director: Ricky Lau
Cast: Lam Ching-Ying, Chin Siu-Ho, Ricky Hui
Certificate: 15
by Sarah Morgan
Horror and comedy film franchises are not exactly a rarity. Movies in both genres tend to be less expensive to make than sci-fi or comic book adventures, allowing them to be churned out quickly with a greater potential to make a big profit.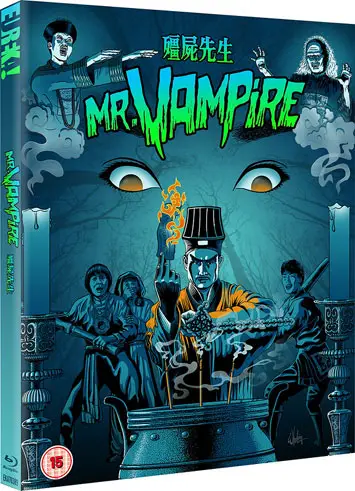 In recent times, horror series such as Saw, Paranormal Activity and The Conjuring have made big money, while in comedy over the years, Police Academy, The Hangover and The Naked Gun have done the same.
"Heavy dose of comedy"
From the 1950s through to the 1970s, Hammer Films produced several Dracula movies, concluding with the lacklustre The Legend of the 7 Golden Vampires, in which the Count is resurrected in China in 1904 and it's up to Van Helsing to once again put a stop to his bloodthirsty games.
The film was made in Hong Kong, a co-production with the Shaw Brothers, and added martial arts to the usual Gothic mix. Mr Vampire, another movie made in the province, does the same and although there's no official link between the two productions, you do wonder if the latter's makers may have been inspired by Hammer's offering as well as the jiangshi, hopping corpses from Chinese folklore.
There is, however, also a heavy dose of comedy added to the tale, which follows supernatural expert Master Kau and his bumbling students Man Choi and Chou. After exhuming a corpse for reburial, it's revealed to be a vampire who sets about wreaking havoc.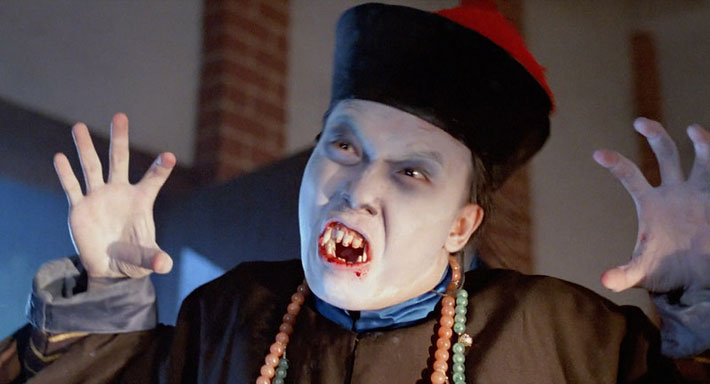 "Massive blockbuster"
Kau and his subordinates, as well as the vampire's own granddaughter, must then bring the bloodsucker's reign of terror to an end, using a variety of weird and wonderful tricks to do so.
Produced by Sammo Hung (who may be familiar to western audiences thanks to his starring role in the 1990s US TV series Martial Law, which appeared on our screens during the early days of Channel 5) and directed by Ricky Lau, Mr Vampire was a massive blockbuster on home turf following its release in 1985 and was followed by several sequels.
Unfortunately, its appeal was somewhat lost on me. It seemed hammy rather than funny and baffling rather than scary. There is, however, no doubting its influence on Hong Kong movie-making; it spawned an entire jiangshi genre, establishing many of its tropes in the process. So, if you're a student of cinema, it's worth watching for that alone.
BLU-RAY SPECIAL FEATURES:
Limited Edition O-CARD Slipcase with new artwork by Darren Wheeling [2000 units]
PLUS: A Collector's Booklet featuring new writing on the film [2000 units]
1080p presentation from a brand new 2K restoration
Original Cantonese audio (original mono presentations)
English dub track produced for the film's original European home video release
English dub track produced for the film's original American home video release
Newly translated English subtitles
Brand new and exclusive feature length audio commentary by Asian film expert Frank Djeng (NY Asian Film Festival)
Alternate end credits
Archival interview with Chin Siu-hou [40 mins]
Archival interview with Moon Lee [15 mins]
Archival interview with Ricky Lau [12 mins]
Original Hong Kong Trailer'
Mr Vampire is released on Blu-ray by Eureka, £19.99