Last Rites of the Dead (2006) – Film Review
Director: Mark Fratto
Cast: Gina Ramsden, Joshua Nelson
Certificate: 18
by Roger Crow
"Angela has been shot point blank by her boyfriend and lives in a world where the living and dead co-exist." That's the synopsis for writer/director Mark Fratto's comedy horror, which sets out its stall early with lashings of bad language, violence and gore.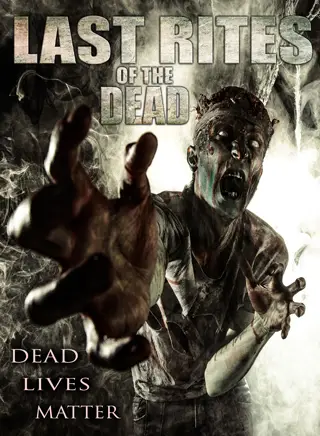 It's obviously made for about $150, and while it might feature a script that sounds like it was penned by angry Tourette's sufferers, there's a glimmer of appeal.
"Blood and viscera"
The special effects by Demonic Pumpkins FX are adequate, and there's much needed levity here and there, such as a cosmetics ad aimed at zombies. It's surprisingly well put together, though you'll need a strong stomach to cope with the excessive violence and ketchup.
The fact it was made in 2006 is remarkable as it doesn't seem to have dated. The video quality gives it a suitably grainy feel which adds to the tension. (Big budget horrors made on hi-def cameras always look too slick).
Fratto and his effects team clearly had a great time playing with the blood and viscera, but most of the heroes and villains are so unlikeable, it's hard to sympathise with any living characters. And oh the swearing. Just no need. I especially tired of the Oedipal expletive after a minute of hearing it every other sentence.
Thankfully one bonus is the score. From Bach's 'Harpsichord Concerto No 5 in F Minor' to the pulsing backbeat, it's a curious beast.
"Worth a look"
It might not be as visionary as genre classics Alien, Hellraiser or Night of The Living Dead, but if grungy New York indie cult chillers are your thing, this is worth a look. Just make sure your dinner has settled first.
The DVD comes with bonus feature Don't Feed The Troll, a 17-minute film about a horrible online armchair critic who may or may not get his comeuppance. It's a bit like Black Mirror but less witty. However, get past the fact the hideous antagonist feels like a personified version of Trump's America, it's a strangely compelling yarn with the odd decent scare.
7/10
'Last Rites of the Dead' is released on DVD by MVD