Homesick (2015) – Film Review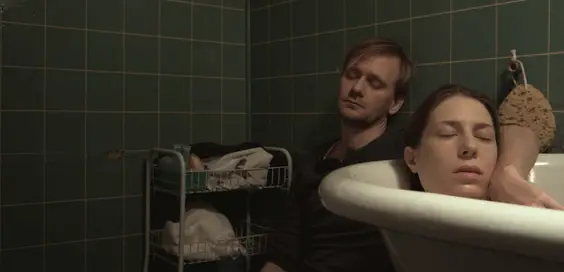 Director: Jakob M. Erwa
Cast: Esther Maria Pietsch, Matthias Lier
Certificate: 15
by Sarah Morgan
Film-making has changed during the last couple of decades. If it was possible to resurrect great pioneers and directors from Hollywood's golden era, such as John Ford or Alfred Hitchcock, they probably wouldn't recognise the industry they once led.
Homesick would probably never have been made under the regime that they flourished in. They worked as part of a studio system, but Jakob M Erwa, this low-budget movie's writer and director, had to find finance in a different way. To make sure his vision made it to the screen, he raised the money via crowdfunding, as many independent directors and producers are doing these days. That meant that he didn't have to make changes to his vision, resulting in an extraordinary piece of cinema.
Its low budget is there for all to see – the story takes place in just a few rooms of an apartment building, with a handful of cast members. There are no flashy special effects either, which is rather refreshing.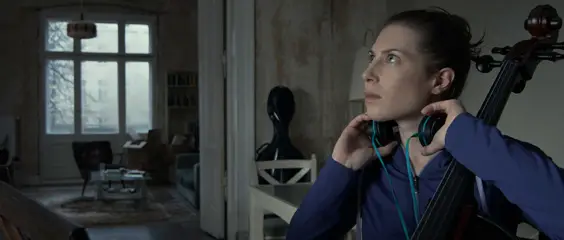 "Losing her grasp"
The plot follows the downfall of Jessica, an ambitious and gifted cellist who has just moved into a fashionably rundown apartment with her boyfriend Lorenz when she's selected to represent Germany at a prestigious international music competition in Moscow.
As she faces the stresses and strains of preparing for the event, she becomes obsessed with the idea that her elderly neighbours are spying on her and Lorenz; she even believes they may be responsible for a series of unpleasant events that befall them.
Viewers only ever see what happens from Jessica's point of view, so we're left wondering if her fears are genuine, or if she's actually losing her grasp on reality.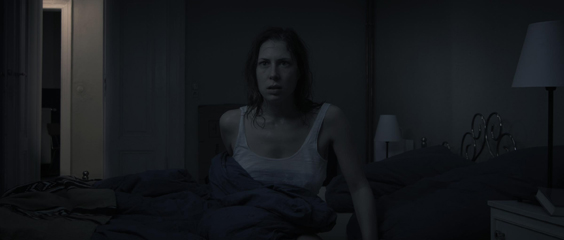 "Strong central performance"
I won't tell you what happens because it would spoil the entire movie, but rest assured it is resolved in some way, unlike so many films these days that seem to be trying to show off their intellectual standing by offering an open-ended conclusion.
Although Erwa deserves recognition for his script and direction (which opts for refreshingly long takes, rather than the short, sharp editing we've become accustomed to lately), Homesick would be nothing without a strong central performance. Thankfully, it has one from Esther Maria Pietsch as Jessica – expect to see her on an international stage before long.
Interestingly, Erwa claims in an interview included on the DVD that Pietsch is his real-life neighbour. It seems that despite the film's message, as the eponymous Aussie soap opera's theme tune states, we can become good friends after all.
7/10
'Homesick' is available now on DVD, via Matchbox Films