A History of Bradford Buses
By Keith A. Jenkinson
Transport first reached Bradford in the form of railways, with the Leeds & Bradford Railway opening a station in Forster Square on 1 July 1846, the Lancashire & Yorkshire Railway (L&YR) opening one at Drake Street on 9 May 1850 and the Great Northern Railway (GNR) commencing operation from Adolphus Street in 1854.
Joint co-operation, however, saw the L&YR and GNR relocate to a new station known as the Exchange in 1867. This remained in use until 1962 when it was relocated to a new site and, together with a new bus station, was renamed the Interchange.
"Expanded"
Meanwhile, after the old mail coaches had succumbed to the railways, public road transport first appeared on 2 February 1882 when the privately owned Bradford Tramways Company began a horse tram service from Rawson Square to Lister Park.
Following this, steam-hauled trams were introduced along Leeds Road five months later on 3 August and thereafter both forms of traction were expanded to other parts of Bradford before being ultimately taken over by Bradford Corporation in 1898. Immediately, work began on the electrification of the tramway and the last horse-drawn and steam-hauled trams operated their final journeys on 31 January 1902 and 1 April 1903 respectively, with the new electric trams continuing to serve the city until 6 May 1950.
"Discontinued"
During this period, a tramway service had been opened on 7 June 1909 between Bradford and Leeds, which was jointly operated by both municipalities; but with Leeds operating on standard gauge track and Bradford on narrower 4-foot-wide lines, it was necessary to taper the track between the two gauges where they connected at Stanningley and use trams with specially designed axles, upon which the wheels could move to adjust to the taper. Although successful, the through service was discontinued on 31 March 1918 due to financial reasons and thereafter passengers had to transfer between trams at Stanningley to be able to complete their journey.
Looking to the future during the early part of the twentieth century, both Bradford and Leeds Corporation introduced trolleybuses to their cities on 20 June 1911, being the first in the UK to do so, and while Leeds abandoned its tiny system in 1928, Bradford's grew dramatically and continued until 26 March 1972, when it gained the distinction of being the last UK trolleybus operator. Although motorbuses in independent ownership had appeared in Bradford from around the turn of the century, it was not, however, until 13 May 1926 that they were operated by the municipality, when it began competing with local, privately owned Blythe & Berwick on a service between Lister Park and Bankfoot.
"Numerous restrictions"
Following its success, the Corporation introduced numerous new services to areas not served by its trams and trolleybuses and quickly became the main provider of public transport within the city boundary. Independent operators still continued to maintain services into Bradford from areas outside the city, albeit with numerous restrictions relating to the picking up and setting down of passengers and protective fares, etc.
Until the mid-1920s Bradford had no bus station as such and all the services running into the city used stops located on the city's streets, but then Blythe & Berwick took the lease of a plot of land in Chester Street, which was over the next ten years developed into a terminal that was used by West Yorkshire Road Car Co., Hebble Motor Services, Yorkshire Woollen District, North Western, Sheffield Joint Omnibus Committee, Ribble and Samuel Ledgard. This remained in use until 1977, when it was replaced by the new Interchange, which was built between Nelson Street and Bridge Street and incorporated the old, albeit slightly relocated, Exchange railway station.
"New corporate identity"
Beneath the Interchange was a new bus garage for West Yorkshire PTE, which had been formed on 1 April 1974 by the merging of the Bradford, Halifax, Huddersfield and Leeds municipal bus undertakings and introduced a new corporate identity and livery. As a consequence, six of Bradford City Transport's seven bus depots were closed and their operations moved to the new Hall Ings (Interchange) base.
Then, in July 1981, the West Yorkshire PTE and the National Bus Company formed a new company – Metro National Transport Company – in order to co-ordinate all the bus and rail services in West Yorkshire, and to this end all the NBC companies operating within the PTE area were required to paint their vehicles in corporate PTE livery and display MetroBus fleet names, although in the event this was never completed before the deregulation of local bus services occurred on 26 October 1986.
"Main provider"
Unlike many other towns and cities, Bradford suffered little from new operators who attempted to compete with the established companies who maintained services within and from outside the city following deregulation, and although a few newcomers made brave attempts and successfully gained some tendered services, these were mostly short-lived and soon disappeared.
In the meantime, however, West Yorkshire PTE formed an arms-length company under the title of Yorkshire Rider in 1986, but two years later, on 21 October 1988, sold it to its employees, who in August 1989 purchased the Bradford, Leeds and Otley operations (and vehicles) of West Yorkshire Road Car Co. Then, on 15 April 1994, Yorkshire Rider was sold to Badgerline, who on 16 June 1995 merged with the GRT Group to form First Bus, who is today the main provider of Branford's city bus services while Arriva and Transdev Keighley maintain most of those operating beyond the city boundary.
"Foothold"
Following the recent demise of Geldards of Leeds and the Brighouse-based Ladies Only Travel, local independent TLC Travel, who maintain a number of tendered services in and around the city, is the only significant independent to be seen in Bradford, although Transdev Keighley Bus Company has recently attempted to gain a foothold within the tendered market.
Despite Bradford's Interchange being the main transport hub, a small number of cross-city services continue to use street bus stops rather than visit the terminal, where all the different operators can be seen and photography is easily achieved opposite its two entrances and exits.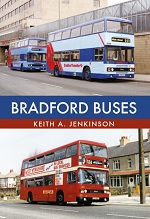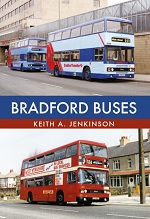 'Bradford Buses' by Keith A. Jenkinson is published by Amberley Publishing, £14.99 paperback, ISBN: 9781445674780